Hi friends! It's your favorite blogger Kathleen, and today, we are going to talk about two rowing machines that are world-class favorites.
If you've been thinking about buying a rowing machine for your home gym, super congrats. Buying an indoor rower so you can use it whenever you like is a smart buying decision.
You might have been looking at the new smart rowers, sometimes called connected rowers. I don't blame you for that! I fell in love with the connected rowing machines from the first time I used one!
The Hydrow & Ergatta Rowing Machine: A Quick Look
To gain an in-depth understanding of the pros and cons of each rowing machine, continue reading!

Keep Reading – What We Found Will Surprise You!
If you have whittled down your choices to either the Hydrow or the Ergatta, you've certainly got good taste.
Both these smart rowing machines offer great rowing workouts, but they are quite different.
How do you choose?
That's what I want to talk about today – Hydrow vs Ergatta. By the time we reach the end of this post, I hope that one of these machines will have checked off every box (or nearly all of them) on your list of "things I want in a rowing machine." That way, the answer will be obvious, and you won't spend months wondering if you picked the right rowing machine.
Are you ready to get down to brass tacks? Take a seat because Kathleen is at the wheel, and we are going to cruise down the Hydrow vs Ergatta highway!
The Top Features of Ergatta and Hydrow
When it comes to home workout equipment, there are indoor rowing machines and then there are smart rowing machines.
Ergatta and Hydrow are two of the best-selling pieces of home gym equipment. There are many, many good reasons to own one of these beauties, but let me start by listing some of the best features that each rowing machine has to offer.
Hydrow
All it takes is one look at Hydrow to see that this smart rower is like nothing else. I love the futuristic, sleek look that it has. You can imagine this machine being used by some movie star in a sci-fi film.
But, hey, Hydrow is more than just good-looking. It has features that you won't find on any other rowing machine.
Some of the top features that Hydrow offers include:
A 22-inch HD touchscreen monitor that not only brings the room to life, it is also sweat- and dust-resistant for easy maintenance
Built-in Bluetooth capability means that you can use your Bluetooth headphones or Bluetooth-enabled smartwatch or other fitness devices
A virtually silent electromagnetic resistance system. While the computer controls the resistance depending on your fitness level and the program you select, you can also adjust the resistance manually with the touch of a finger on the screen
Made from commercial-grade materials, this connected rower can hold up to frequent use (read more the Aviron rower vs Hydrow)
The cushioned seating system is unique in that it uses a 10-roller system that makes it feel like you're gliding on air
The ergonomically designed handle means less wear and tear on your wrists and elbows
Most of all, you will have access to thousands of live and on-demand workouts where you row with instructors on real boats in some of the world's most scenic waterways. There are off-the-rower workouts (such as yoga) as well for warming up and cooling down
We'll talk a lot more about this rowing machine and its workouts, but this is a good place to start. Do you like what you see so far?
Next, let's check out what Ergatta has to offer. FYI: Read more about this rower in our Hydrow vs RW900 article!
Ergatta
While Hydrow may be stylish and futuristic looking, Ergatta looks like an elegant work of art that will not look misplaced in your living room or bedroom.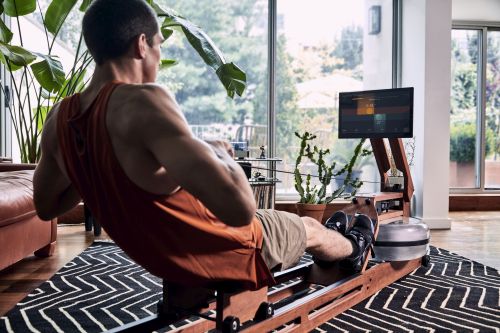 Ergatta offers the following features:
Made from beautiful cherry wood, this water rower that looks like an elegant furniture has everyone talking!
If you think you can't use a water rower because of the noise, think again! Ergatta is nearly as quiet as Hydrow, with the only difference being the soft swooshing sound of water in the tank. Isn't that the most authentic sound you'll hear when rowing in a real boat on a river?
It uses a patented flywheel technology that delivers smooth water resistance and authentic water feel and sounds that you will really love
There is a 17.3-inch touchscreen tablet that is as easy to use as your television or cell phone. There is also a built-in performance monitor (more on that later)
You will have complete Bluetooth connectivity, so you can use any Bluetooth device that you like
The rowing workouts are what make Ergatta unique. You can use games to complete your workout, race against others if you like, and more
You can access the Ergatta community via social media sites so you never have to work out alone!
Watch our hands on video of the Ergatta Water Rower:
Comparing Ergatta Vs Hydrow
Both of these rowing machines are crafted to fit in your home. Both Ergatta and Hydrow can be stored upright so they won't take up much space when not in use, but you will have to buy the Upright Storage Kit for the Hydrow.
It's obvious to me that both companies did their best to address the issues that people have with home rowing machines, such as
You should always consider how much space you have before buying. While these rowing machines can be stored upright, you will need some floor space to use them. Check out the dimensions, the maximum user weight capacity, and other info before you buy.
| | | |
| --- | --- | --- |
| Rowing Machine Model | Hydrow | Ergatta |
| Resistance System | Electromagnetic resistance | Water resistance |
| Assembled Dimensions | 86″ x 25″ x 47″ | 86" X 23" X 40" |
| User Weight Capacity | 375 lbs. | 500 lbs. |
| Monitor Size | 22-inch HD Touchscreen | 17.3 HD Touchscreen |
| Smart Features | Live and on-demand interactive on-the-water classes with top instructors & off-the-rower workouts | Interactive workouts, games, weekly racing (ROTW), & personalized workouts by automatic calibration |
| Bluetooth Enabled | Yes | Yes |
| Subscription Price | $38 per month (plus tax) or $456 per year | $29 per month or $348 per year |
As you can see, there are three main areas where the Hydrow and Ergatta differ from each other:
The material/aesthetics: Hydrow is futuristic and sleek; Ergatta is art laid on wood.
The resistance: Hydrow uses electromagnetic resistance; Ergatta uses water resistance.
The workout experience: Hydrow offers immersive, instructor-led, on-the-water rowing experience; Ergatta completely does away with instructors and fitness classes and instead offers gamified and personalized workouts
Speaking only for myself here, it's the workout experience that obviously sets these two machines apart. So let's focus our attention on that major difference.
Workout Platform Comparison
From where I stand, I can see that not one is necessarily better than the other. "Different strokes for different folks" – remember that old saying? That's the case with Ergatta vs Hydrow.
You will probably love one more than the other, and that is what this article is designed to help you discover – the connected rowing machine that will work best for you.
The Hydrow Workout Platform
Hydrow's workout platform is designed to give you as close to a real-life rowing experience as you can get.
You will actually see other rowers, the boats, and the scenery (which is downright breathtaking!) as you work out. You will feel one with the rowing team!
The upbeat instructors are professional rowers, and some are even former Olympic rowing athletes. You won't find any gym classes or studio settings for the rowing workouts, just real-life rowing done on stunning waterways around the world.
The live rowing workouts go year-round, so trust them to bring you to sunny lakes even during winter! Remember, these are hardy athletes trained in journeying and adventuring around the world to locate exciting rowing locations.
I love it when an instructor points out a point of interest, such as "On your left, you can see the top of the Louvre". You feel like you're there in person as you row!
You can do the instructor-led workouts live or you can access the thousands of workouts that are in the library. You can sync your calendar to Hydrow's Live Rows schedule so that you don't miss a single live workout with your favorite coach.
The Hydrow rowing machine platform also offers exercises that you do off the machine, such as yoga, foam rolling, or even strength training. I love these workout classes! You can tilt the monitor to allow you to see it even when you aren't sitting on the rowing machine.
Now here's something exciting. Hydrow offers racing workouts to stir that competitive spirit in you – you can race against Hydrow users on the other side of the world or your neighbor across the street. Join the Hydrow community and you might discover a new you and even be inspired to join a racing team!
Last, for those days when you want to relax and just listen to the sounds of nature, you can access the Journey feature from the library. This allows you to row at your own pace, with no instructors, and just watch the beautiful scenery go by.
Ergatta Rower vs Concept 2 – Which Is Better?
The Ergatta Workout Platform
Ergatta designed their smart rower to be completely different from the usual indoor rowing machine. It takes things in a different direction by using games to lock you in at your target intensity zones longer, torching calories as you go.
You might have heard that a rowing workout is a rowing workout, but that isn't the case with Ergatta. With it, you can access 4 different workout sections, namely:
Push Programs. These are a set number of workouts to help you reach a goal. For example, if you want to be able to row 2,000 meters in 10 minutes, Ergatta will design a program for you to attain that goal.
Interval Workouts. These workouts give you a set of targets to hit over time.
Racing Workouts. If you love to compete, you will be completely addicted to the ROTW in no time!
Scenic Row. This allows you to set your own pace. You can set your program for 30 minutes (for example) and row at your own pace for that set time period.
Each workout is designed to be as effective as possible in the least amount of time. The makers of Ergatta figured that you have other things to do, which is true, but I have to ask why they made this machine so addictive then?
I know that although I was sweating like heck, I couldn't wait to try and win a particular race I was trying. I didn't care how long it took me, I just wanted to win!
Perhaps the most impressive thing about Ergatta workouts is how it personalizes your rowing workout programs to suit you.
When you first create your profile, the Ergatta rowing machine will have you do a 1,000-meter row within a 5 or 10-minute time frame. It's from this information that Ergatta determines your next 10-15 rowing workouts.
This is a boon for beginners since most of us can't last more than 5 or 10 minutes anyway! Your next 10 workouts won't have too much resistance and they won't last too long since Ergatta has already determined that you are a beginner.
After 10-or-so rowing workouts, Ergatta will recalibrate your fitness level and adjust your next 10 rowing workouts to match.
Ergatta will also allow you to control some of the workouts that will determine your next set. For example, imagine that you are sick and although you've tried to row, you just couldn't finish. You can eliminate those workouts.
That is one heck of a smart rowing machine in my book!
How Does Ergatta Compare to WaterRowers?
Subscription Costs
As you might imagine, connected rowing machines come with a subscription cost. Hey, all those new workouts added each week and updates (not to mention new features) don't come cheap, right?
Currently, Hydrow's monthly subscription costs $38 per month (plus tax).
Ergatta's monthly subscription costs $29 per month.
The good thing here is that, no matter which smart rowing machine you choose, you can create an unlimited number of profiles. That means you, your spouse, your kids, your in-laws, your roommate, your boyfriend/girlfriend, babysitter, or whoever is living with you can make their own profile and enjoy your smart rowing machine. If you are super lucky, they will also pitch in towards the subscription costs.
Tight on Space? – Click Here to See Other Options!
Can You Use a Smart Rowing Machine Without the Subscription?
Yes, you could, but you won't want to.
Both the Hydrow and Ergatta will allow you to use a basic set of feature so your fitness machine doesn't become a giant paperweight!
However, if that's the case, why bother to purchase a connected rower in the first place? You can just row using any rowing machine.
Chances are that you bought your smart rower to take advantage of everything it has to offer. To do that, you need the subscription to be active.
I understand that life isn't always sunshine and rowing, and if something should happen that prevents you from paying your subscription, it's OK. You can start your subscription again anytime by using your touchscreen. There won't be any penalties or fees added.
Which Is Better Hydrow or Ergatta?
I don't think there is a "better" choice with these two, only a matter of preferences.
If you prefer to do things on your own – go with Ergatta; if you love world-class instructors – go with Hydrow.
If you want the quietest rowing machine possible – go with Hydrow; if you want the sound of rushing water – go with Ergatta.
If you love live workouts, on-demand workouts, and off-the-machine exercise programs- pick the Hydrow.
If you aren't a fan of instructors telling you what to do and instead find games and racing more motivating, then the Ergatta will be perfect for you.
If you've used Peloton and enjoyed it, but wished it didn't stick to a classroom workout setting, then you'll love Hydrow's on-the-water live interaction and on-demand rowing workout videos.
If you've used Peloton and wished the instructors would talk less, or if you playing video games keep you hooked, you will love Ergatta.
If you're an ex-rower or you enjoy rowing on the open water – go with Hydrow.
If you dread going to the gym and won't step foot in an exercise class but you like working out on your own terms- go with Ergatta.
Hydrow costs a bit more overall, but I can tell you from personal experience that it is worth every penny.
I also want to say that the Ergatta is not only one of the most beautiful machines I've ever seen, but it's addictive as well.
Pick the rowing machine that resonates with who you are, and I'm sure that you will be one happy camper!
The Final Takeaway
I know that I usually pick a winner folks, but I can't do that with this comparison!
I love both of these rowing machines, and the workouts are so very different that I simply can't choose "the best".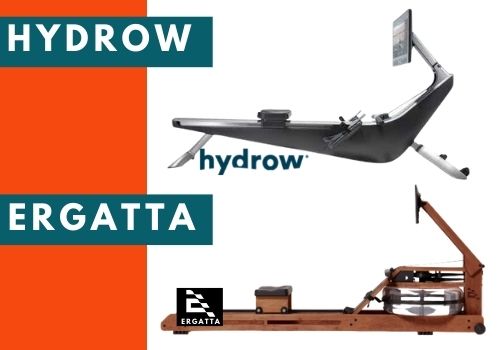 In the section above, I've made a list of who will love Hydrow and who will love Ergatta. Read it again and see if you can see yourself in my description.
When it comes to Hydrow vs Ergatta, both of these indoor rowing machines offer a lot of value and extras for anyone who wants to buy a connected rower.
If you are looking at Ergatta vs Hydrow – it all comes down to the type of workout options you're after, the amount of time you want to spend, and the type of workout program that appeals to you.
Ergatta workouts are short and effective, fun, and addicting.
Hydrow workouts are invigorating and live, always interesting and varied.
Stay happy and healthy, friends, because life is too short for anything else.
Written by Kathleen Langdon – TheHealthPot.com Founder
Certified Personal Trainer (CPT), Certified Corrective Exercise Specialist (CES)
Kathleen, a mother of two, struggled with ongoing weight and health issues.  She created this website after she turned her life around.  She built Thehealthpot.com to help inspire and motivate others with their fitness goals. Read more about Kathleen here.