Hi friends! Kathleen here.
In today's article, I want to talk to those of you who might be looking for the best possible rowing machine money can buy. This doesn't always mean the most expensive, by the way. I've found many things in life where the most expensive option was not always the best product.
If you've read any of my posts before, then you know that I own an indoor rower and I love it. I also own some free weights, and some other cardio equipment because I get bored pretty easily.
This is the type of question you should ask yourself. The rowing machine you want to buy should be so much fun and so enjoyable that you wouldn't mind using it every single day.
So before you make a decision, you should get all the facts about the rowing machines you are considering, then ask yourself, if I was never able to buy another piece of gym equipment, would I be happy with this one? (Learn more on are rowing machines good exercise)
The Nordictrack RW900 & Hydrow Rower: A Quick Look
To make that choice easier, I'm going to review the NordicTrack RW900 and compare it to the Hydrow.
1. NordicTrack RW900 Rowing Machine
Both machines excel in certain areas, they have a few drawbacks, and there are a few little secrets about both that you really need to know before you decide.
Are you ready? Take a few minutes and learn the differences between these two popular rowing machines so you can make the perfect choice for your home gym.
The NordicTrack RW900 Rowing Machine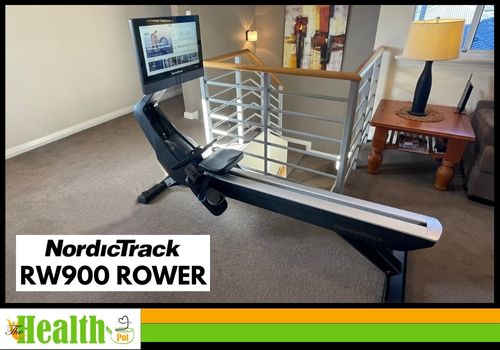 It's easy to see why RW900 is NordicTrack's top-of-the-line product. NordicTrack also offers the RW200 and RW500, but to compare apples to apples, I will be talking about their flagship product RW900.
The NordicTrack RW900 has a futuristic styling to it that many find appealing. If you've been looking at rowing machines, you'll see that it looks like an updated Concept 2 model.
Related Post: Hydrow Rower vs Concept 2
It also has two types of resistance, electromagnetic resistance and manual air resistance.
PROS of RW900 Rowing Machines
The NordicTrack offers something that the Hydrow does not – a hinge right where the footplates are. This allows you to fold the rower in half and roll it away. Let's check out what else it's got!
26 digital levels of magnetic resistance, which the iFit program controls, and manual air resistance
Interactive 22-inch HD touchscreen monitor streams live and on-demand classroom-type workouts via the iFit app
Free 1-year iFit subscription
You can add 4 secondary profiles to the family monthly iFit subscription plan, making it 5 total users per subscription
Bluetooth-connectivity allows you to use your Bt-enabled headphones
Oversized quick-adjust foot pedals fit nearly all shoe sizes
There is a wired port for regular headphones if you prefer
10-year warranty on the frame, 2-year warranty on all other parts with 1-year labor included
You can access all the workouts in the iFit app, not just the on-demand rowing workouts but also other globally-located, studio, and cross-training workouts. The iFit app offers assault bike workouts, treadmills, free weights, and other types of exercises. (See recumbent bike workouts for beginners)
The monitor swivels so you can easily see the screen for those mat workouts that don't require you to sit on rower.
The resistance automatically adjusts to match the outdoor conditions of the outdoor or on-the-water workout you choose.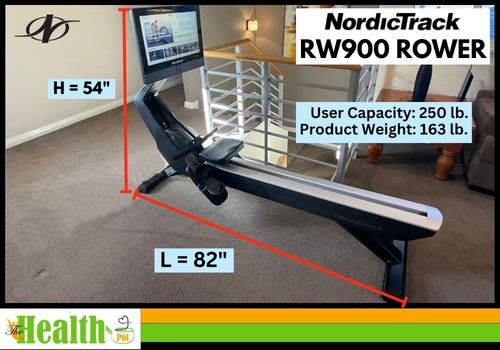 That's a long list of advantages. In fact, you might enjoy the iFit app even if you purchase a Hydrow rowing machine since it offers other types of workout programs, especially if you have other pieces of fitness equipment in your home gym (see our top HIIT Trainers ).
As a piece of home fitness equipment, the NordicTrack RW900 is an excellent indoor rowing machine. If you love classroom-type settings, this is the rower you want.
CONS of RW900
As I've mentioned above, the iFit app will allow you access to all the workouts aside from rowing, but here's what I found out:
While there are probably thousands of on-demand workouts, there is no guide that can help beginners pick the correct workout for them.
The app also only allows for one person to use it for the basic price. If you want more users, you must pay for the "Family" option, and even then, you can only have a total of 5 users.
The magnetic resistance is extremely quiet, but the air resistance portion is a bit noisy.
The Hydrow Rower
When it comes to indoor rowing machines, there are those that were designed in the 1980s and then there are the new, connected rowers.
The Hydrow rowing machine doesn't offer studio rowing sessions like the NordicTrack does, but it features live outdoor reality technology that gives you the most immersive rowing experience.
Like the NordicTrack, the Hydrow rower uses computer-controlled electromagnetic resistance that is controlled by the rowing workout program you use, but you can also manually adjust the settings if you like. To you, this type of resistance means an incredibly smooth and quiet full-body workout.
I love the live-rowing workouts you get from the Hydrow. There are trainer-led workouts but they are all done on the water. You may find classroom-setting workouts but only for mat exercises, like yoga and Pilates.
PROS of the Hydrow Rower
Sleek looking design – goes well with any decor
You can create unlimited fitness profiles for one subscription price
Set your fitness goals and Hydrow will offer you workouts that won't stress your current fitness level
You can go at your own pace and pick your favorite type of workout, whether team rowing, on-demand workouts, connected workouts, or live workouts
Aside from the rowing exercises, Hydrow offers off-the-machine workouts like yoga and Pilates
Single-piece frame makes Hydrow a very sturdy indoor rower
Can be stored upright if you purchase the Hydrow storage kit
You can connect your Bluetooth headphones or third-party heart rate monitor (Hydrow also offers a heart rate monitor if you prefer)
There are high-quality front-facing speakers on the monitor
All rowing workouts are done on scenic waterways with the pros – Olympic athletes, professional instructors, and pro rowing teams
The warranty on the frame is 5 years, all other parts 1 year, and 1 year on labor
Any rowing machine can offer a full-body workout (read more on are rowing machines good for cardio ) , but live workouts and on-demand workouts are innovative features of the Hydrow.
The most elite rowers in the world designed the Hydrow, so you know this premium piece of rowing equipment is the ultimate in concept design and quality.
CONS of the Hydrow
Both Hydrow and NordicTrack support Bluetooth headphones, and both machines have premium features, but there are a few areas where I think RW900 has the edge and Hydrow could improve:
Currently, there are no free classes. The iFit app offers one year of free subscription service, Hydrow does not. It would be nice if it offered a little something to new buyers.
The Hydrow currently does not offer live racing (neither does NordicTrack), and there's no classroom instruction. If you like the feeling of being in the gym, you won't get that with Hydrow.
Since it's a single-piece of solid equipment, it does not fold. If your space requirement demands that you fold it when not in use, you may opt for RW900 or buy the Hydrow storage kit for vertical storing.
The last issue may be the price, but when you consider all the health benefits that the Hydrow offers, including the high-quality commercial-grade aluminum machine itself, it's easy to see that this machine is worth every cent you pay for it.
That being said, I realize that Hydrow may be out of reach for some. You can always choose Hydrow's financing offer of $63/month for 36 months, zero down, and zero-percent APR. You may also want to look for discount codes to help make the Hydrow more affordable for you.
Hydrow VS NordicTrack Rower Comparison Table
If you are still on the fence, there are a few other things to consider.
The Hydrow can handle substantially more weight than the NordicTrack. This speaks to the amazing construction of the Hydrow.
While the initial price of Hydrow is higher, if you have a large family, the overall savings from the monthly subscription price may make a difference. Everyone in the family can use the Hydrow and share in the subscription price ($38/month unlimited user profiles), while NordicTrack only allows 5 profiles ($39/month for 5 user profiles).
You can find the overall dimension and weight information here:
Hydrow
NordicTrack RW900
User Weight Capacity
375 Pounds
250 Pounds
Equipment Weight
145 Pounds
131 Pounds
Resistance Type
Electromagnetic
Magnetic & Air
Touchscreen Size
22-inches
22-Inches
Monthly Subscription Cost
$38 Monthly
First Year is Free
Yearly Family Plan: $396
Monthly Family Plan: $39
Yearly Individual Plan: $180
Number of Profiles Allowed
Unlimited
5 total for family plan
Overall Dimensions
86″L x 25″W x 47″H
86.5″ L x 22″ W x 50.4″ H
Who Will Love the Hydrow?
If you want a machine that will last for decades, if you aren't a fan of classroom settings, if you want workouts that are live and on the water, and if you love other connected workout programs, such as yoga, then the Hydrow Rower is your best choice.
Who Will Love the NordicTrack RW900?
If you need a more budget-friendly rowing machine that offers 1 year of FREE amazing workouts, if you're a DIYer who prefers to make your own fitness goals, if you don't have a big family, and if you don't really care for professional rowing instructors or live workouts, then you will be more than happy with the NordicTrack.
The Final Takeaway (And the Winner Is)
I don't want anyone to think that I'm prejudiced, but I've tried at least a dozen rowing machines in my lifetime. They all do the same basic thing, it's simply a matter of what you prefer and how much you can afford.
If you want the absolute best piece of fitness equipment, then you want the Hydrow rower (FYI to learn more check my other article Aviron vs Hydrow).
Not that there is anything wrong with the NordicTrack, it's a sturdy machine that offers a great variety of workouts. However, when it comes to real rowing experience and quality, you won't find a better rowing machine than the Hydrow.
There are other rowers and then there is the Hydrow(read more on hydrow vs ergatta). It's like saying there are electric cars and then there is the Tesla. The Hydrow is more expensive, but nothing beats its live and on-demand on-the-water workouts that give you that overall immersive experience closest to real rowing.
If you want the best, then hands down, you want the Hydrow. Think of it as an investment in your health and well-being.
Frequently Asked Questions
1. Can you use iFit with the Hydrow?
In a way, yes, you can. If you download the iFit app to your phone or tablet (read more is iFit Free), you can set it up where you can see it and use the instructor's commands. However, it defeats the purpose of spending for an app because you won't be able to save any of your data since the iFit app won't be connected to your Hydrow rower. Also, the app won't be able to control the resistance of the machine in the same way it can control the NordicTrack.
2. Which machine is the quietest, NordicTrack or Hydrow?
The Hydrow is quieter overall. While both the Hydrow and NordicTrack rower use an electromagnetic resistance system, NordicTrack also uses a fan for air resistance. Air resistance mechanisms provide unlimited resistance but can be really noisy, especially if you're doing an intense workout session.
3. Can I stream Netflix or YouTube with the Hydrow?
No, you can't. The Hydrow's monitor is dedicated to work only with the Hydrow machine and subscription.
Written by Kathleen Langdon – TheHealthPot.com Founder
Certified Personal Trainer (CPT), Certified Corrective Exercise Specialist (CES)
Kathleen, a mother of two, struggled with ongoing weight and health issues.  She created this website after she turned her life around.  She built Thehealthpot.com to help inspire and motivate others with their fitness goals. Read more about Kathleen here.