Hi friends, Kathleen here.
If you're reading this, it's probably safe to assume that you, or someone you love, suffer from some sort of musculoskeletal pain.
Whether it's back pain, lower back pain, hip pain, or neck pain, no one – absolutely no one – deserves to live in pain. With the great variety of devices now available to the public, there's no reason for anyone to have to live with this type of pain ever.
If you've read any of my previous blog posts, you know that a few years ago, I injured my back. I was frustrated that all the cardio that I loved to do became an adventure in pain.
Even after my back healed, I've still had bouts of low back pain and sometimes a really uncomfortable feeling in my back, as if it was out of adjustment or alignment.
My neck bothers me from time to time as well, which is really common for anyone who types most of the day, uses their cell phone or tablet, or has a crappy pillow. (Off the subject, but did you know that you should replace your pillow every 3-5 years? My chiropractor taught me that! Who knew?)
Anyway, as I was saying, I used to make regular visits to the chiropractor, where he would put me on a decompression table. This often fixed most of my problems, but what a pain it was to make appointments, drive to the office, then wait my turn for something that took them about 5 minutes to set up. When I realized that I could have my own type of decompression device in my own home, I just had to try it.
Our Top Home Fitness Picks
Today's article is about the Teeter brand of inversion tables. These tables make decompressing your spine, hips, and neck as easy as getting into your car! Don't laugh, I'm not kidding! If you are only familiar with gravity boots, you've simply got to check out inversion tables made by Teeter!
1. Teeter FitSpine – Inversion Table LX9
2. Teeter FitSpine – Inversion Table X3
3. Teeter FitSpine – Inversion Table X1
If you, or someone you care about, are looking for an effective treatment for pain that is natural and non-invasive, this article is a must-read.
Ready? Sit back and relax for a minute because you are going to want to read this post very thoroughly.
Teeter Inversion Tables
If you aren't familiar with inversion tables or inversion therapy, let me give you a brief rundown on what these amazing little devices are and what they can do for you.
If you have seen a physical therapist or received a chiropractic adjustment, you may have used or seen inversion tables.
These look something like the folding cots that people roll out for guests. You lie on the table and there are straps to secure your legs and torso in place, then, simply by putting your arms over your head, the table will slowly begin to flip your body upside down.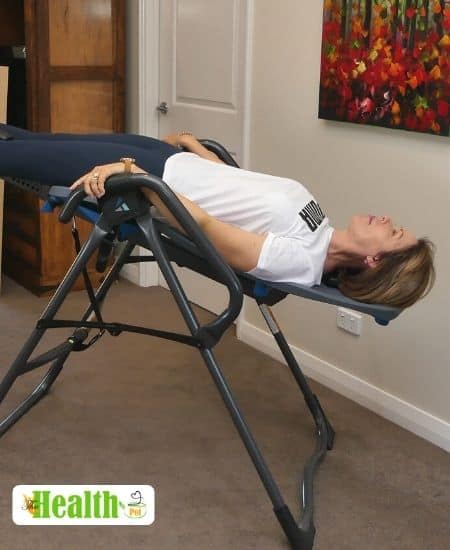 What is the purpose of hanging upside down?
Glad you asked!
By turning you upside down, this device reverses the effects of gravitational pressure on your spinal column and creates space between the vertebrae in your spine and neck. While these spaces are very small, for the majority of people, this reversed effect of gravity allows some breathing room for the nerves and discs.
When the spine has some space, many people find relief from all types of painful problems including pinched nerves, sciatica, bulging discs, and herniated discs (learn more).
Even the neck, which is called the cervical spine, finds relief from tension and discomfort.
After full decompression of the spine, the vertebrae will return to their normal position, which is very similar to what a chiropractic adjustment is designed to do.
For anyone with chronic back pain, an inversion table is the answer to long-lasting back pain relief.
Now there are gravity boots that can do the same thing, but I think for most people, an inversion table is a much easier and simpler way of accomplishing this task.
Are Teeter Inversion Tables Any Good?
There are inversion tables, and then there are Teeter inversion tables. If you've used other inversion tables, you may have found them to be uncomfortable, which is why Teeter has the best-selling brand of inversion tables on the planet.
If you want back pain relief, or if you suffer from those terrible bouts of sciatica, you can find nearly instant relief by using Teeter inversion table therapy.
Let me tell you about all the features that the Teeter inversion tables have to offer so you can make a more informed decision if you decide to purchase one for your home.
Related Post: Click Here to Read the Benefits of Inversion Tables!
The Teeter Inversion Table LX9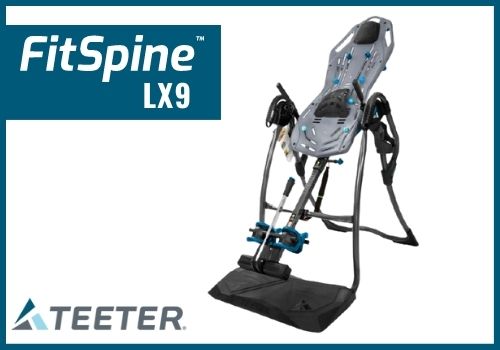 This is Teeter's best-selling inversion table, and once you see what it has to offer, it's easy to understand why.
One look at the Teeter inversion tables will tell you that they are not like the others.
The bed itself is a patented design called the FitSpine FlexTech Bed. It doesn't feel like a rigid board under your body but, rather, a more flexible bed that can give you lasting comfort.
You may have seen other brands with a padded table that looks similar to a weight bench. These are made from cheap foam that will compress quickly, leaving you feeling only the wood board underneath!
When your back hurts, the last thing you want to do is to lie on a flat, hard surface. The Teeter FitSpine is the only FDA-registered 510(k) inversion table, which is why more people trust Teeter with their spine stretching than anyone else.
Some of the features of the Teeter FitSpine LX9 include:
The Ergo-Embrace patented ankle supports are so well padded, you might forget you have them on! If you've been disappointed in how uncomfortable the ankle clamps can be on other models, you're going to really appreciate the foam padding with the LX9.
I love the Teeter Lumbar Bridge that supports the lower back and makes this inversion table easy on the back. The lumbar bridge is adjustable so you have total control over how much support you add.
The Acupressure Nodes on the table are designed to relieve trigger points (my absolute favorite, I love these!!). If you've been seeing a massage therapist or chiropractor for relief from trigger points, you won't need to if you have a Teeter LX9 inversion table.
By the way, that ankle system also has a patented design called EZ-Reach. Even if you suffer from back pain, you won't have any problem reaching the ankle braces to secure yourself.
The EZ-Stretch Max traction handles allow you to position yourself comfortably on the bed. No pushing or pulling your hips or legs to find the right position. These are extra-long, cushioned bars or handles that allow you to grab onto them easily.
The padded headrest makes the table so comfortable, you might fall asleep!
There is also a small storage caddy for glasses, a cell phone, or whatever you like or need to keep within easy reach.
The auto-locking hinges mean that you won't be swinging like a pendulum! You will feel safe and secure regardless of the position of your body.
The LX Boarding platform makes this easy to fold, and it comes with its own storage case so you can easily store this when not in use.
As you can see, this is no ordinary inversion table! With all these features designed to give you the ultimate in comfort, it's not surprising that this inversion table is Teeter's best seller.
Related Post: Do Inversion Tables Help With Anxiety
The Teeter X3 and X1 Inversion Tables
These are the less expensive models, and there are a great many similarities between these three, with the X3 and X1 missing only a few of the features of the LX9.
I've created this table to make things easier for you to see at a glance as to which inversion table model comes with which features.
| | | | |
| --- | --- | --- | --- |
| Features | LX9 | X3 | X1 |
| FlexTech Floating Bed | Yes | Yes | Yes |
| Ergo-Embrace Ankle Supports | Yes | Yes | Yes |
| FitSpine Lumbar Bridge | Yes | Yes | Yes |
| FitSpine Acupressure Nodes | Yes | Yes | Yes |
| Deluxe EZ-Reach Ankle System | Yes | Yes | No |
| EZ-Stretch Traction Handles | Yes | Yes | No |
| Foldable | Yes | Yes | Yes |
| Stretch Max Handles | Yes | Yes | No |
| LX Storage Caddy | Yes | No | No |
| LX Ergonomic Frame | Yes | No | No |
| LX Boarding Platform | Yes | No | No |
There isn't a very large price difference between these three models, and I personally feel that the LX9 is the better bargain, especially for an item that will be a long-term investment in your health!
That being said, you should never spend more than you can afford. You won't enjoy the inversion table if all you can think about is how you're going to manage paying for it!
Is Teeter Better Than Other Inversion Tables?
Oh yes, they certainly are!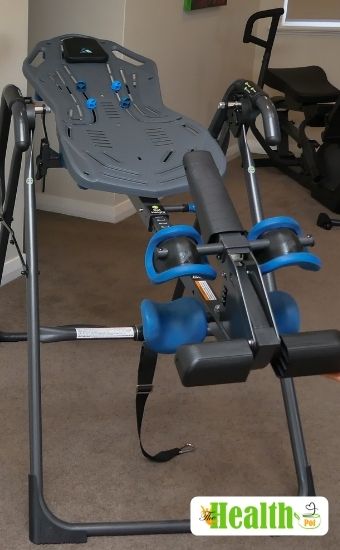 If you have been considering an inversion table, you may have seen the Ironman inversion tables or other brands.
What makes Teeter better?
Teeter is approved by the FDA as 510(k) medical device, something no other brand can claim.
The acupressure nodes and lumbar bridge are very important features that you won't find on other models.
Teeter inversion tables also differ from other models because they have a base to height stability ratio that's 20% greater on average. Why does this matter? The smaller the ratio the greater the instability of the table. The last thing you want when you are hanging upside down or moving yourself to that position is the feeling that the table is going to fall over!
IronMan inversion tables are certainly less expensive, but sometimes, you get what you pay for.
Case in point- just look at the warranty. Ironman inversion tables have a limited 1-year warranty. Teeter inversion tables have a 5-year warranty that you can extend to 10-years at the time of purchase.
This alone tells you that Teeter stands behind their products because they know that they are quality-made!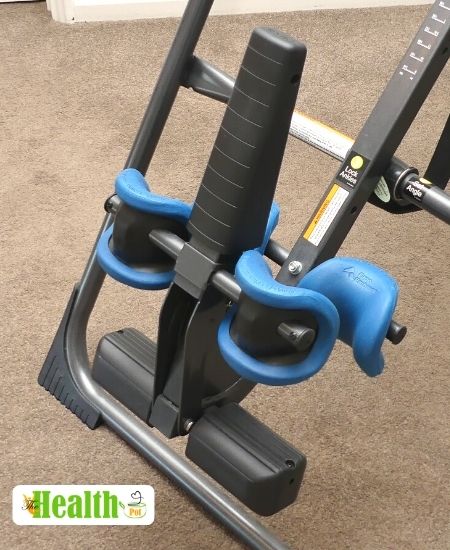 The Final Takeaway
Anyone who has ever used inversion therapy will tell you how helpful it is. If you're interested in maintaining your spinal health and relieving muscle tension, you want… no, let me rephrase that, you NEED an inversion table!
Don't settle for any old inversion table, however! Buy a Teeter Inversion Table and you will never need to replace it!
Which Teeter Inversion Table is best? Personally, I love my LX9, and I think the extra features are worth every penny!
I love my Teeter inversion table and often wonder how the heck I managed without it! This simple little device is all you need to restore your spine, hips, and neck back to their normal position and relieve pressure on the nerves in the spine.
I hope you found this article helpful. Stay healthy and happy because life is too short for anything else!
Frequently Asked Questions
1. What are the dangers of inversion tables?
Inversion tables are in themselves not dangerous or unsafe. However, there are some health conditions that could become worse on an inversion table. Do not use any inversion table if you have cardiovascular problems, high blood pressure, glaucoma or macular degeneration, trigeminal neuropathy, or if you have a family history of strokes. Most important of all, speak to your doctor before using an inversion table.
2. How many times a week should you use an inversion table?
You can use an inversion table every day if you wish, but you should limit how long you use it. Start off slowly for only two or three minutes. Many health care professionals recommend 5 minutes twice a day. Speak to your doctor or chiropractor and go with how your body feels.
3. How long should you invert on the Teeter inversion table?
It will depend on your current physical condition, how you feel as you are using the table, and what your doctor or chiropractor has recommended. Start off doing only 1 or 2 minutes, then slowly increase the amount of time you spend on the table. Remember, inversion therapy is very beneficial, but it's not for everyone.
Written by Kathleen Langdon – TheHealthPot.com Founder
Certified Personal Trainer (CPT), Certified Corrective Exercise Specialist (CES)
Kathleen, a mother of two, struggled with ongoing weight and health issues.  She created this website after she turned her life around.  She built Thehealthpot.com to help inspire and motivate others with their fitness goals. Read more about Kathleen here.