Hi there friends, it's Kathleen again.
Shopping for new exercise equipment is both fun and frustrating. Fun because, well, shopping is fun, right? However, when you're shopping for a new rowing machine, you need to make so many choices, it can be hard to decide!
Of course, your budget is going to be one area where you can rule out any rower above a certain price range, but I believe there are all different types of rowing machines, even if your budget is less than $500!
I've seen water rowers, hydraulic rowing machines, air rowers, magnetic rowers, and even combination rowers using two types of resistance!
How are you supposed to choose the right machine so you don't end up with a giant clothes rack?
Choosing the right rowing machine takes a little bit of insight into your preferences, your living situation, and a look at your budget.
In today's article, I'm going to tell you about the two most popular types of rowing machines and the differences between them, so you can make a more informed buying decision.
Are you ready? By the time we finish, you will know everything there is to know about water rowers and magnetic rowers! Wow, what a way to impress your friends! 🙂
What Is the Difference Between a Water Rower and a Magnetic Rower?
These are perhaps the two most popular types of resistance used in indoor rowing machines, and there is a great deal of difference between the two, even though both machines do the same basic exercise.
Characteristics of Water Rowing Machines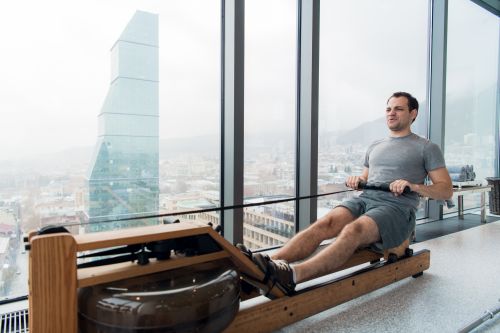 Let's look at water rowing machines first.
1. This type creates fluid resistance using water contained in round water tanks and paddles on a water flywheel – Water rowing machines have round water tanks that have fan blades inside them. When they are filled with water, the fan blades have a harder time pushing through the water, which is what gives the machine the resistance that challenges your body.
2. Authentic feel of rowing on the water – Water rowing machines are very popular because they feel more like a real rowing experience. Some models use wooden frames to help increase the feeling of being in a boat and rowing on the water. I like the noise that water rowers make as you exercise. There is a gentle swoosh sound that is actually very relaxing to me and the smooth rowing action is almost unbelievable.
3. Consistent resistance – Unlike an air rower, there are no flat spots, and you can enjoy consistent resistance levels. Personally, I prefer water rowers to air rowers, but you should take note that many water rowing machines tend to require more space (learn more on folding rowing machines) to use and are not completely silent. While I like the sound of rushing water, not everyone does. If you live in an apartment, duplex, or if you have roommates, they may not appreciate the sound.
Some of the models I've tried include the LIT Strength Machine and the Ergatta – Side Note from Kathy:  You might like to read more about Ergatta in my article Ergatta vs Hydrow or see my review on LIT Machines in my quietest rowing machines article.
Characteristics of Magnetic Rowers
Now let's talk about magnetic rowing machines.
1. This type of rowing machine uses magnets and a metal flywheel to create resistance – Magnetic rowing machines are still rowing machines, but as the name implies, they use magnets against a metal flywheel for resistance.
2. Magnetic rowers are super quiet – These are some of the most popular rowing machines because, let's face it, magnets make zero sound. Note that the size of the flywheel matters. The larger or heavier the flywheel, the smoother your workout will be.
3. Great variety to choose from, including the mode of adjusting the resistance levels – Some magnetic resistance rowers have you manually change the resistance level, while others, like the Hydrow, do so using a computer system that automatically changes the resistance levels, depending on your workout.
Magnetic resistance rowers come in all sizes and prices. The more fun gadgets they have, the more they tend to cost, but many magnetic resistance rowing machines tend to have a "you get what you pay for" thing going on.
That isn't to say that you can't find a great magnetic rowing machine for a bargain price. Some of the machines by Sunny Health and Fitness tend to hold up better than some brands that cost twice as much.
Magnetic rowing machines come in various sizes. If you live in an apartment or have limited space, you might find a magnetic rowing machine that fits your needs.
CHECK OUT OUR TOP PICK SUPER QUITE ROWERS – CLICK HERE
Water Rowing Machines Vs Magnetic Rowing Machines
Now comes the big question: Which is the better machine – water rower or magnetic rower?
There is no better or worse in terms of the resistance mechanism. Both water and magnetic rowing machines create resistance and have a means of adding more resistance, but they employ different methods to do so.
Are Water Rowers Better than Magnetic Rowers?
Some things to consider when choosing between a water or magnetic rowing machine:
Space. Do you have sufficient space to store and use a water rower? While many of these can be stored vertically, some are so heavy that picking them up may not be easy for some people.
Authenticity. Do you just want a cardio workout, or are you interested in as close to a real rowing experience as possible? If you want a real rowing experience, then you may want to go with a water rower. The Hydrow rower, while it uses magnetic resistance, also offers a realistic rowing experience, but it is a premium, world-class rowing machine, so it's at the top of the price chart.
Floor location and material. What type of floor does the space have? If you have a wood floor, you will want to buy a machine mat to prevent vibration and movement (also to protect your floors!). If you plan on using it on a second or third floor, or on a balcony, you may want to check the weight of the machine and be sure that the floor can support it (Although this isn't usually a problem, falling through the floor is not the Tic Toc video I want to see or be seen in!)
Noise. Is sound a problem? While water rowers make a soothing sound, your neighbors or roommates next door may not be as thrilled with it, and you would be wise to choose one of the many magnetic rowing machines available.
Power source. You might also want to note that some models, both magnetic and water rowing machines, require electricity to operate. If your workout room does not have access to electrical power, then you need to search for a rowing machine that doesn't need electricity.
Connectivity requirements. Also, some top-end machines, such as the Hydrow and the Ergatta, require WiFi or an internet connection. You can use the LIT Strength Machine without any of the above, but using the workouts will require at least a 4G connection on your cell phone or tablet.
Air Rowers and Hydraulic Rowers
I want to mention air rowers and hydraulic rowers only because you will most likely see them when you search for rowing machines online.
Air rowing machines are popular because they offer unlimited resistance levels and are inexpensive. However, an air rowing machine tends to be noisier than the other types of rowing machines, so I would hesitate to recommend one.
Concept 2 is a popular air resistance machine that also uses magnetic resistance. There are very few frills that come with the Concept 2, but it's been around since the 1980s so they must be doing something right!
You may also see hydraulic rowers, although these are not really rowing machines. If your budget or your space will only allow for one of these, then go for the top-of-the-line model and hope that it lasts you at least one year because this type of rowing machine isn't known for longevity.
As you can see, there is no better or worse rowing machine, it's simply a matter of preference, budget, and your living situation.
On a Budget? See Our Best Magnetic Rowing Machine Under $500
What Is the Best Type of Indoor Rowing Machine?
The best rowing machine is the one that fits your budget and your lifestyle. It's hard to enjoy a machine that you don't like using or that breaks frequently.
If you're interested in a rowing machine that will really hold up to heavy use, one that you won't get bored with, and one that is fun to use, I would go for the LIT Strength Machine or the Hydrow.
These are very different types of fitness equipment, but in my opinion, both are world-class rowing machines.
The LIT machine is a water rower with resistance bands attached. You use the app with your tablet or cell phone, and you can cast the workouts to your television. The LIT machine has a lifetime warranty on the frame and 5 years on smaller parts. That makes this an investment you can count on! I love a company that stands behind its products.
The other machine is a computer-controlled, electromagnetic rowing machine called the Hydrow. If you love the idea of live and on-demand workouts, if you want to feel as though you're really rowing on the water, if you want a top-notch rowing machine that will keep you interested through racing challenges or simply rowing down the waterways of the world, you will love the Hydrow.
The Hydrow does not offer a lifetime warranty, but they do offer a 5-year warranty on the frame, 1-year warranty on everything else, and 1 year on labor, which is a really excellent warranty for this type of rowing machine.
I've been lucky enough to use both of these machines, and I love them both for different reasons. The LIT Strength Machine offers tons of off-the-rower workouts, and I love using resistance bands.
However, the Hydrow experience is like nothing else on this planet. If you want to really "feel" the water underneath you, if you love upbeat instructors, then you should give Hydrow a try.
I realize that both of these machines are on the higher end of the price scale, but consider these to be an investment in your health. Rowing machines offer you a full-body workout that will keep your weight in check and your heart healthy, and exercise 86 percent of your muscles in one sitting (learn more about do rowing machines build muscle ).
How much is your health worth, anyway?
The Short and Sweet Version
If you've skimmed through this article, and you just want the TL: DR version, here's a quick checklist:
If noise and size does not matter but the price does, go with an air rower.
If you want a machine that is nearly silent, you should buy a magnetic rowing machine.
If you want a rowing machine that gives you the closest experience to being on the water, you should buy a water rower.
If you want the best water rower you can buy, get a LIT Strength Machine.
If you want the best magnetic resistance rowing machine, get the Hydrow.
There are pros and cons to everything in life, and that includes rowing machines. Only you can decide which rowing machine will work best in your life because only you know what your living situation is and what's important to you.
Can We Talk about My Favorite Word?
If you still have problems deciding, then why not use my favorite word: Free.
Do you know anyone who owns a rowing machine? Ask them about it, ask what the resistance type is, and ask if you can try it.
Do you have a gym membership? Does the gym have rowing machines? Most gyms only offer one model, but some have a few different types. Use them and see what you think.
Last, but not least, some of these rowing machines offer free home trials. Now you may have to pay for return shipping, so check that out before you try it, but if you are 99 percent sure that you want one type of rowing machine and they offer a free trial, why not go for it?
I love the word free and I take advantage of it every chance I get. I highly recommend you try the "Free" method of experimenting with air or water rowers and magnetic resistance rowers so you can find the right machine for you.
The Final Takeaway on a Water Rower vs Magnetic Rowers
There is a piece of fitness equipment for everyone, and many people find that rowing machines are the best overall option.
Since a rowing machine offers both a cardio workout and strength training in one, you only need to choose the right rowing machine that works for you.
I've tried at least a half dozen rowing machines over the past few years, and I've found both pros and cons to all of them. What type of rowing machine you choose will most likely be the same. You will find things you love and things you would change; however, you can find the perfect machine if you take time to consider your needs and do a little researching.
The perfect machine is going to be the one you WANT to use. The one you are willing to dedicate 4-6 hours each week to and the rowing machine that you can afford. No one will enjoy their rowing machine if they constantly worry about next month's payment.
I hope you found this article helpful, and if you did, feel free to pass it on.
Whether you chose a magnetic rowing machine or a water rowing machine, get up, get on it, and have a great workout ( read more on how many calories does a rowing machine burn)!
Written by Kathleen Langdon – TheHealthPot.com Founder
Certified Personal Trainer (CPT), Certified Corrective Exercise Specialist (CES)
Kathleen, a mother of two, struggled with ongoing weight and health issues.  She created this website after she turned her life around.  She built Thehealthpot.com to help inspire and motivate others with their fitness goals. Read more about Kathleen here.