Hi friends, it's your favorite cardio queen Kathleen here, and in this article, I want to talk about finding the best compact rowing machine for your limited space.
For anyone who is living in an apartment, condo, or small house, you know that extra space is a luxury you don't have. That's OK in many aspects because small living spaces mean less to clean, less to decorate or fill with furniture, and fewer payments overall.
The only problem with small spaces is that when it comes to some items, such as exercise equipment, it can be a real problem to fit in anything so much bigger than a pair of resistance bands!
Our Top Portable and Compact Rowing Machines in a Quick Overview:
In this review, we'll examine the best portable and compact rowing machine perfectly suited for your home exercise routines. For those in a hurry, here's a glimpse at our top choices:
4. Concept 2 Model D Rowing Machine
5. Sunny Health and Fitness Rowing Machine
I feel your pain! However, being short on space does not mean you have to settle for less. You can find compact and easy-to-store rowing machines if you know where to look.
And no, I'm not talking about some folding piece of junk that looks like it might fall apart the moment you sit on it. I'm talking about super high-quality, top-of-the-line compact rowing machines that will keep you interested and motivated for a long time.
If you are looking for the best compact rower that you can fold or easily store out of the way, this article is for you! You won't believe the small amount of space these puppies will take up in your living area!
The Best Compact Rowing Machines
No matter what your living arrangements are, but more so if you have a tight living space, I'm sure the following compact rowing machines will fit your needs like a glove.
All the rowing machines I'm going to talk about today are terrific when it comes to getting a full-body workout. However, they differ in features, which will weigh differently to different people depending on personal preferences.
Aviron Rowing Machine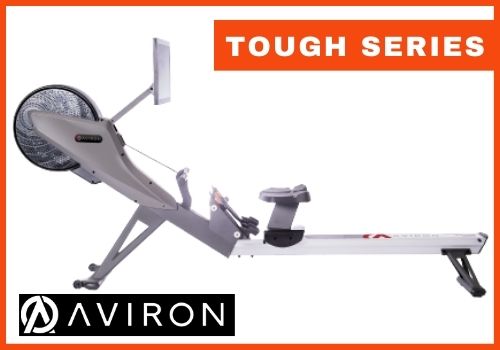 Aviron has two models, and today, I'm looking at the Aviron Impact rowing machine for home use.
If you find that you easily get bored with rowing classes or that instructors aren't always what you want to listen to at the end of a hard day at work, you might like the variety that Aviron offers. They offer 7 ways to train off- and on-the-machine, have fun with games, and compete with pros and the community.
Aviron uses two types of resistance, taking advantage of both air and strong magnetic resistance. By combining these two types of resistance, you get the best of both worlds!
If you've heard that air rowing machines can be noisy, that's generally true, but fortunately, that isn't the case with Aviron. Their unique technology allows this rowing machine to be no louder than an ordinary room conversation (about 60 decibels).
The workout programs on Aviron are designed to be short yet effective. The workouts disguised as games are completely addictive and immersive. In fact, I've found myself working out much longer than I had originally planned because I was swimming away from sharks or shooting at those flying bugs.
Feeling competitive? They've got you covered. You can choose to race against pros and Olympians or Joes like you. Of course, all these are on top of more regular offerings, like on and off-the-rower workouts and scenic rows.
So, with Aviron, you're getting a whole arsenal of workouts that are so enjoyable you'll have no time to get bored!
Now let's talk about space.
The terrific thing about the Aviron is that it folds almost completely in half so that you can store it in a closet or behind a door. Don't let that big 22-inch HD touchscreen fool you, Aviron folds up and with the transport wheels, you can just pick up the back and roll it away!
The folded size of this magnetic rower is 54 long x 21 wide x 63 inches in height. That's it!
If you would like to give Aviron a try, they offer a free 30-day in-house trial period. All you need to do is save the original boxes for repacking in the very off chance that you return the Aviron.
I can't imagine anyone returning this awesome rowing machine but you really have nothing to lose by giving Aviron a try.
I bet that once you use Aviron, you will want to use it even more, and if it fits in your space, then you've found the perfect foldable rowing machine for you!
Are Foldable Rowing Machines Good?
There's an overwhelming amount of foldable or compact rowing machines on the market, and just like any commodity, you'll find good ones, as well as not so good ones. The important thing mean is that, yes, foldable rowing machines are the answer to limited space, and with due diligence, you will find good ones that will last for years.
The Aviron, mentioned above, is one example. It has all the bells and whistles that a person could want, and it also folds for more compact storage.
There are other rowing machines that you can fold or stored upright with ease. Keep reading to find out more about the other available options.
On a Budget? Click Here to See Our Best Rowing Machines under $500
The Hydrow Rowing Machine
When it comes to magnetic rowing machines (LEARN MORE), it might seem like one is just as good as the other, but that's an incorrect assumption.
The Hydrow is a magnetic rowing machine that puts other rowing machines to shame.
Designed by professional rowers in America for rowing fans, this indoor rowing machine has something no other rower can offer: computer-controlled electromagnetic adjustable resistance.
What does this mean exactly? When you select a rowing workout from the sweat- and dust-resistant 22-inch HD touchscreen monitor, the computer will automatically adjust the resistance level for you.
This compact rowing machine has a steel and aluminum frame that's strong and lightweight, making it the perfect home rowing machine on the planet!
I love the workout programs that Hydrow offers, and there's literally nothing else like them. You can row on the most beautiful scenic waterways around the world, live or on-demand, and get in tune with upbeat former Olympic rowers and pros as they cheer you on towards your goals.
There are also off-the-rower workouts, such as yoga or foam rolling, for those who like to mix things up a little.
Rowing machines with magnetic resistance are the quietest you can buy. You won't hear a thing from the rowing machine unless you use the front-facing speakers. If you want things super quiet, you can use your Bluetooth-enabled headphones.
Let's talk space.
While Hydrow doesn't fold, the screen does fold down and there are transport wheels for ease of moving it around. To solve your concern for space, you can use the Upright Storage Kit and Wall Mount. This allows you to store the Hydrow upright in an out-of-the-way location, like behind a door or in a corner of the room, even inside your closet.
Hydrow's footprint when stored upright is 25″ wide x 33″ long x 86″ high. Not much space at all, is it?
By the way, Hydrow also offers a free 30-day trial period, so you can see for yourself just how smooth and exciting the Hydrow is.
I bet you'll be like me. Once you try the impressive Hydrow rowing machine, you'll be hooked!
Do All Rowing Machines Fold Up?
No, not all do. Some rowing machines like the Hydrow above don't, and most water rowers made with wood frames can't be folded. However, many indoor rowing machines are designed to save space one way or another.
Let's talk about some other compact rowers that will help you save space so that you can still enjoy your rowing machine without worrying about where you will store it.
Ergatta Rowing Machine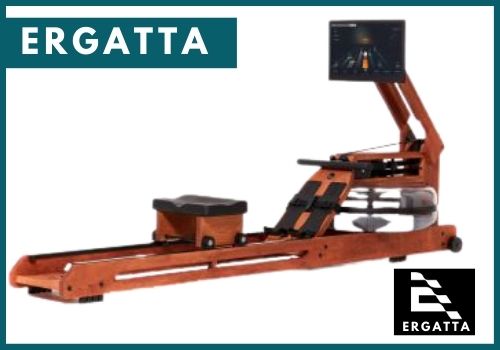 Do you love rowing but aren't a fan of instructors? Do you get bored doing classroom-style workouts and would rather play video games or race against others?
The Ergatta has exactly what you're looking for. This beautiful cherry wood-framed rowing machine is one of the best rowing machines for those who want something a little different.
The software is game-based instead of the typical classroom platform. Think Mario Kart, except that you're controlling the game with your rowing strokes rather than a steering wheel.
This is a water rower, which when speaking of home rowing machines, many people think of as the perfect design. You'll feel as though you're truly rowing on the water, especially since you're sitting in a wood frame with the sound of swooshing water adding to the effect.
I love the racing games that Ergatta offers, as well as the way the machine self-programs so that you always get the perfect workout.
When you first create a profile, Ergatta has you do a 1,000-meter row. The software will then know your current physical condition and adjust your rowing workouts to suit your fitness level.
After every 10-15 rows, the machine will automatically recalibrate itself so that if you have improved your fitness level, the workouts will become a bit more difficult so that you always feel challenged.
Recent updates include an option to toggle between 2D and 3D, workouts are now accessible via Android and IOS apps, and social features that lets you add friends or rivals and issue private challenges, to name some.
How cool is that? You don't need instructors dictating your every move, all you need is Ergatta!
What about space? Isn't that a huge machine, you ask?
The Ergatta doesn't take up any more space than most rowers (learn more), and the great thing about it is that you can store it on its side so that it doesn't take up any more space than a dining room chair. OK, maybe you will need to move a photo off the wall, but that's about it!
The storage dimension when Ergatta is upright is: 23″ wide x 22.5″ long x 86″ tall. The screen folds down, and if you picture the water tank sitting on the floor, you will understand how it works.
If you truly love racing and playing games, and you have some wall space to store Ergatta, you may be looking at the best rowing machine choice for you.
On a Budget? Click Here to see the Best Water Rowing Machine under $500
Concept 2 Model D Compact Rowing Machine
The Concept 2 rowing machine was invented back in the 1980s. It's been a best-seller ever since, which is understandable. The Concept2 Model D is an air rowing machine that is simple to use and gets the job done.
This portable rowing machine has very few parts to break, and they are readily available if you should need one. It's inexpensive since air rowing machines use only a chain and a fan, and the LCD monitor is fairly basic.
Even if your workout intensity is extreme, Concept 2 should last for many years since it has an aluminum I-beam monorail with a stainless steel seat track for extra durability.
Perhaps one of the most appealing things about Concept2 Model D, besides the price, is that the rail comes apart so the rower can be easily stored. Once you take it apart, each piece of this rowing machines measures: 25" x 33" x 53".
You might even be able to store those two pieces under your bed! Take note that there's also a Concept2 Model E, which is higher off the ground but also separates into two parts and stores easily.
One quick note about air rowing machines, they tend to make a lot of noise. If you have small children, elderly parents, or neighbors who complain about every little noise you make, you might want to think twice about Concept 2.
If noise isn't a problem, and you want a basic rowing machine that will get the job done, check out the Concept2 Model D.
Sunny Health and Fitness Bargain Magnetic Rowing Machine
Let's say that you really love the rowing machines mentioned above and you're looking at magnetic rowing machines because they are so quiet, however, you need something that won't break your budget.
I hear ya! Many of us live in smaller spaces because we don't have funds falling out of our wallets.
While you may not have heard of the Sunny Health and Fitness name, you most likely will hear a lot more about this company in the near future. They are making some amazing pieces of workout equipment that give you plenty of bang for your buck.
You don't have to give up quality for this price either. The alloy steel frame is very sturdy, and it also folds in the middle so you can store it in small spaces.
This folding rowing machine also has an LCD monitor for tracking all your stats, and it features an anti-slip handlebar and anti-slip footrests.
The folded dimensions of this compact rowing machine are 18″ wide x 35″ long x 50″ high, you'll have no problem sliding that under the bed or storing in the closet.
This compact rower has many other great features, and you can read many positive reviews online. For anyone who needs a quiet and compact machine, you should take a good hard look at the Sunny Health and Fitness magnetic rowing machine.
See My Top Pick Foldable Exercise Bike – CLICK HERE!
How Much Space Do You Need for a Rowing Machine?
Keep in mind that, in addition to the space for the actual machine, you should plan on at least another foot of space all around the machine for you to actually use it. You know, your elbows stick out, and you need room to get off and on.
I've made a chart so you can see the regular dimensions of each rowing machine listed above, as well as their respective stored dimensions and maximum user weight capacity.
ROWING MACHINE DIMENSIONS & USER WEIGHT CAPACITY:
Rowing Machine Model
Assembled Dimensions
(Inches, L x W x H)
Folded or Stored Dimensions
(Inches, W x L x H)
User Weight Capacity
(Pounds)
Aviron
100 x 21 x 44
21 x 54 x 63
397
Hydrow
86 x 25 x 47
25 x 33 x 86
375
Ergatta
86 x 23 x 40
22.5 x 23 x 86
500
Concept2 Model D
96 x 24 x 14
(note: 14" is seat height)
25 x 33 x 53
500
Sunny Health and Fitness
78 x 19 x 23.2
18 x 35 x 50
300
Most rowing machines are quite long but tend to be narrow. You will find that many people use their rowing machine in their bedroom and then store it in the closet or under the bed.
If you want to do off-the-machine exercises, such as yoga, plan on another few feet of space for your floor mat, arms, and legs to do a bit of moving.
The Final Takeaway
The best compact rowing machine will not only give you a terrific full-body workout but will also improve your stamina and endurance while you build new muscle.
If you are interested in losing weight, you can't beat a compact rowing machine. Depending on your current weight and age, as well as how hard you work out, you can burn as much as 900 calories an hour! Even those who work out at a moderate pace can easily burn 300 calories in 30 minutes.
Make sure that you are using the proper form when rowing, otherwise, you will end up with some sore elbows and a sore back as well.
You can sign up for a few beginners classes at your local gym or with some rower brands, such as the Hydrow, and do beginners classes built into the software.
I hope you found this article helpful. Nearly everyone can find some space for one of the above compact rowing machines in their home.
You might find smaller rowing machines, but you won't match the quality of the compact rowers listed above.
Stay happy and healthy, friends! Life is too short for anything else!
Written by Kathleen Langdon – TheHealthPot.com Founder
Certified Personal Trainer (CPT), Certified Corrective Exercise Specialist (CES)
Kathleen, a mother of two, struggled with ongoing weight and health issues.  She created this website after she turned her life around.  She built Thehealthpot.com to help inspire and motivate others with their fitness goals. Read more about Kathleen here.