Hi friends, Kathleen here, and today, I want to talk about two fantastic rowing machines – Hydrow and Aviron.
If you've been searching for a rowing machine and found that there are more choices out there than you can shake a stick at, you're right.
However, some rowing machines leave something to be desired. Either they don't hold up well, are noisy, or are downright boring.
If you've been looking at a particular niche called smart rowers, aka connected rowers, then chances are that you've noticed Hydrow and Aviron because they're both class leaders.
The Aviron & Hydrow Rowers At A Glance:
If you are short on time and just want to jump straight to our reviews click on the links below:
To help you make a better informed decision, we've compiled a detailed list of the best features and pros and cons for each machine. Keep reading to see our findings!

Keep Reading and I Will Show You My Findings:
I've talked about these machines before but never really compared the two. When it comes to workout classes, not everyone is the same, right? Some of us prefer to do workouts at home, while others enjoy working out with friends at the gym.
When it comes to workout options, everyone is a bit different, too. That's where today's article is going to take us.
If you've been wondering about the real score in the Hydrow vs Aviron indoor rowing machines debate, then you're in the right place!
That is what I'm covering today, so grab a chair and something to drink, and let's talk about how these two connected rowing machines differ and what they have to offer that other rowing machines don't.
The Aviron Vs Hydrow Comparison Review
The Hydrow Rowing Machine
If you haven't already seen Hydrow for yourself, you've probably heard me talk about it before. Hydrow has been called the Peloton of indoor rowers, and while that's a fair comparison, the on-the-water Hydrow rowing workouts are incomparable to Peloton's classroom-type sessions.
Hydrow was made by rowing professionals for those who love to row and want as close to a real-life experience as you can get.
The Aviron Rowing Machine
While Aviron looks different from the Hydrow, it's also a connected rowing machine. Not only that, but some have called Aviron the smartest rower in the smart rower genre.
Aviron offers two models – one for home use (the Impact Series) and another for commercial use (the Tough Series). In order to compare apples to apples, I'll be using the Aviron Impact Rowing Machine in this side-by-side comparison.
The Hydrow Rower
While both these indoor rowing machines have a lot of great features, they are very different in what they have to offer.
The Best Features of the Hydrow Rowing Machine
Let's look at Hydrow and the top features that you will want to know about:
1. Magnetic resistance
Hydrow uses a computer-controlled electromagnetic resistance system. For those of you who aren't hip to that lingo, what it means is that the rowing machine uses magnetic resistance that is automatically controlled by the computer system depending on how fit you are and which rowing workout you have selected.
This system gives Hydrow one of the smoothest rowing experiences you can imagine. It also provides a more realistic "on the water" feel that is hard to match.
2. Quiet operation
Since Hydrow uses electromagnetic resistance, it is virtually silent. This is really important for anyone who lives in an apartment or condo, or who shares living quarters with day-sleepers or small children. Hydrow is so quiet that you may even barely hear it while you work out.
There are also front-facing speakers, but if you need to be quiet for others, you can use the Bluetooth option to connect your own headphones. By the way, the huffing and puffing you make don't count as noise, ok?
3. Live & on-demand on-the-water workouts
The instructor-led rowing workouts are supreme. The coaches are rowing professionals, many of them former Olympic rowing athletes. There are no classroom settings, so you won't feel like you're in a gym.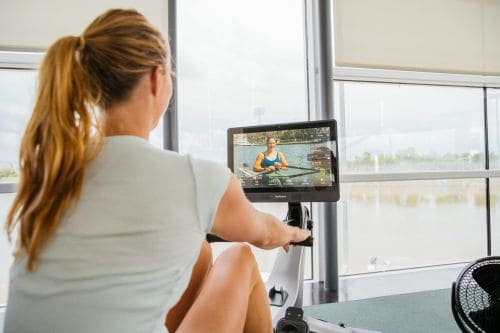 Instead, you'll do your workouts and see the most beautiful waterways from around the world, with the option of doing live or on-demand workouts. It doesn't get much more realistic than this, folks. All you are really missing is water, and if you want that, splash your face from your drinking glass now and again. This is a truly immersive rowing experience that many fitness apps simply can't replicate.
4. Touchscreen 22″ monitor
The monitor is a 22-inch HD touchscreen display that is sweat- and dust-resistant. This means less maintenance for you and no worries about damage from getting wet. However, I can't say the same thing about your cellphone, so you might want to move it out of the way.
5. Upright storage
This home rower will store upright against the wall when you use the Hydrow upright storage kit. With transport wheels, you can easily move the Hydrow rower wherever you like when you aren't using it.
6. Ergonomic design
Ergonomics are in top form with this rowing machine. The seat is settled on a unique 10-roller system so your behind won't hurt. I love the padded seat that doesn't let you down, give you blisters on your butt, or cause those annoying numb spots.
There is much more to Hydrow than I have room to mention, but we'll get to those other things a bit later on in the article.
The Aviron Impact Series Rower
Remember earlier when I told you that Aviron had been called the smartest among the smart rowers? There are a lot of good reasons for believing that, as you will soon discover.
The Best Features of the Aviron Rowing Machine
Some of the best features about Aviron that you need to know include:
1. Dual resistance
This rowing machine has a dual resistance feature that is pretty amazing. While magnetic rowers are very popular, they do have limits on the amount of resistance they can eventually provide. Aviron realized this, so they put both electromagnetic resistance and air resistance.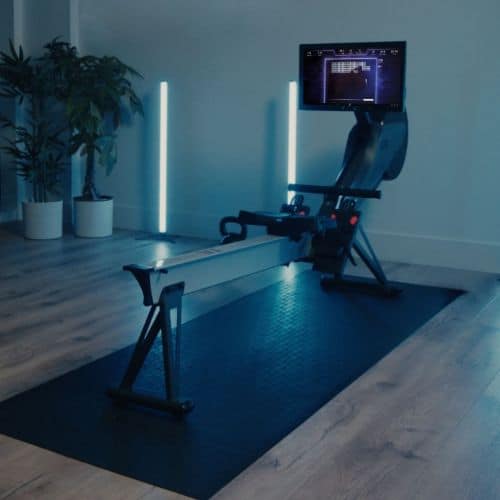 Air is virtually unlimited in the amount of resistance it can provide, so you know that no matter how advanced your fitness level becomes, Aviron will always feel challenging.
2. Super-quiet
Want to know what makes Aviron super quiet? It's an extremely tough and durable nylon belt. You might have found that many chain-driven rowing machines can be quite noisy but this nylon belt ensures that you will have the quietest rowing experience possible.
3. HIIT-focused workouts
Aviron offers short but very effective HIIT (high-intensity interval training) workouts that are based on making the entire experience fun and effective. Many people quit their workout routines due to boredom, but that can't happen with Aviron.
4. Gamified approach & variety
With a gamified platform and 7 ways to work out, Aviron makes rowing unique, fun, and highly motivating. Whether you prefer the competitive nature of racing against others in the Aviron community or professional rowers, or you would rather row while escaping zombies or playing arcade-inspired games, the Aviron home rower is right up your alley.
5. Touchscreen Monitor
Aviron also offers a 22-inch HD touchscreen monitor that is easy to read. This monitor also offers Bluetooth capability, has 32 gigabytes of storage, and 2X2 Watt front-facing speakers for super sound.
6. Foldable
If you have a small space that requires a rowing machine that can be folded, no problem. The Aviron Impact series is foldable (read more).
Aviron makes rowing fun. If you've got kids who hate exercise but will play video games for hours, they might be happy to "explain" the games to you, and you can get them to love rowing as well (wink!). That is definitely a win-win scenario in any parent's book!
Comparing the Rowing Workouts
One of the main differences between these two machines, besides the way they look, are the workouts. One type isn't necessarily better than the other, it's really a matter of preference.
Here's what you need to know before you make your buying decision.
Hydrow's Workout Platform
Hydrow offers nothing short of breathtaking live and on-demand workouts that feature impressive waterways from around the world (learn more).
Computer-controlled resistance
You will actually see other rowers in the boat and the scenery as you listen to the instructor's call. The computerized workout program will automatically adjust the resistance level to match your fitness level or the workout you selected. If you want to increase or decrease resistance, all you need to do is touch the screen and change it!
Live & on-demand workouts
If you loved having a personal instructor at the gym, you don't have to give that up. Hydrow offers live classes where you can speak to the instructor and they can help you get the most out of your rowing workout. This is a very popular feature that everyone loves.
For those who like to do their own thing, you can choose from the thousands of on-demand workouts. If you're feeling mellow, you can use the open row feature, which allows you to row at your own pace and enjoy the beautiful scenery without any instructors. Just you, your music, and the open water.
Off-the-rower workouts
There are also off-the-rower workouts too. Buy Hydrow's mat or use your own yoga mat and you can do other fitness routines such as yoga, foam rolling, and strength training workouts.
What Hydrow offers is a premium workout experience that you won't soon forget.
Aviron's Workout Platform
Get ready for something completely different!
Gamified platform
You won't find any instructor-led workouts or fitness classes with Aviron. Rather, this platform is gamified. I bet that you will have so much fun with Aviron, you will end up working out longer or more often than you had planned!
7 ways to work out
There are 7 different ways to get in your workout. You can row in virtual workouts that let you see the beautiful bodies of water that the world has to offer. You might choose workouts that are more data-focused, such as completing 3,000 meters or rowing for 30 minutes. Or you can choose games so that your workouts don't feel so much like hard work.
Computer-controlled resistance
The dual-resistance mechanism is computer-controlled, with manual overrides to increase or reduce.
Every workout, regardless of the type you pick, is made to be short and effective, so that you spend less time exercising yet you get the same fantastic results.
Aviron keeps you motivated and engaged, and when you feel that, you will get better results than what you get from any other type of exercise machine.
Aviron or Hydrow – Which Rower Is for You?
While both of these rowing machines will give you a full-body workout and both are excellent home rowing machines, the fact remains that, depending on your personal preferences, one of these interactive rowing machines will probably appeal to you more than the other.
Who Will Enjoy Hydrow?
You might be a Hydrow fan if you enjoy or want the following:
If you want live workouts that make you feel like you're rowing on the water as part of a team rowing real time with you
If you want access to thousands of on-demand workouts with some of the best professional athletes to guide you and off-the-rower workouts to help you reach your fitness goals faster
If you would love a super stylish indoor rower that looks like a sleek piece of smart home gym equipment
There are rowing machines, and then there is the Hydrow. If you want world-class athletes and professionals as instructors for your workouts, you will want to buy Hydrow.
Who Will Enjoy the Aviron?
Everyone has their own personal likes and dislikes. You might be an Aviron fan if you enjoy or want the following:
If you are interested in time-saving HIIT interval workouts that bring results faster
If you dislike instructor-led workouts, and prefer Aviron's 7 ways to work out to end boring workouts forever
If you want games and racing competitions that will lock you in your rowing workouts longer than any rowing program will
Aviron offers a fun, gamified rowing experience like no other, and it will have you returning to the machine again and again. If you want a lot of rowing workout choices, Aviron would be your top pick.
Subscription Price and Warranty Comparison
Both Aviron and Hydrow require a monthly subscription fee, which is very common with today's smart rowing machines.
Aviron
The monthly subscription fee is $299 a year or $29 per month. You can create as many profiles as you wish for this price.
Aviron has a 10-year warranty on the frame, which is excellent. All other parts carry a two-year warranty, labor cost not included.
Hydrow
The monthly subscription price for Hydrow is $38 per month or $456 per year. Like Aviron, you can create unlimited user profiles since the subscription goes with the machine.
Hydrow has a 5-year warranty on the frame. All other parts have a one-year warranty with one -year of labor included.
The Final Takeaway
When it comes to Hydrow vs Aviron, I can't tell you how impressed I am with both of these pieces of workout equipment.
You simply can't beat the intense workouts and world-class rows that Hydrow offers. The monthly subscription price might cost a bit more, but you get so much with this interactive rower, and you will quickly realize that it is worth every penny.
If you would prefer a gamified rower that makes fitness fun and exciting, then you should definitely check out the Aviron Impact Series interactive rower. You'll love the variety that it offers and get the motivation that you need in your workouts.
Working out should be something you look forward to, not something you dread and push yourself to do. The truth is, when it comes to Hydrow vs Aviron, you can't go wrong with either of these home rowers. These are top-of-the-line pieces of workout equipment, and it all boils down to what your preferences are.
Stay healthy and happy, friends, because life is too short for anything else.
Written by Kathleen Langdon – TheHealthPot.com Founder
Certified Personal Trainer (CPT), Certified Corrective Exercise Specialist (CES)
Kathleen, a mother of two, struggled with ongoing weight and health issues.  She created this website after she turned her life around.  She built Thehealthpot.com to help inspire and motivate others with their fitness goals. Read more about Kathleen here.