Hi everyone, it's your favorite blogger, Kathleen, on the loose again!
In today's article, I want to be really frank with my readers and talk about rowing machines for heavy people. Yes, you.
I know that I'm usually WAY too frank, but this time around, I want to talk turkey, so to speak, about a subject that most people would find uncomfortable.
If you have ever been more than 10 pounds overweight, then you know the shame that comes with that belly (or butt or wherever it is you carry your weight). We have all kinds of nice names for being fat including Plus-Sized, Husky, Big and Tall, Plush, or even Robust!
Our Top Rowing Machines with High Weight Capacity At A Glance:
In this review, we'll discuss the best rowing machines with high weight capacity that are ideal for your home workouts. If you are in a hurry here is a quick look at our top picks:
1. Teeter Power10 Elliptical Rower
4. Ergatta Water Rower Machine
5. Concept2 Model D Rowing Machine
6. Aviron Tough Series Rowing Machine
Do any of those ring a bell? While being overweight isn't healthy, let's face it, it happens! Sometimes it's due to a change in hormones, a change in jobs, stress, and even due to medication. For others, it's plain lack of exercise and too many yummy but not-good-for-us foods.
Eventually, you get tired of hiding those extra pounds, so you decide to start getting some exercise, and what happens? The exercise equipment has a user weight capacity close to what my dog weighs.
Why do manufacturers do that? Some men weigh close to 300 pounds, and they don't have an ounce of fat on them! Do exercise equipment manufacturers think that anyone weighing more than 200 pounds wouldn't want to exercise or what?
I am happy to report that I've found some rowing machines that can handle users weighing more than 200 pounds. Ready? Let's get ready to rumble on a high weight capacity rowing machine!
Heavy Duty Rowing Machines
Since a rowing machine offers one of the best forms of exercise and can help a heavy person lose weight or help a big person get some healthy cardiovascular exercise, it will be the focus of my article today.
Don't buy a piece of junk that has a user weight limit way below what your bathroom scale says. Losing weight with one of the following rowing machines will be easier than you thought possible, and who knows? You might even have a little fun doing it.
This article will feature 6 heavy-duty rowing machines, so here's a quick peek:
| | |
| --- | --- |
| Indoor Rowing Machines | Maximum User Weight Capacity |
| Teeter Power10 Elliptical Rower | 300 pounds |
| Hydrow Rower | 375 pounds |
| LIT Strength Machine | 450 Pounds |
| Ergatta Rower | 500 pounds |
| Concept2 Model D | 500 pounds |
| Aviron Tough Series | 507 pounds |
Rowing Machines with a 300 – 400 Lb Weight Capacity
One look at this headline. and I bet you were smiling, thinking "THAT'S what I need!"
There are tons of rowing machines that can only handle 200 or 250 pounds, but what if you need more than that? I've got what you want right here.
These 3 rowing machines are all top-of-the-line, world-class rowing machines that can take the weight and keep rowing.
That being said, each rowing machine is a bit different. Whether you prefer a water rower or magnetic resistance rower, one of these heavy-duty pieces of equipment should work perfectly for your lifestyle and wallet.
Teeter Power10 Elliptical Rower:
300-Lb Weight Capacity
If you haven't seen this one-of-a-kind, heavy-duty rowing machine, you are in for a real treat.
I like the Teeter Power10 because it is different and literally a beast of a workout. It doesn't matter if you're only interested in reaching a new fitness level or trying to lose weight, this rower can do both and it is unlike any other.
Imagine an elliptical that you can row instead of walk? That's the Teeter Power10 magic! One look at this incredible rowing machine and you'll see that it is unique.
Teeter Power10 vs Concept – See Who Won!
Features of this incredible indoor rowing machine include:
You can engage more muscles with the bi-directional handles. This means that you don't just pull as you would a normal rowing machine, but you also push against the handles.
The multi-grip handlebars also mean that you can work a different muscle group simply by changing the position of your hands.
Like other rowing machines, you will work both your upper and lower body at the same time. This is what makes rowing machines so darn great for losing weight!
The Power10 uses magnetic resistance, which makes this rower incredibly quiet.
There are 7 levels of resistance for all fitness levels, even beginners.
The Digital Performance Monitor tracks your total time, calories burned, distance, and strokes per minute.
The Power10 includes a chest strap at no extra cost for accurately measuring your heart rate, which is really important for monitoring fat loss
No monthly subscription is required! This heavy-duty rowing machine uses the FREE Teeter Move app that offers tons of workout options
The warranty on the Teeter Power10 is:
1-year on the entire machine
You may also purchase additional warranties for a longer coverage
The Teeter Power10 is the perfect choice for anyone who wants a real beast of a workout and is worried that they might become bored with their machine.
Not only does this rowing machine offer a fantastic cardio workout, but you will find that rowing workouts burn fat and calories like a volcano!
The Teeter Power10 is the perfect high-capacity rowing machine for anyone who is serious about their workouts and wants to see results fast!
No Space? See Our Top List of Compact, Folding Rowers – CLICK HERE!
The Hydrow Rower:
375-Lb Weight Capacity
This is probably one of the most stylish rowing machines you will find anywhere. Not only that, this is a smart rower, which means that it connects to the internet to give you rowing workouts that are out of this world!
The Hydrow was made by professional rowers for those who want to experience what rowing really feels like while never leaving the house.
A heavy-duty rowing machine like Hydrow comes with a premium price, but should that be the deal-breaker for you?
Not for me! I always think of my exercise equipment as an investment in my health, not a frivolous waste of time. So as long as I am getting what I pay for, I'm OK with spending more on a high-quality machine.
Check out some of the features of the Hydrow:
This rowing machine uses magnetic resistance for a nearly silent operation. This is perfect for those who live in apartments, have infants or small children, or those with tight living arrangements.
The 22-inch HD touchscreen monitor is crisp and clear, making you feel as if you are really on the water.
The computer-controlled system will automatically adjust the resistance level based on the workout program you choose.
There are more than 2,000 live and on-demand workout programs available, all with instructors who are former Olympic athletes or are rowing professionals.
All workouts are done on the water, no classroom settings here!
There are high-quality front-facing speakers, or you can use your Bluetooth-enabled headphones.
You can also do off-the-rower workouts, such as Yoga or Pilates.
This rowing machine can be stored upright for space-saving convenience.
Workouts include HIIT, endurance, pyramids, climbs, technique-based live rows—there are so many styles from which to choose!
The warranty on the Hydrow is:
5-year warranty on the frame and upright storage kit
1-year warranty on all other parts, including the monitor
1-year labor
You can also buy an extended warranty from Hydrow if you wish.
If you are already a rowing fan, then you will want THIS rowing machine! You'll love the way the Hydrow feels and have so much fun using it that you'll forget you're working hard at exercise!
With a 375-pound weight capacity, you will love the stability and the full-body workout you get with this incredible rowing machine!
Rowing vs Walking for Weight Loss – Click Here to See Which Is Burns More Calories!
The LIT Strength Machine:
450-Lb Weight Capacity
Do you own a set of resistance bands, or have you used them in the gym? I love resistance bands because I can take an entire box of "weights" with me when I travel, and they only weigh a pound or two!
Resistance bands are a great way to build muscle and lose fat, but they won't help you with cardio. This is where the LIT Strength Machine comes into play. This rowing machine has resistance bands built into the frame so you get the best of both worlds.
I love the LIT workouts because they are all HIIT workout programs. What happens is, you might start off rowing, but then you will get off the rower to do some resistance band training, and then get back on the rower! Who could ever get bored with these types of workouts?
The best rowing machine features for the LIT rower include:
You'll have access to personal instructors who will help you with problem areas, answer your questions, or give you pieces of advice on how to reach your weight loss and/or fitness goals.
Everything you need is included: handles, a pair of resistance bands, ankle cuffs, and a tablet holder.
You pay less with this machine because you can download the app to your phone or tablet and attach either to the machine or cast it to your television for a larger view.
This water rower is a heavy-duty rower, offering you the sweet sound of moving water.
In addition to rowing workouts, you can use the rower for their Pilates and Yoga workouts too.
The LIT rower warranty is:
Lifetime on the frame
5 years on smaller parts
Yeah, you can read that again. If you want a rowing machine that backs its product with a solid warranty, this is the one for you.
Wow. That alone is impressive enough to want to buy the LIT Strength Machine, but when you add the 450 pound weight capacity, you know this rowing machine is what you've been looking for.
Heavy-Duty Rowing Machines with a 500 Pound Weight Capacity
500 pounds?? Wow! That's a quarter of a ton, and if you want a true heavyweight in your gym, these rowing machines are the ones you have been looking for.
While both of these machines have super-high user weight capacity, they are very different, so keep reading and find out which one sounds like the perfect choice for your home gym.
The Ergatta Water Rower Machine:
500-Lb Weight Capacity
Do you want a rowing machine that looks like a piece of furniture? The Ergatta is exactly that, plus more.
Check out this beautiful water rower! Made from custom cherry wood, the Ergatta looks more like an elegant piece of living room furniture rather than a piece of gym equipment!
To make this rowing machine even more attractive, it has a large touchscreen monitor that puts other rowing machines to shame!
I really like water rowers because that swooshing sound of water in the tank really makes you feel as if you're on a lake and row, row, rowing your boat! Water rowers do make some noise but are much quieter than some air resistance rowers.
Check out some of the amazing features that the Ergatta offers:
The workouts are game-based, not instructor-led, so you can row workouts in a cleverly designed, game-based platform. With Ergatta, 'playing games and targets' actually mean hitting your personalized fitness goals and staying at your intensity zones longer.
You can also go to the highly addictive Race of the Week and compete with other users in the Ergatta community.
Workouts regularly feature competitions, training programs, and monthly challenges.
I love that this rowing machine calculates your current fitness level and adjusts your workouts to match. After several rowing workouts that you complete, the machine will automatically recalibrate your fitness level and adjust the workouts to fit your improved fitness!
Made in the USA
The touchscreen monitor is a generous 17.3 inches.
The monitor arm folds down for more compact storage.
Workout programs are organized and easy to understand.
Stores on its end so that it only takes up as much as much space as a dining room chair.
Membership for this rowing machine is $29 a month or $348 if you pay for a year in advance. That's like getting two months free.
You can create unlimited profiles.
Ergatta states that they add at least 6 new workouts to their library every week.
This rowing machine is completely Bluetooth-enabled so you can connect your Airpods or other Bluetooth headphones, and heart monitors.
The company sends you your rowing machine completely assembled. A technician will deliver it to you and set up the machine to ensure that it is working properly.
Check out our hands on video and get a firsthand look at the Ergatta Water Rower:
The warranty on the Ergatta is:
5-year warranty on the frame
3-year warranty on all other parts
1-year warranty on the tablet
I'm betting that the younger crowd will simply love the technical aspect of the Ergatta. The workout programs will give them a game-like experience without instructors telling them what to do or calling out to them. The Ergatta rower (read more) has on-demand races that feel realistically competitive because the system uses your calibration results to match you up with eight users that have similar fitness levels. If you would prefer, you can race against professionals, but I don't like losing so easily!!
I like the fact that the monitor has multiple plugin options, such as a mini-USB port.
If instructors bore the heck out of you, if you like racing and working out in a video-like platform, if you like the idea of a beautiful machine that will probably match your furniture, then you should take a close look at the best rowing machine for gamers – Ergatta.
Concept2 Model D Rowing Machine:
500-Lb Weight Capacity
You've probably used or seen one of these at your local gym. Concept2 Model D has been around since the 1980s, and it's been credited as the first true home rowing machine.
However, this rowing machine has changed very little over the years, and if you are into high-tech gadgets, this rower may not be what you're looking for. For anyone who wants a no-frills rowing machine that gets the job done, this budget rowing machine might be what you are looking for.
Concept2 Model D uses air resistance in the form of fan blades. The harder you work, the more air resistance you will create, and since air is free, you will never, ever run out of resistance, a feature many people like.
Other features from this 500-lb weight capacity rowing machine include:
An attractive price
A large community of users
The PM5 performance monitor on the Concept2 Model D monitors your progress using a backlit LCD display that will read and track your time, distance, and intervals.
This rowing machine features Bluetooth compatibility so you can use your Bluetooth-enabled headphones or heart rate monitors.
You can save your workouts and data to a USB flash drive.
Very easy to assemble out of the box
Folds for easier storage
The warranty on Concept2 Model D is:
5-year warranty on the frame and parts
2-year warranty on everything else
This air rower is a best seller due to its budget price and ease of use. You should note that air rowers tend to be a bit noisy (think of a fan on high speed), so it may not be the best choice for those in apartment buildings.
Concept2 Model D is one of the best rowing machines for anyone who wants a no-frills, basic rower that gets the job done.
Rowing Machines with a 500-Lb+ Weight Capacity
You won't find too many rowing machines that will fit this weight capacity level, but I do believe that I've found the best one, especially when you consider the price!
Let's talk commercial-duty rowing machines, shall we?
The Aviron Tough Series Heavy-Duty Rowing Machine:
507-Lb Weight Capacity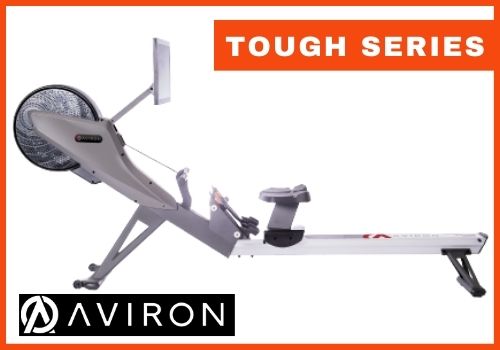 There are big rowing machines and there are bad a** rowing machines, and then there is the Aviron Tough Series.
You may have used one of these rowing machines if you had a corporate gym or even if you stayed at some bigger hotel chains.
The Aviron Tough Series is a commercial rowing machine, so you know this one is made to take a lickin' and keep on rowing!
Not only can Aviron handle the big guys, but it also works hard to combat boredom. The workout programs with Aviron are designed to keep you motivated and interested. If you like variety, then check out Aviron's 7 ways to work out.
You can do a HIIT hardcore workout, play games, compete with others in the community or compete against pro athletes, or just watch the beautiful scenery go by with one of the scenic rowing workouts that feature waterways from around the world.
I love the way the Aviron looks. It has a sleek and stylish design that might remind you of a Star Trek movie. Can't you just see Captain Kirk using an Aviron rowing machine? OK, maybe Doctor McCoy, but you get the idea. I think it has a really cool, futuristic look to it.
All workouts are designed to be fast yet effective, so you know you are getting a terrific all-body workout that will help you reach your fitness goals.
Some of the other features of the Aviron Tough Series are:
The Aviron uses both magnetic and air resistance systems so you can get the best of both worlds
Unlike most rowing machines using air resistance, the Aviron is very quiet, creating a maximum of 60 decibels only. This is no louder than an average room conversation.
There are 16 levels of resistance so you should always feel challenged.
The frame is made of anodized aluminum, which is super sturdy yet lightweight.
Front transport wheels make moving or storing the rowing machine easier.
The seat is ergonomically designed for extra comfort.
The 22-inch HD touchscreen monitor is sweatproof and looks amazing.
The monitor also tilts for easy viewing.
There are two front-facing speakers for an incredible sound.
This rowing machine features a 2-megapixel front-facing camera and built-in microphone.
Completely Bluetooth-enabled so you can operate your own heart rate monitor or Bluetooth-enabled speakers
The warranty on the Aviron Tough Series is:
10-year warranty on the frame
2-year warranty on everything else
This rowing machine from Aviron is pretty darn impressive, wouldn't you say? I found this rowing machine to be one of the best rowing machines for heavy people, heck, even for not-so-heavy people, that you can buy.
The workouts are designed to be effective but not overly long, a fact that really caught my attention. I also like that the Aviron has different workout options, so you don't get bored doing the same thing over and over again.
The screen and programs are super easy to read and understand, by the way, so even if you feel that you are "technologically challenged", you shouldn't have any problem using Aviron's programming.
If you want/need a super-heavy-duty rowing machine that has been used in hotels and corporate gyms, if you want the most effective and interesting workouts available, and if you love getting the most value for your money, you should absolutely check out the Aviron Tough Series rowing machine.
So What is the Best Rowing Machine for a Heavy Person?
I won't pick the "best" rowing machine from this list because the best rowing machine will be the one that suits your lifestyle and needs. It doesn't make sense to pick a machine that can't handle 400 pounds if that's what you need!
Find the weight capacity that you need and take it from there. Regardless of which machine you pick, you will be picking a real winner since all of the above machines are high-quality and are made to last.
I know that you will love your new rowing machine, so congrats to you on your new purchase!
Stay healthy and happy because life is too short for anything else!
FAQs
1. Do rowing machines have weight limits?
Yes, they do. Like all pieces of exercise equipment, the rowing machine weight limit will depend on the manufacturer. Sometimes the weight capacity can vary between models from the same manufacturer so always read the information to be certain that your chosen rowing machine can handle the weight limit you have in mind.
2. Can obese people row?
They absolutely can. Please remember that I am not a doctor, and this is not medical advice. If you are obese, you should always consult with your doctor before beginning any exercise program to ensure your own safety. Speaking from personal experience, persons who are extremely overweight can use rowing machines that are suited for the proper weight capacity. Rowing is the perfect answer for weight loss and improving your overall health.
3. Can rowing help you lose weight?
It absolutely can. Of course, like any piece of exercise equipment, you get out of a rowing machine what you put into it. Sitting on the rower watching TV and eating donuts will not help you reach your goals. Even if you can only row for 5 minutes in the beginning, keep at it! You will find that your endurance and strength will improve within a few weeks, and before you know it, you will be able to do 20 or 30-minute workouts. Commit to working out for 25-30 minutes 6 days a week, and you will see results very quickly!
Written by Kathleen Langdon – TheHealthPot.com Founder
Certified Personal Trainer (CPT), Certified Corrective Exercise Specialist (CES)
Kathleen, a mother of two, struggled with ongoing weight and health issues.  She created this website after she turned her life around.  She built Thehealthpot.com to help inspire and motivate others with their fitness goals. Read more about Kathleen here.