Don't like the results you see on the bathroom scale? I get you. See, all my life my weight I've struggled with my weight. Well, things started turning around when got serious with my workouts, using a foldable exercise bike, and eating healthier foods.
Our Top Home Fitness Picks
In this review I'll cover my favorite bike, the Marcy Recumbent bike, and a few other folding exercise bikes.
Do you want a toned body? Here are our top 4 options.
Top 10 Best Foldable Exercise Bikes in 2021
If you are looking for a folding exercise bike with back support, the Marcy Recumbent ME-709 is a perfect pick. This machine is one of the best foldable exercise bikes on the market and is designed to make your weight loss journey fun and exciting.
It is made of heavy duty steel that features a black coated finish. Its step-through design allows you to mount and dismount the machine with ease. This stationary folding exercise bike has eight preset levels of resistance.
So what comfort features does the ME-709 offer? For comfort, the machine has a padded seat and back rest. The high-density foam padded seat and back support helps minimize friction ensuring you do not hurt your back and butt as you exercise.
Another nice feature of the ME-709 is its padded handle bar. This bar ensures your hands don't tire and that you retain the right exercising position.
This Marcy recumbent exercise bike has counter balanced pedals. These weighted pedals offer maximum foot support. On the upper side of the pedals, you will find adjustable foot straps that enable adjust the pedals to fit your feet perfectly.
You may be wondering, "I'm 6'2" Will the Marcy ME-709 accommodate my height?" This foldable recumbent exercise bike is designed to accommodate individuals with different leg lengths and body shapes. Use the knob below the seat to adjust the leg length. You can adjust its length between 40-49 inches.
There is 3.5-inch LCD screen to guide you through your exercise. This screen displays time, calories you have burnt, distance covered, and the speed covered. This folding bike is all you need for your cardio workout routine. If you are a beginner, here are some recumbent bike workouts for beginners to try out.
Pros
This foldable exercise bike works silently
Easy to assemble
Built in wheels for portability
Cons
Does not come with its batteries (you have to buy them separately)
Does not automatically reset time
I have worked from home for four years now. Most of my days entail: Preparing kids for school. Checking my emails. Working on some job. sending out pitches. Picking my babies. Dinner. More work! Boy, there is no fitness time! Working from home is great. But like me, you may not have some free time to look after yourself.
Before you notice it, the pounds will have piled. Luckily, with the FitDesk exercise bike you can work as you work on your projects. How cool is that! This foldable exercise bike features a beach cruiser style seat. The backrest is adjustable to enable you to sit in an upright position or in a semi-recumbent position. The seat and back support are padded for extra comfort.
Just like the ME-709, this foldable bike has 8 preset resistance settings. You can control these settings using the control knob.
Another great feature of the FitDesk 3.0 exercise bike is the 16 X 19-inch non-slip desk surface that can hold a laptop, tablet or a magazine. The manufacturer has included a built-in tablet holder so you can stream or Skype as you work out.
Also, FitDesk 3.0 comes with a storage drawer where you can store your phone, pens, or small notebook. What really sets apart FitDesk from other recumbent bikes is its massage rollers and provision for upper body workout.
You will find the massage rollers on the adjustable armrest. These rollers massage your hands, providing relief from pain that is as a result of typing for long hours.
The other feature that sets FitDesk apart is the resistance bands that help you workout your upper body. When not in use, the bike folds to a perfect 16 x 28 inches, allowing you to save space. FitDesk 3.0 is one of the best desk bike and is exactly what you need as a work from home freelancer.
Pros
Meter to track calories, speed, and time.
Very quiet while riding
The resistance bands are a nice addition
Cons
Not ideal for large laptop.
Assembly takes up a bit of time
Exerpeutic Fitness is renowned for designing some of the best folding exercise bikes. These foldable exercise bikes offer a variety of awesome features. Also, all Exerpeutic Therapeutic Fitness bikes are pocket friendly and this Magnetic Upright Bike is no exception.
Its large soft padded seat is designed to accommodate people of different sizes. The seat is adjustable to accommodate people between 5'3" to 6'1". On your front you will find an LCD display that measures 3.3 X 1.5 inches. This monitor indicates speed, calorie, time and heart rate monitor.
There are handlebars to the sides of the monitor. Each bar is fitted with pulse sensor that monitors your heart rate. This nifty feature helps you remain within your heart rate zone. Below the LCD display is the resistance controller. This knob enables you to change the workout from easy to challenging.
This Exerpeutic Magnetic Upright folding exercise bike is integrated with a 3-piece crank system. You may be asking, "What is that?" A cranking system allows you to pedal consistently and reliably with ease. The V-belt and flywheel are perfectly balanced so that the machine operates quietly.
You can even watch your favorite show as you workout. When not in use, the bike folds perfectly to half its size. Transportation wheels have been included to help you move the bike with ease.
Pros
Storage compartment to hold phone, earphones, or remote
Has adjustable safety straps
Operates whisper quiet
Cons
Mileage resets to zero after reaching 999 miles
The seat is fairly large for petite users
L Now Fitness has some incredible exercise bikes. For this review we'll look at one upright model among L Now bikes. It's users gave it a 4.5 out of 5 and there are good reasons why it is so highly rated.
It ships as preassembled; 2 frame pieces that are simple to put together. It will take you around 30 – 40 minutes to have this PooBoo bike up and running. This L Now bike has an X style frame. The design makes it easy on and off the bike and also allows you to fold the bike easily for storage.
This foldable exercise bike has a 5.5 lbs flywheel and offers up to 8 levels of resistance, making it the perfect bike for beginners as well as seasoned workout buffs. Speaking of resistance, this folding bike offer 8 resistance levels which accommodates beginners, intermediate and seasoned users.
For example, the first resistance level is ideal for beginners. It offers light exercising without much pedaling. Resistance level 8 is for the pros. You'll be pedaling hard and having a more intense workout. This L Now X1 bike uses a magnetic resistance system. This means no worrying about cords or power source. You power the bike through pedaling.
On pedaling, this foldable exercise bike allows for reverse pedaling as well. This ensures you get to workout more muscles than when using a traditional bike. Other features you will enjoy include a pull rope to workout your arms and upper body, a backrest to support your back and 2 Free dumbbells.
Pros
Foldable design and transport wheels makes it ideal for people with small spaces
Has a large padded sit for your comfort
Resistance knob allows you to control the resistance levels easily
Cons
Digital monitor not backlit
The Marcy foldable exercise bike NS-653 is one of the best folding exercise bike on the market and is perfect for both the young and elderly. This foldable bike provides high quality features at an affordable price. The seat and back support are padded with high density foam.
This padding ensure your back and butt do not get sore from the workout. The seat is adjustable so that it can accommodate people of different heights. You adjust it to four different height positions; from 30-33 inches. To the front of this Marcy compact exercise bike, you will find a user-friendly panel.
The panel has an LCD display that allows you to track distance, speed, calorie burned, and time. Just like other folding exercise bikes on our list, the N-653 uses magnetic resistance to allow for smooth cycling. You can change the resistance setting via the control knob below the control panel.
The Marcy foldable N-653 features 2 sets of handles. You can lean forward and use the handles next to the control panel or lean back and use the soft padded handles next to the seat.
Once you are done with your workout, just fold down the backrest then fold up the exercise bike. The rollers enable you to move the machine easily from the storage to your workout space and vice versa.
Pros
Easy to assemble and use
Runs silently
Cons
Displayed text fairly small
Resources: If you are looking for a bike for your elderly loved one, here are some exercise peddler for elderly.
If you are looking for a powerful semi recumbent bike, then go for the SF-B2721 Comfort XL from Sunny Health & Fitness.You may be wondering, what is the difference between a fully recumbent bike and a semi recumbent bike? Well, with a semi recumbent bike you have the option to change the seat position to up or down; upright bike or recumbent bike.
You can adjust the level of incline through a control dial below the seat. This powerful gym machine allows you to adjust it to three levels; between 25 to 30 inches. On the control panel, you will find a multi functional digital controller that helps you keep track of the calories you have burned, time elapsed, and more.
To the sides of the monitor are padded handle bars fitted with pulse monitors. Every time you grip these pulse grips, you will get your heart rate reading on the monitor.
Below the control panel is the resistance control dial that allows you to change the resistance level from 1 to 10 for a more challenging workout. This Sunny Health & Fitness folding exercise bike folds perfectly in half for storage.
Pros
Equipped with a pulse monitor and a tablet holder
Strong recumbent handlebars
Equipped with smooth belt drive mechanism
Cons
Not ideal for tall people (taller than 5'9")

This foldable bike is designed for upright cycling or recumbent cycling. You can achieve these positions by loosening or tightening the seat. The Harvil Foldable Exercise Bike is powered by a magnetic resistance system. This system allows the bike to operate quietly. You can even watch your favorite show as you cycle.
This folding exercise bike has an adjustable seat that allows users of different heights to use it effectively. The padded handlebars help you maintain balance when you sit back and pedal. The pedals feature a slip-resistant design that enables you to remain secure during your workout.
When you are done, pull the knob and the exercise bike will fold. There are two built-in wheels that make transportation easier.
Pros
Made in the US
Pedals with adjustable straps for a tight fit
Operates silently
Cons
Measurements not in US measurements
Backrest not adjustable
Leikefitness is renowned for its versatile fitness equipment. Some of their top rated equipment include sissy squat bench, cardio trampolines, bikes and portable steppers. In this review of the best foldable exercise bike, we'll look at their X Bike 2200 foldable exercise bike.
The X 2200 features a unique design, a 2 – 1 frame that allows you to use it as an upright bike or as a recumbent bike. This design allows users with back pain to use the bike comfortably.
What else does the Leikefitness X bike offer? It uses magnetic resistance and allows you to burn up to 400 calories during a 40 minutes workout session. Speaking of resistance, the bike offers 10 levels of resistance
Level 1 – 3: Relaxed mode; ideal for warm up and cooling down
Level 4 – 6: Motion mode; ideal for beginners
Level 7 – 10: Captain mode; Best for intermediate as well as pro users
When it comes to the seat, you get a comfy, well-padded seat with backrest. This seat can be adjusted in 7 different heights allowing users between 5'1″ to 6'4″ to use the bike comfortably. The backrest is foldable to save space.
There are handles attached to the sides of the seat for stability during workouts. For the console, you get an iPad holder, an LCD monitor to track your metrics and handrails with heart rate sensors.
Pros
Heart rate sensors allow you to track your heart rate
Runs silently
Allows for reverse pedaling
Cons
Seat feels uncomfortable especially during long workout sessions.
Stamina Products has some premium gym equipment and the Wonder Exercise bike is among their best products. This 2-in1 foldable exercise bike offers resistance training to the upper body and lower body.
For upper body resistance training, the manufacturer has attached two Wonder Arms at the back of the seat. Each arm has an elastic band. These arms help you workout your back, chest, arms, and shoulders. To change the position of the arms, simply unscrew the knob and pull
Some of the upper body exercises you can do include:Triceps extensions, Side crunches, Overheads press, Chest press, Lateral raises, Standing rows, Bicep curls. Stamina Products understands the need to track your milestones. To help you with this, they have included an multi function monitor.
Like other products in our folding exercise bike review, you can use the biking tension dial below the seat to adjust the resistance settings. As a gift, you will be able to access two workout videos by a personal trainer. How is that for motivation?
Pros
You get access to 2 workout videos
Textured foot pedals and padded hand grips
This hand bike Saves space
Cons
Pedals do not have straps
Read Next: 7 Best elliptical bike combo machines
The XTERRA Fitness FB350 folding exercise bike boasts of a solid X-frame design that occupies very little floor space. This foldable exercise bike with back support is ideal for anyone who wants to keep fit but has limited storage space.
The FB350 folds up nicely to fit in a corner or closet. This folding magnetic exercise bike has a lower back pad to protect your back from back pain.
Just like other folding exercise bikes on our list, this foldable exercise bike has a 2 x 1 inches LCD monitor that helps keep track of your results. Another great feature of the FB350 compact workout bike is its silent belt drive system. This system offer quiet and smooth operation that does not require maintenance.
Pros
This foldable exercise bike is the best bike for short person (4'10" to 5'10")
This foldable exercise bike has an accessory pocket
Designed with thick steel tubing for durability
Cons
Seat a bit uncomfortable (Tip: get a seat cover)
Pedal straps are small
Buyer's Guide: How to choose the Best Foldable Exercise Bike
There are hundreds, if not thousands, of exercise bikes available on the market. This is good news for us because it means the prices will be affordable. You next question would be, how do you pick a bike that will meet all your needs? Before you arrive to your decision, here are some important things you should consider
Your height
How tall are you? One of the things features you need to check is the distance between the pedals and the seat. If you have long legs, you need a folding exercise bike that you can adjust the height of the seat. The same rule applies for someone with short legs or if you are going to share the bike with someone who is shorter/taller than you.
If the bike is too short for you, you may end up hurting your knees due to the pedaling motion. In our review above, we have indicated the bikes that are height adjustable.
Performance
The second factor to consider while looking for a foldaway exercise bike is the bike's resistance levels. An ideal bike should have at least 8 resistance levels. Resistance settings help folding bikes mimic the outdoor feeling of pedaling on different surfaces. All the bikes in our compact exercise bike review come with resistance control dials to help you change the levels per your needs.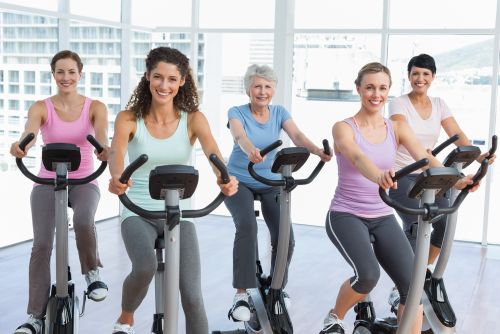 Your space
How much space do you have to spare? If you live in a small apartment or home, you need to save as much floor space as possible. A foldup exercise bike is great option since you can just stow it away once you are done.
Stability
Before purchasing an exercise bike, consider the materials used to build it and its weight capacity. If you use a bike that cannot handle your weight, you will end up ruining your bike or injuring your knees and back. It is highly recommended you pick a bike that can hold more weight than your weight; probably 50 more pounds.
Your budget
Your budget is also important because it dictates the model of exercise bike you will get. The good news is, foldaway exercise bikes are more affordable compared to non-folding exercise bikes
How fit are you?
Foldable exercise bikes are designed with different users in mind. For example, a senior citizen's needs are different from a seasoned marathoner looking to train at home.The good news is, there are models designed to meet each user's needs.
A recumbent bike would be the best bike for a senior citizen. This is because of the step-through design that makes it simple to mount or dismount the bike. Plus the seat and the back support and extra padded for more comfort. If you are physically fit, an upright bike is the perfect fit for your routine. This is because it gives you the same challenging workout as a normal bike.
Additional features
Truth be told, working out at home can get boring. Cycling for 30 minutes each day staring at a white wall is not every person's cup of tea. Most manufacturers have helped solve this problem by designing bikes that a whisper quiet so that the user can enjoy music or a TV show while working out.
Secondly, some manufacturers have included tablet holders to their bikes. This way you get to stream your favorite shows as you workout. Additional features you may consider while picking out your fold away exercise bike include: Pulse rate grips Seat handle bars, LCD screen to show time, calories, speed, and pulse rate, Pedal straps
Benefits of folding exercise bike
The benefits of pedal exerciser are innumerable. Here are some health benefits of cycling.
1. Cycling benefits for legs
I believe cyclists have some of the world's most gorgeous legs. Their legs are perfectly toned. The Department of Health & Human Services states that any adult who wants to stay fit needs to cycle for 30 minutes every day. This translates to 150 minutes per week.
Other ways you can tone your quads include using sissy squat machines.As you pedal, you get to workout your hamstrings, thighs, abdominal and calf muscles. Each time you workout for 30 minutes, you will burn around 260 calories. If you are a beginner, you can start with a lower resistance level.
As you become accustomed to biking, add the intensity level by turning up the resistance knob. This will help you to lose more weight on your lower body. After your legs are toned to your liking, add strength training, for at least two days a week, to your routine.
2. Allows flexibility
I'm a member of a few freelance groups. One of the biggest challenges most professionals working at home experience is finding time to work out. A fold up exercise bike is the perfect gift for any work at home professional.
A folding exercise workstation gives you the flexibility to clock in the same hours you normally clock in while working out your body. As you type away, you can work out your lower body. During your breaks, you get to work out your upper body using the resistance bands.
3. Affordable
People love a good bargain! Otherwise there would be no sales or Black Friday! Most users prefer foldaway exercise bikes because they offer premium features at an affordable rate. You don't have to break your bank to stay fit.
4. Whisper quiet
Have you ever lived in an apartment building where your upstairs neighbor is ever moving furniture? Noisy neighbors are a nightmare. Don't be that neighbor.Each folding bike in our review operates using a magnetic resistance system. This mechanism uses magnets to help generate the resistance needed.
This makes the foldable exercise bike efficient and super quiet. This makes this foldable exercise bike with screen the perfect choice for anyone who wants to multitask. Also the magnetic system makes these bikes maintenance free. You don't have to worry about oiling and all that stuff.
5. Saves space
I don't want to sound like a broken record but if you are looking to save space, get a folding exercise bike. If you have a small garage, get a foldup exercise bike. If your apartment is small, get a fold away exercise bike. This type of bike will fold to half its size and you can stow it away in a closet or corner.
Final Thoughts
We don't live in an ideal world. You have to exercise to stay fit. Collapsible stationary bikes are designed to make cycling affordable, convenient, and safer.
There are many foldable bikes on the market. Picking the right can be challenging. However, through our review of the best foldable exercise bikes, you can come up with a shortlist that will enable you to eventually pick one.
Remember, your bike ought to tick every box on the buyer's guide. Do you have the budget? What is your height and weight? After you get your bike, make sure to set it up right and happy cycling!
FAQs
1. What are Folding Exercise Bikes?
A folding bike is a premium piece of gym equipment that is designed for at home use. This machine resembles a standard bike but it is stationary and can only be moved using built-in rollers.
The beauty about the folding exercise bike is that it is whisper quiet and folds for storage. You can store it closet or corner. This helps you free up valuable floor space especially in small homes or apartments.
So, who can use this foldable exercise bike? Foldable bikes are suitable for seniors, work at home moms or dads, introverts, or busy professionals. There are three types of folding bikes; spin bikes, recumbent, and upright.
These bikes offer different features that we'll look at a little bit later. But for now, let's look at the best folding exercise bikes
2. Are foldable exercise bikes any good?
It is always important to know what to expect from any investment you make. A foldable exercise bike is an investment. You may have questions such as, "What group of muscles does cycling target? Is the bike stable? Is the bike quiet?" and more.
Folding exercise bikes are as good as non-folding exercise bike. You get to exercise the same group of muscles; calf, hamstrings, thighs and bum.The difference between the two is the ability to fold away and the availability of a more computerized system on the non-folding bikes.
FAQs for Foldaway Exercise Bikes
1. What is the difference between upright and recumbent exercise bikes­
When looking for an exercise bike, you may have come across two terms; recumbent and upright. These two terms are used to describe the design of the bike. An upright bike resembles a regular bike. You sit in an upright position and hunch slightly as you workout. A recumbent bike has a seat with back support. You sit like you would on a normal chair and pedal.
Differences Between Recumbent Bike and Upright bike
A. Recumbent Bike
Offers back rest
Has a larger seat
Pedals in front of the body
B. Upright Bike
No back support
Smaller seat
Pedals under the body
2. Pros and cons of cycling exercise
Pros
Safety – Everyone, especially women, enjoys a safe environment. I recall a while back when women shared online how they felt unsafe while walking from their office building to their cars. One woman shared that she often changed her gait to mimic a man's simply because she was terrified.
How many times have you walked to the parking lot with your car keys on your hand? How many times have you carried your handbag like a weapon? A fold up exercise back gives you the safety and privacy you want. You get to exercise in the comfort of your house without worrying about your safety or oncoming traffic.
Control – A fold away exercise bike give you control over the distance you will cover, the type of terrain through the resistance settings and when you get to take a shower! No more walking with sweat dripping all over.
Convenience – Outdoor exercising is great. However, at times it is nearly impossible to workout due to bad weather or your busy schedule. With cycling, you get to cycle whether it is raining or snowing. Plus, with a folding exercise workstation, you can continue with work as you workout those muscles.
Cons
Boredom – Everything below the sun has to have some disadvantages. One of the cons of cycling at home is boredom. You are all alone cycling for about 150 minutes per week, so it is bound to get boring at some point. One of the ways you can beat boredom is by working out while watching your favorite show or listening to music.
Distractions – Another disadvantage of biking at home is numerous distractions. Chances are your phone is going to ring or a neighbor might knock your door. The best way to plan your workout is when you know there will be minimal distractions. Also, put your phone on silent mode for those 30 minutes.
3. What does cycling do to the body?
Cycling helps: Exercise bike tones bum and stomach, Boosts mood, Offers low impact workout just like, Track your progress, Comfy like seated ellipticals
4. Is indoor cycling good?
Yes, cycling is as good as outdoor cycling. Through the resistance settings you get the same workout as you would training outdoors.
5. How many calories burned indoor cycling?
For every 30 minutes you pedal, you lose around 260 calories.