Are you looking for a low impact treadmill or home running machine to help you get fit while protecting your knees and back? Well, why not? Low-impact exercises offer mostly the same health benefits as high-impact activities without the risk of damaging your joints, and treadmills are a great way to start.
A while back, a friend of mine was involved in a crash, and unfortunately, it resulted to some physical issues. She could no longer do her regular workout routine, so we went on a hunt for a well-cushioned, low-impact treadmill.
In this post, I'll discuss the treadmill that worked for her. She now uses the Sunny Health & Fitness SF-Folding Treadmill T7603, which has the best cushioning, speeds, incline function, heart rate monitoring, and more.
Our Top Low-Impact Running Machine: A Quick Overview
Explore our review where we highlight the top low-impact treadmill ideal for your home-based exercise regimen. For those seeking a quick glance at our top picks, this is for you:
3. Sunny Health & Fitness SF-Folding Treadmill
Shown above are our top three picks, including the Sunny Health T7603, but not only that. This list also includes a few other treadmill options that are as good as our top pick. So, if you're out there searching for a fitness machine that can protect your joints and back, read on.
8 Best Low Impact Treadmill Reviews
1. NordicTrack T 6.5 S Treadmill
For Serious Runners
We came across the NordicTrack T 6.5 S Treadmill by NordicTrack, and it is no doubt an excellent option if you need a commercial grade treadmill.
There are three reasons why NordicTrack treadmills are some of the best smart treadmill brands on the market – high-quality construction, iFit programs, and reasonable price.
The T 6.5 S checks all the right boxes, and it'll be a great asset in your fitness journey.
Features & Specs
This shock absorbing treadmill weighs a whopping 203 pounds. All this weight comes mainly from its heavy-duty frame that makes it stable and capable of supporting 300 pounds of user weight. It has a foldable frame for easy storage and transport wheels for portability.
To ensure quiet, smooth workouts, the T 6.5 S is equipped with a 3 HP motor, which can handle heavy exercising without overheating.
This motor works in tandem with the rollers, making it possible for the cushioned belt to work efficiently without chocking or vibrating.
This no-impact treadmill does not only offer a wide variety of workout programs but is also compatible with NordicTrack's iFit program. Let me give you a quick lowdown on this program.
iFit gives you access to over 10,000 workouts to target different muscles, world-class trainers who can control your treadmill remotely, and Google Maps to simulate different running trails.
Also, you get 20 preset workouts and 3 personalized workouts to suit your fitness levels and needs. With these programs and the incline function, you'll get more challenge to your workouts, never hit the weight-loss plateau, and have fun working out.
Last but not least, the price of this high-end treadmill sets it apart because it is pocket-friendly and comes with one month iFit trial. Honestly, you'll enjoy what this no-impact treadmill has to offer.
What We Liked
Comes with a wide running belt (50″ x 22″)
Commercial-grade; ideal for serious runners
iFit tracking capability can store data for multiple users; you can share the treadmill with your family
Folding capability makes it easy to store and save space
Built-in speakers allow you to listen to music or watch TV while working out
Shock-absorbing deck protects your knees, joints, and back
Large cup holders for your bottle
What We Didn't Like
Doesn't come with a cooling fan
You have to pay for iFit after the trial period
2. ProForm Pro 2000 Treadmill
The ProForm Pro 2000 Treadmill is one of the best treadmills for low-impact treadmill exercises.
Features & Specs
Just like other cushioned treadmills on this list, it features a large heavy-duty frame covered by a lifetime warranty. The frame weighs a hefty 203 pounds, which adds to its stability.
This sturdy frame can support up to 350 lbs which is more than the capacity of other treadmills in its price range. While this running machine is heavy, it is foldable and portable because it comes with wheels.
A 3.5 HP motor powers the Proform Pro 2000 and pairs with 2.6-inch precision rollers to ensure that the wide running belt runs smoothly and quietly. You won't experience any chocking or squeaking noises during workouts.
The large 60 by 20-inch running belt is integrated with Proform's Proshox cushioning to absorb impact and protect your joints.
The full-color, backlit, OneTouch 7-inch display may not be that large, but it's enough for viewing the workout programs, control the speeds, and other functions.
For the workout programs, you get 32 preset workouts for easier routines.
You can use the iFit app to access fitness coaches for personalized training, hundreds of workout classes, and Google Maps virtual walks for a tougher indoor workout that mimics outdoor conditions.
For example, if you want to run the Boston Marathon, all you have to do is pick the route from the iFit library and you're good to go. Also, you get access to 5K running challenges and more.
Lastly, this treadmill offers auto incline and decline features, similar to running up and down a hill. With these functions, you'll engage more muscles and burn more calories while having fun.
What We Liked
This declining treadmill comes with a sizable deck (60 x 22″)
ProShox cushioning limits the amount of impact on your joints and back
This treadmill is the best cushioned treadmill with iFit
Comes with a built-in fan to keep you cool
EasyLift assist makes it easy to fold the treadmill
What We Didn't Like
Proform customer service can be a bit slow
Fan can be somewhat noisy
3. Sunny Health & Fitness SF-Folding Treadmill T7603
Best Overall
Our first pick is from Sunny Health & Fitness, a brand that is an industry leader in the production of fitness equipment.
Founded over 18 years ago, this company has a wide collection of fitness equipment including bikes, rowers, treadmills, ellipticals, twist steppers, and more.
Here's why my friend chose the SF-T7603 treadmill over the others.
Features & Specs
The Sunny Health & Fitness SF-Folding Treadmill T7603 is one of the best fold flat treadmill for under bed on the market. It is powered by a whisper-quiet 2.2HP motor, so there's no need to raise the TV volume or worry about disturbing your neighbors.
The running deck measures 49 x 16 inches, which is larger than what most brands offer (typically 40 x 16 inches), and is made of multiple layers.
This shock-absorbing deck will protect your knees, ankles, and back from strain and injuries. ( if you have knee issues you may also like to read is walking on a treadmill bad for your knees)
Additionally, this cushioned impact treadmill features non-slip handlebars for stability and security.
Other features you will enjoy include an easy-to-use LCD screen to keep track of your metrics, dual bottle holders, a safety key clip for emergency stops, and pulse sensors.
Lastly, this Sunny Health & Fitness treadmill comes with 9 preset training programs with varying degrees of difficulty. This means that there's little chance for a weight loss plateau.
There are 3 levels of incline to this fold-away treadmill to help you engage different muscle groups and burn more calories per session.
Now, isn't that the same level of difficulty you would experience from running outdoors? You bet, it is, only better! Honestly, this Sunny Health & Fitness model is one of the best no-impact treadmills on the market.
What We Liked
Foldable design helps save space
Comes with transportation wheels for easy mobility
Features soft-hydraulic mechanism for hand-free unfolding
Can hold up to 220 lbs
Equipped with pulse sensors for heart rate function
What We Didn't Like
Doesn't have a tablet/phone holder
Incline levels are adjusted manually
More: This walking pad reviews article covers the best compact treadmills
4. Nautilus T616 Treadmill
Released in 2017, the Nautilus T616 Treadmill is the only treadmill that can hold a candle to the NordicTrack treadmill above. It has the same features and more.
Features & Features
One such feature is its sturdy steel frame, which is capable of supporting 300 lbs of user weight. The frame features black paint finish that is rust-resistant.
A capable 3.0 HP motor powers the Nautilus T616, making long workouts possible without slowing down or overheating.
Another feature that sets this high-tech treadmill apart is the 2.0mm thick running deck incorporated with the Nautilus StrikeZone cushioning system. With this technology, you get to do quiet workouts on a deck that absorbs shock and protects your joints and back from impact.
Related Post: Can You Get Back Pain from Running on Treadmills?
Of course, all those advanced tech will go to naught without an equally modern console, and this high-end treadmill does not disappoint. It comes with a console equipped with a cooling fan, USB charging port, and accessory/bottle holders.
You also get a sound system that is compatible with most smartphones and tablets. The LCD display allows you to check on time, distance, and calories, and select a training program from the 26 preset programs.
Last but not least, this treadmill is compatible with the RunSocial app and the Nautilus Trainer 2 app, both of which allow you to travel the world from the comfort of your home.
Simply choose a route anywhere in the world, and the treadmill will automatically simulate the route for your workout including the inclines.
What We Liked
Well cushioned deck that protects user joints
3-speed fan keeps your body cool
SoftDrop folding system makes it easy to store and move
Telemetry-enabled console
Has auto incline and offers up to 15% incline function which is ideal for pro athletes
What We Didn't Like
Heavier than most treadmills
User weight capacity is a bit low compared to other treadmills in its price range
Related Post: How Long Should You Run on a Treadmill to Lose Weight?
5. SereneLife Smart Digital Folding Treadmill
Budget Pick
A simple smart treadmill that's also budget-friendly – is there such a thing? You bet your lucky stars, there is, and it's the Serene Life Smart Digital Folding Treadmill. Our Budget Pick treadmill is for anyone looking for an inexpensive machine with simple features.
Features & Specs
The SereneLife treadmill is lightweight (only 60 pounds) and comes with transport wheels for mobility. While it is light, it supports up to 265 lbs, making it ideal for most medium-build people.
This treadmill comes with a foldable frame incorporated with the Soft Drop system that makes it easy to unfold and store.
For the motor, the SereneLife treadmill is equipped with a 1.0 HP motor. We know. Very little horse power.
This low-power motor is ideal for lightweight exercising, such as walking. Unfortunately, it can't handle intense workouts, so if you're thinking about HIIT routines and the like, we recommend the Proform Pro 2000 below.
To ensure your workouts are never boring, this treadmill comes with 12 pre programmed programs and 3 adjustable incline levels. The programs are adjusted via the console, while the incline is adjusted manually.
This shock-absorbing treadmill will be gentle on your joints and back and offers speeds of up to 6 mph.
What We Liked
Comes with built-in magazine/phone and cupholders
The SereneLife folding treadmill is the best cushioned treadmill for anyone on a budget
Handrails are fitted with pulse sensors for heart rate monitoring
Bluetooth connectivity allows you to keep tabs on your training data
Comes at an affordable price point
What We Didn't Like
Lower horsepower than other treadmills in its price range
6. Sole F63 Folding Treadmill
Sole is known for their impressive fitness equipment, and the F63 is one of their most affordable treadmills. In our list, it ranks as the 6th best treadmill for low-impact cardio workout routines. Read more and find out why!
Features & Specs
At 280 lbs, the F63 is heavier than most treadmills, and we don't find that surprising. It is heavy and stable due to Its steel construction, which is necessary because it is designed to support up to 325 pounds of user weight. This frame is foldable to save space.
When it comes to the display, the Sole F63 features an easy-to-read screen, with buttons to control the speed and incline, and choose a program.
The F63 treadmill offers 10 different training programs and is compatible with FitBit (read more how to link to google fit to FitBit), MyFitness Pal, and the Sole app. The programs plus the apps will ensure your workouts are always challenging and access to your workout data will be easy.
You will find other features on the treadmill's console, such as a fan to keep you cool, speakers, and a tablet holder. There is a media shelf below the console where you can keep small items such as remotes and keys.
The console also comes with a built-in safety key that allows you to stop the treadmill in case of an emergency.
The incline function goes up to 15%, which you can increase or decrease via the console.
The F63 comes with two sets of handles – one set features built-in pulse sensors for heart rate monitoring, while the other set comes with built-in, easy-to-reach speed controls.
The last notable feature worth mentioning is the large running surface which is designed for durability and impact-reduction. You can use the F63 treadmill without worrying about impact on your joints.
What We Liked
USB port for charging of your phone as you workout
Dual water bottle holder
Has one of the strongest warranties on the market
More affordable than other brands of treadmills within its price range
What We Didn't Like
Some users found the speaker volume a bit low
Non-folding design means you need plenty of space
7. Goplus Folding Treadmill
Goplus designs and builds high quality treadmills and other fitness equipment. An example is this Goplus Folding Treadmill, which is great for low-impact exercises.
Features & Specs
Its frame is sturdy and stable, supporting up to 220 lbs. On the other hand, the console is basic, which is reasonable for a treadmill in this price range.
This multi-function LED display allows you to track time, distance, speed, and calories burned. Through it, you can keep an eye on your heart rate if you're using the pulse sensors on the handrail.
This folding treadmill comes with 12 workout programs that will make your workout routines more challenging even after your recovery.
We also liked this Goplus folding treadmill's multi-layered tread which includes a cushioning layer and a noise insulation layer for quiet workouts.
This pink treadmill folds to save space and has transport wheels for easy mobility.
What We Liked
Comes with cup holders for your water bottle
The 2.0 motor works quietly and consumes low energy
iPad/phone holder allows you to watch movies or listen to music as you exercise
Affordable and durable
Has a safety key for emergency stops
What We Didn't Like
Does not have incline function
8. Horizon Fitness Treadmill T202
Another top-rated low impact running or cardio machine to add to your shortlist is the Horizon Fitness Treadmill T202. This machine has a lot to offer and will be a perfect addition to your home gym. Here is what you can look forward to.
Features & Specs
Frame: The T202 treadmill is on the larger side, so you'll need to set aside enough space. Still, we love that it is foldable because it makes storage less of a headache. The frame is heavy at 194 pounds, which to us is a good thing. It ensures stability and allows the treadmill to support up to 325 lbs, making it perfect for heavy persons.
Motor: A powerful 2.75 HP motor is what you'll get with the T202 treadmill. That's enough motor power to ensure that the treadmill runs quietly and efficiently, without any squeaking or vibrations. You can do all sorts of treadmill exercises on the T202, such as light walking, jogging, running, and even sprinting.
Speeds: You'll enjoy speeds from 0.5 to 12 mph. To put that in context, a man can run up to an average of 8 mph, while a woman peaks at 6.5 mph. Tall runners can run at high speeds of up to 8.5 mph, so with the T202 speed range, you are well covered.
Running deck: Do you want a treadmill for HIIT training? The T202 comes with a large 60″ x 20″ – that tread is more that what you need for interval training.
Not only that, the T202 has a well-cushioned deck to protect your joints and back from impact.
Console: Now, the Treadmill Horizon T202 does not come with any fancy settings. Its 3-inch backlit monitor allows you to track your basic workout data, such as time, distance, speed, and calorie burned. It's also where you change the incline and pick a workout program.
Workout programs: The T202 cushioned treadmill comes with 5 workout programs, all designed to take the guesswork out of your treadmill routine.
So, how do the programs work? When you pick a program, this low-impact treadmill will control the speeds and incline automatically, allowing for hands-free exercising and burning calories like a furnace.
Incline: This folding shock-absorption treadmill offers incline function up to 12%. Running on treadmill incline is like running uphill – you engage more muscles and burn more calories per minute (read more on treadmill for sprinting ).
What We Liked
Motor works quietly, so you don't have to adjust the TV volume during workouts
Has built-in fans to keep you cool, allowing you to workout for longer
Comes with audio speakers for your music or podcast
What We Didn't Like
Takes time to set-up
Does not have decline function
Benefits of Low Impact Running Machine

Why are the best treadmills for low-impact treadmill workouts the right pick for you? Here are some reasons why this type of treadmill will be a great addition to your home gym.
Less stress on the joints
Without a doubt, low impact exercises help protect your joints and back. While running, your feet will automatically support your body weight. As a result, your joints and back will absorb the impact from running and may lead to wear and tear of these parts of tour body.
A well cushioned treadmill comes with a shock-absorption layer that lessens the impact, protecting your knees, ankles and back. It also protects you from shin splints.
Reduces fatigue
Most treadmills automatically reduce impact on the joints by up to 40%. This helps reduce fatigue, allowing you to exercise for longer.
Weight loss
The longer you work out on a cushioned treadmill, the more calories you'll burn, the faster you'll achieve your fitness goals.
If you're looking to lose weight, spot running on a treadmill is one of the best ways to cut weight.
Improves cardio vascular health
If you want to improve your cardio endurance, this type of treadmill is the perfect pick. It comes with incline function, workout programs, heart rate sensors, and top speeds which you can use to improve your cardio health.
How to Choose a Cushioned Treadmill
Here are some tips to help you narrow down the list to the perfect treadmill for you.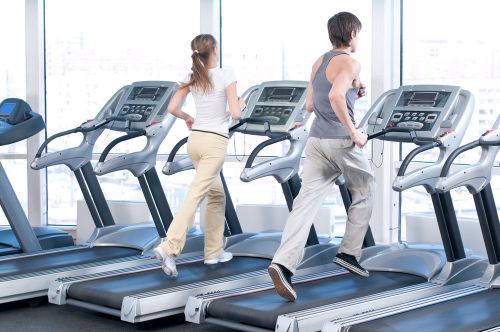 Space
The best treadmills for low-impact exercises, such as the T 6.5 S or Proform 2000, are on the larger side and are heavy. Though they are foldable, we recommend you leave enough space for the treadmill because constant folding and unfolding can be tiring.
Tread/Belt
We picked the treadmills above because of their cushioning. When choosing the best treadmill, you want one with a large well-cushioned tread.
Proform equips their treadmills with ProShox cushioning on the belt; NordicTrack cushioned treadmills are integrated with FlexCushioning; while Sole treadmills feature CushionFlex cushioning.
This cushioning decreases impact by up to 40%, protecting your joints and back from injury.
Programs
To exercise without guessing, you need a running machine with preset workout programs. Treadmills such as T 6.5 S come with pre programmed programs.
The programs are normally divided into two groups; on-board programs where the treadmill controls the incline/decline and speed, and customizable programs where you set the functions per your fitness needs.
Also, treadmills from NordicTrack and Proform are iFit-enabled. iFit gives you access to world-class trainers, a library of workout videos, and customizable routes via Google Maps. You'll never get bored nor hit the infamous weight loss plateau.
Motor
The motor's CHP determines the type of exercises you can do on the treadmill. If you are looking for a treadmill for walking exercises, a treadmill with 1 HP to 2.5 HP are great for walking exercises.
2.5 HP to 3 HP motors are great for running. Now treadmills with 3.0 CHP and above are perfect for intense workouts. If you want to try interval training on a treadmill, these beasts will get the work done.
Additional features
Other key features you should look out for include heart rate monitoring function, incline and decline features for intense workouts, water bottle holder so you can keep hydrated, and a media shelf for your phone or tablet.
Final Thoughts
Choosing a low-impact Proform treadmill from the thousands of brands on the market can be overwhelming. Lucky you, we've done the homework, and through hours of research, we've come up with this list of the best low-impact treadmills today.
These treadmills come at different price points. You will find high-end options with numerous features and affordable options offering basic functions.
We recommend these best cushioned treadmills because their belts have built-in shock-absorption layers for workouts that are pain-free. Workouts should be fun, so enjoy yours!
Written by Alisha Wishart – TheHealthPot.com
Certified Personal Trainer (CPT), Writer and Contributor
Alisha, is a Mother, Wife and Certified Personal Trainer (CPT).  She understands how demanding everyday life can be and takes great pride in working with individuals and groups to help them achieve their desired fitness goals. Read more about Alisha here.