If you're into sprint interval training (SIT), it's about time you searched for a treadmill for sprinting. Interval training workouts, whether HIIT or SIT, are all the rage among athletes and fitness enthusiasts, and why not?
It's the smartest way there is to burn calories and attain your performance and health goals in the shortest time possible, and in fewer sessions too! How can it not be the rage?
Sprinting requires a lot, and I must congratulate you for taking up something this challenging. One of the things you'll need is an equipment that can handle what you throw at it. You're right about searching for the best treadmill for sprinting, and it should be a larger, tougher machine than traditional treadmills.
I've reviewed the best ones on the market and shortlisted 9 of the best treadmills for sprinting here. If you're in a rush, I'm sure the 3G Cardio Elite Runner Treadmill will be right up your alley. If you feel you need something different, you really should take time to get a quick peek at Our Top Three Best Picks.
Our Top Pick Sprinting Treadmills At A Glance:
To make choosing the right treadmill for serious runners like you easy, we've done the homework and narrowed down the list to these 9 options, including powerful motorized treadmills and curved muscle-powered treadmills:
6. IN10CT Health Runner Treadmill
7. Sunny Health & Fitness SF-T7515 Treadmill
8. SpeedFit Sprinting Treadmill
9. LifeSpan TR4000i Folding Treadmill
But what sets these top treadmills for serious sprinting apart from the rest?? Keep reading as we break down the key features and benefits of each machine so you get the most out of your workouts!
Best Treadmill for Sprinting Reviews
1. Bowflex BXT216 Treadmill
You've probably come across a Bowflex machine at your local gym. From the best max trainers to versatile elliptical machines to treadmills, Bowflex has produced some awesome products that are ideal for any home.
The Bowflex BXT216 Treadmill is one of the best treadmills for sprinting, but do you know what makes it popular among serious runners? Let's see how it checks the right boxes, starting with its features and specs.
Features & Specs
Frame: You can anticipate the power and stability of the 340-lb Bowflex BXT216 from its build. This rust-resistant and sturdy steel frame is foldable and has rollers at the base for portability. It can support up to 400 lbs, making it ideal for larger users.
Workout space: When sprinting, it's important to maintain proper form, but how can you maintain proper running posture on a wobbly running surface, right? That's where this Bowflex treadmill comes in.
With a powerful 4 CHP motor, this 20″ x 60″ exercising surface works perfectly and has speeds up to 12 mph. It is integrated with Bowflex's unique cushioning technology that provides a comfortable landing to minimize fatigue.
Console: A good treadmill for sprinters should come with an easy-to-use console and that is what this Bowflex treadmill has – a 9-inch console to make your workout experiences worth it.
The monitor lets you track your progress and choose a workout from the 11 onboard workouts. The console area also features a water bottle holder, a media shelf, and controls for the incline level.
Incline: One of the benefits of a sprinting treadmill is that they mostly come with an incline function. This feature paired with the onboard workouts ensure that you burn as many calories as you would running outside. The BXT 216 incline range is 0 – 15% and can be controlled via the console.
Folding mechanism: How do you move this heavy duty treadmill? The Bowflex BXT216 is foldable and has rollers, so you can just fold, tilt, and push it to its storage area. This sprinting treadmill also unfolds in the same easy manner.
So there you have it, 5 reasons why the T216 treadmill by Bowflex will make a great addition to your gym.
Pros
Compatible with Bowflex JRNY app, allowing for customized workouts and coaching
Has backlit monitor so you can work out late at night or early mornings with ease
Speed and incline controls on the handrails for easy controlling
Comes with a free wireless heart rate strap for hands-free sprinting
Cons
Does not have a decline function
2. ProForm 505 CST Treadmill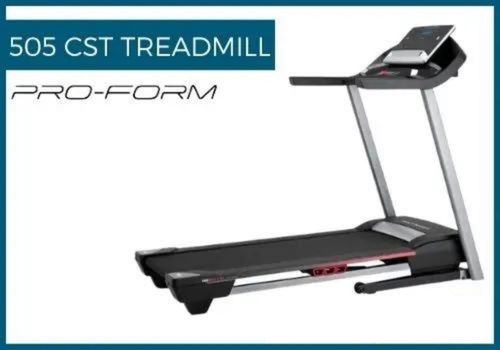 The ProForm 505 CST Treadmill is one of the best treadmills by ProForm you'll get. This powerful 2016 model is strong and stable, allowing users a great sprinting experience.
Here is what this treadmill has to offer.
Features & Specs
Frame: Folding, stable, and reliable that's how I describe the 505 CST's frame, which weighs 203 pounds. I like that it is foldable for compact storage with transport wheels for portability. The frame can support up to 325 lbs.
Training area: Measuring 55 x 20 inches, the running belt is enough for most people. It's equipped with ProShox cushioning to provide a softer landing for sprinters.
Programs: If you prefer guided sessions, you'll love what the ProForm 505 CST treadmill has to offer. It has 18 preset intense running workout programs and iFit. As we said earlier, iFit gives you access to world class trainers, customized training, Google Maps and more.
Max Speed: When sprinting, you need a running treadmill that works smoothly and picks up speed fast. This is exactly what this running treadmill offers you. Its motor works smoothly and quietly, ensuring that the belt moves efficiently. For speed, its max speed ranges from 0.5 – 10 mph, which are great for sprinters. Also, with just the press of the button, you can pick the speed that best suits you.
Additional features: Other features you will enjoy include a strong warranty, tablet holder for your phone, and 5-inch backlit display. You can use the treadmill to walk, jog, or run.
Pros
ProShox cushioning allows for low impact exercising
Offers incline function for up to 10%
Has an auxiliary port and dual speakers so you can exercise to the beat of your favorite music
Takes up little space and offers great speeds
Cons
Can be noisy
Short warranty compared to the best treadmills within its price
3. 3G Cardio Elite Runner Treadmill for Sprinting
You can trust 3G Cardio to deliver a reliable fitness equipment, whether it's exercise bikes, treadmills, or vibration machines. That's why we love the 3G Cardio Elite Runner, and if you're crazy about sprinting on a treadmill, you'll love it, too.
Features & Specs
The 3G Elite is the best treadmill for running because it's a heavy-duty machine, supporting runners up to 400 lbs. You'll need to put it together, but no sweat because it comes with an easy-to-follow user manual. You'll love its strong build which ensures stability and durability. It's non-folding, but there's a silver lining to that – you get a larger tread compared to folding treadmills.
The drawback is the running machine will require lots of space. So, it's wise to prepare enough room for this treadmill. Speaking of the workout area, the 3G Runner's measures 22 x 62 inches – woah! You don't get that much space from other models. The 4-CHP motor powers the deck, while the treadmill belt is integrated with 3G Cardio's Otho Flex Shock suspension system that provides a comfortable landing for your feet, so you can sprint without risking your knees or back.
Its non-slip sides are wide, providing support for getting off the equipment. For the console, you'll enjoy a user-friendly LCD display where you can track calories burned, speed, distance, and time. The Elite Runner has 8 preprogramed workouts that are effective and fun.
Apart from the on-board workouts, this trainer comes with an incline function. Of course, you know how much that matters – a trainer with an incline feature can mimic the ups and downs of a trail to make your workouts intense and realistic. Some trainers come with a manual incline system where you'd have to get off the treadmill to set the incline range.
Not so with the 3G Cardio, which has automatic inclines ranging from 0 – 15%. With a top speed of up to 12mph, you can be assured your workouts will push you closer to your goals.
Pros
Built-in speakers allow you to enjoy music as you work out
Runs on a 4 CHP motor for max speed of 12 mph
Has a cooling fan to cool your body while exercising
Comes with a strong warranty and high performance motor
Cons
Non-folding and requires lots of space
4. Assault Fitness Air Runner Treadmill
Now to a U-shaped treadmill, which is one of the best treadmills on the market, the Assault Fitness Air Runner Treadmill. First, it's important to note that this is a non-motorized treadmill.
So, how does the non-motorized Assault Air Runner work without power? Of course, it has power – and it will come from you.
Yes, while a motorized treadmill needs to be plugged into an electric socket to work, the Air Runner has none. What it has is you and a unique U-shaped running belt. I'll explain the mechanics below.
Features & Specs
Here is what to expect from the Assault AirRunner:
As your feet hit the concave belt, it will move down and back, allowing you to pace your workouts with the dynamics created by friction, gravity, and the force from your legs. That's science and physics at work here!
This Assault treadmill features superior steel construction and supports athletes up to 350 lbs.
Its durable, flexible, and non-slip rubber deck is a smooth operator, and it's hard-wearing, too. According to the manufacturer, it can last up to 150,000 miles without need to adjust its tension or replace it. Cool, huh?
For tracking time, distance, speed, and calories burned, you get a simple LCD console where you can to start/stop this manual curved treadmill.
Pros
Curved manual treadmill that requires little maintenance
Ideal for high-intensity training
Frame is coated with rust resistant paint
Has long hand rails for user stability
Belt with Abec bearings for smooth running; moves fast, making it ideal for sprinting
Cons
Does not come with additional features such as tablet holder, motor, or cooling fan
Related Post: Will Running Tone Your Bum? – Click Here to Find Out!
5. ANCHEER Folding Treadmill
The ANCHEER Folding Treadmill is a great pick for any sprinter looking for an affordable treadmill. This is available in black and will easily blend with any theme.
Features & Specs
Its frame is lighter than the other sprint treadmills we've reviewed on this list. Weighing just 102 pounds, you can move it with ease especially with its built-in wheels and foldable design.
The frame is constructed using sturdy steel, coated with corrosion-resistant paint, so this treadmill will need little maintenance and will last a long time.
The Ancheer folding treadmill's running belt consists of several layers, including a shock-absorption layer for joint support and a noise-reduction layer for whisper-quiet workouts. The top layer is made of a wear-resistant and antiskid material so you can work out worry-free.
The running deck measures 42 x 17 inches, which is smaller than the other treadmills here, but it should work for runners who are not so tall.
For the console, you get a high-performing backlit monitor. With just one touch, you can choose a running workout from the 12 preset programs, view your stats, and monitor your pulse.
This Ancheer foldable treadmill does not come with a wireless chest strap, so you'll have to hold the handrails to monitor your heart rate.
Lastly, this trainer for sprinting has a safety key, which is there for emergency stops so you can get off the treadmill safely anytime.
Pros
Console is touch-sensitive and backlit so you can adjust incline and workout program with ease
Ideal for long runs with its 3.25 CHP motor
Speeds between 0.5–9 mph
Affordable compared to most treadmills with the same features
Cons
Short warranty (12 months)
6. IN10CT Health Runner Treadmill
One of the benefits of using a curved manual treadmill is that you get to burn up to 30% more calories than when using traditional motorized treadmills.
The IN10CT Health Treadmill offers this and more. It's made for user comfort and high performance.
Features & Specs
Just like other options on this list, it comes with a strong metal frame that ensures user stability.
Honestly, it's heavy to move around, but thankfully, it comes with wheels on the base, so you can just push and move it.
The running surface measures 61 x 17.61 which is enough for most runners, even tall runners. It supports up to 400 lbs, so if you weigh anything below this, you are good to go.
Instead of one continuous belt, the IN10CT's deck is created using rubber slats arranged in a concave shape. The slats are thick to provide cushioning to your feet. As you run, the slats are pulled up and pushed back. So, you control the treadmill's speed with the force you exert.
For the monitor, this curved treadmill has a basic screen where you can track your stats like calorie burn, speed, time, and distance.
Pros
The curved IN10CT is a non-motorized treadmill which means little maintenance and impact on the environment
Absolutely safe – when you stop running, the deck stops moving
Does not need electricity
Long handrails for your stability
Cons
This curved treadmill comes with no bells and whistles that come with most high-end treadmills (media shelf, water bottle holder, motor, pulse sensors)
Does not fold up
7. Sunny Health and Fitness SF-T7515 Treadmill for Sprinting
Established in the early 2002, Sunny Health & Fitness has provided fitness enthusiasts with solid, affordable machines for over 15 years. Their wide range of products includes rowers, dumbbells, steppers, recumbent bikes, treadmills, squat machines and more.
For this review, we'll look at the Sunny SF-T7515 Treadmill for running. Let's see what it brings to the table.
Features & Specs
Frame: Weighing 121 pounds, the SF-T7515 frame supports up to 250 lbs. It is foldable, thus space saving, and coated with scratch-resistant and corrosion-resistant paint. It features long handles for support while running, built-in cup holders for your water bottles, and wheels for portability. Also, this sprint treadmill is integrated with the SoftDrop hydraulic mechanism that makes unfolding fast and hands-free.
Programs: Most pro athletes prefer treadmills with preset exercises because it takes the guesswork out of working out. With a treadmill that does not have onboard running workouts, you just guess how to work out and pretty soon, your routine may become monotonous.
With the 12 preset exercises included in the SF-T7515 treadmill, you can choose workouts made for your body type and be assured that your running experience will be intense and productive.
Incline: Another feature that stands out is the power incline function. This Sunny treadmill provides incline ranges from 0 – 12 percent. The incline levels can be changed in intervals of 3%, 6%, 9% and 12 percent.
Heart sensors: Your SF-T7515 treadmill will come with pulse sensors on the handrails. Pulse monitoring helps you exercise safely without overexerting, measure the effort you put out, and up your game when you need to burn more calories.
Running surface: For exercising routines, you need a sprinter treadmill that ensures you stability and protects your body. Its running belt is well cushioned to protect your joints from impact when running.
Speed: This sprinting equipment is powered by a 2.5 CHP motor and has speeds up to 8 mph, with a long training area to accommodate most athletes. You can use this treadmill for walking, jogging, and running exercises.
Additional features: Other features you'll enjoy include Bluetooth connectivity, speakers for your music, and stat monitoring via the backlit console.
Pros
Capable motor
High-quality build
The SF-T7515 has non-slip handlebars with built-in pulse sensors
Cons
Does not have cooling fans
Lower capacity than most sprinter treadmills (250 lbs)
8. SpeedFit Sprinting Treadmill
If you want to burn more calories on a treadmill, consider using the SpeedFit Treadmill. This manual treadmill for training helps you burn up to 30% more calories than when using a traditional motorized treadmill. This is what we call working out smart.
Features & Specs
Just like the Assault Air Runner, this treadmill features the curved design distinct to muscle-powered treadmills. The first thing you'll notice is its strong frame, weighing an incredible 308 pounds and constructed of heavy-duty steel. That it supports up to 400 lbs of user weight is not at all surprising.
The running surface is worth raving about. The Speedboard ProXL has a uniquely engineered belt for an unparalleled exercise running experience. It features a roller deck system.
The slats are constructed using rubber that is incredibly strong and lightweight, supported by precision bearings for a quiet and smooth-gliding belt.
These two features provide shock-absorption functions to protect your joints and keep you sprinting safely. This system works so well that you don't need to hold onto the handles to adjust the treadmill's speed.
For the monitor, you get a smart console that allows you to track the basics, like time, distance, and calories burned.
Pros
This manual curved treadmill requires little maintenance
Can be used anywhere since it does not need electricity
Safe to use
Cons
This U-shaped treadmill is heavy to move around
Quite expensive
9. LifeSpan TR4000i Folding Treadmill
The Lifespan TR400i is one of the best flat treadmills. LifeSpan TR4000i Folding Treadmill is a running treadmill that is suitable for sprinting because of its wide, long, and comfortable running belt.
Features & Specs
The wide deck measures 20 x 60 inches and is fitted with 8 compression shocks to ensure your comfort while working out. This powerful belt is run by a 3.25 CHP motor that works quietly to ensure the training surface runs smoothly.
You'll get a backlit console with easy-to-use controls and 21 preset training programs. From this console, you can view your stats and control the incline from the 15 levels of incline available.
How much weight can the TR4000i sprinter treadmill hold? This running machine comes with a strong steel frame that supports weight up to 350 lbs. Also, the frame weighs 220 lbs which is a bit heavy to move. Don't worry, though because it is foldable and has built-in wheels for portability.
Pros
EZ fold technology makes the running TR4000i easy to fold and unfold
Offers more levels of incline compared to most treadmills in its price point
Training surface with shock absorption for your knees, joints, and back
Has two cup holders, IntelliGuard track pausing for your safety, 3.25 motor, and USB port
Cons
Handrails are a bit short
No decline
Related Post: How Long Should I Run on the Treadmill to Lose Weight? – Click Here!
How to Choose the Best Treadmills for Sprinting
Here is what our team looked for when choosing these free-run treadmills.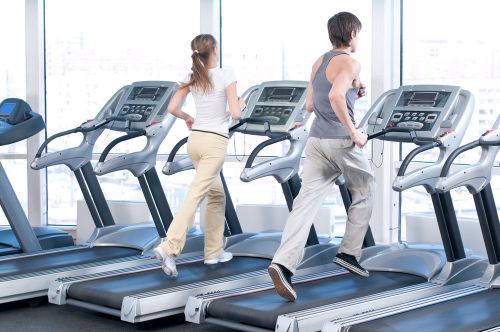 Types of High-Intensity Treadmills
There are hundreds of running machines on the market, but there are two main types of treadmills for sprinting to consider.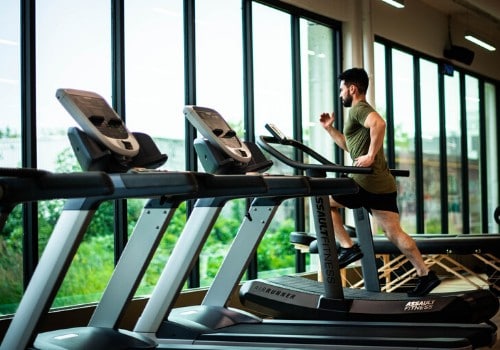 Curved manual treadmills – U shaped treadmills have been around for some time now. Most athletes love this type of treadmill because of the non-motorized concave belt. The belt is human-driven. This means that the force you put out as you run determines your speed. The slats on the belt move up and back as you run.
Motorized treadmills – You have to be careful when choosing a running treadmill. Motorized treadmills are not created equal. Some, such as these best walking pads, are not ideal for sprinting. Their running belts are a bit too small. We recommend you opt for larger exercisers that offer larger running belts. An exerciser with a foldable frame would be a great pick. ­
Size
Most options on this running treadmill list are large. So, make sure you have enough room in your home gym or you may also opt for a folding treadmill that you can stow away after use.
Programs
Curved treadmills do not come with preset workout for running, but you can subscribe to training apps on your phone and use them while exercising. Motorized treadmills usually come with preset programs for a more focused and intense training. So whether you choose motorized or manual, make sure that it will meet your needs.
Cushioning
Your feet hitting the belt continuously may strain your joints, knees, ankles and back. To minimize the impact, we recommend you choose a machine with good cushioning. The machines above are all great picks and will protect your feet.
Console
You'll want a simple console so you can work out without having to stop to change incline level, decline, or programs. You should opt for an exerciser with a large, well-lit console that responds fast to touch commands. The console should at least have speed and incline controls.
Budget
Honestly, free-run treadmills are more costly than their lighter siblings due to their larger frames, so designed for stability when sprinting. If you plan on doing HIIT training on a treadmill, make sure that you have saved enough for a running equipment that will withstand your intense workouts. No use buying cheap if it gives up on you and leaves you high and dry.
Benefits of Using a Running Machine
Here are the main benefits of doing sprints on a treadmill:
Burns more calories than traditional running
Reduces risk of injury
Improves motion
Boosts metabolism
Helps build muscle
Final Thoughts
Using this equipment, curved or motorized, is the perfect way to exercise from your home. If you're looking for the best top speed treadmills, you can't lose with any of the options above.
These best treadmills for running offer enough surface to sprint comfortably, are fitted with compression shocks for shock absorption, and are almost maintenance-free. I believe that the perfect treadmill for your home gym is right here on this page, so don't waste any more time!
FAQs
1. What speed is a sprint on the treadmill?
That should be between 9 mph and 12 mph. Here's how you do a sprint on treadmill.
Start with a walking pace for about 2 minutes, then speed up to a jog for 30 seconds. Rev it up to between 9 – 12 mph to sprint for about 2 minutes. Reduce speed to jogging. To ensure you get a good running experience, you should sprint at least 80% of the total time. For example, for a 20-minute session, you must sprint for at least 12 minutes.
2. What is considered a sprint on the treadmill?
A sprint on a running machine means jogging for a few seconds then running full speed at a higher speed. For the jogging, you'll have to set the treadmill at lower max speed rates (3 – 5 mph). For sprinting, go for higher speeds (8 – 12 mph).
3. Can I do sprints every day?
Yes, you can sprint for at least 10 minutes each day. For more defined muscles, we recommend you add at least 10 minutes of other exercises such as squats, calf raises for the lower body, and chest and arm exercises and dumbbell shoulder presses for the upper body.
4. Do treadmill sprints burn fat?
Are sprints on treadmill effective? Yes, if you want to burn fat, sprinting at high speeds on your trainer will burn as much fat as you would running outside.
5. Does sprinting on a treadmill make you faster?
Normally, when sprinting you'll make larger strides on your machine. This in turn will help in weight loss, and the lighter your body becomes the faster you can run.
Written by Alisha Wishart – TheHealthPot.com
Certified Personal Trainer (CPT), Writer and Contributor
Alisha, is a Mother, Wife and Certified Personal Trainer (CPT).  She understands how demanding everyday life can be and takes great pride in working with individuals and groups to help them achieve their desired fitness goals. Read more about Alisha here.