A 20-inch stride elliptical is the best fitness equipment for home use if you're tall. It will accommodate your long stride and have pedals that are larger than compact models, allowing for smooth and quiet pedaling motions. Most of all, it will be friendlier to your knees and more effective as a workout.
In this review, we'll look at 8 of the best 20-inch stride ellipticals around. If you find 8 to be a lot of choices to make, then you might want to get a quick look at our top three picks. Here they are:
Top 8 Elliptical Stride Machines at a Glance:
All these models come with an incline function so you can use varying degrees of intensity, preset programs with some iFit-enabled, and other additional features such as audio speakers and USB ports for a smooth interface with your devices.
3. Sunny Health & Fitness SF-3865 Elliptical
4. Sole Fitness E35 Elliptical
6. BowFlex BXE116 Elliptical Trainer
For a comprehensive breakdown of the advantages and disadvantages of each machine, please continue reading.
Best 20-Inch Elliptical Machines
1. Schwinn 470 Elliptical
Best Features
300 pounds weight capacity
25 resistance levels
29 strength-training exercises
20-inches stride length
Heart rate monitor
Compatible with RunSocial app
Has Bluetooth connectivity
The Schwinn 470 is one of the best elliptical models for home use and is designed for gentle exercising and comfort. It has similar features to many high-end ellipticals yet costs less. If you're going for a budget-friendly pick, then you should shortlist this top-rated 20-inch stride elliptical.
Features
The frame and handles are constructed of steel tubing, with hard plastic for the other parts like the foot plates. The pedals are comfortable and textured to prevent slipping. At the front of the Schwinn 470 is a a heavy flywheel that provides 25 levels of resistance.
Programs: The Schwinn backlit console is not only for tracking your stats, but it's also where you will find 29 preset workout programs. It includes an assessment of your fitness level and customizable trainings to fit your needs.
What this means for you is that you can pick an option that best suits your shape and weight to ensure optimal results.
Profiles: This compact elliptical allows setting up of 4 profiles. In other words, you can share it with your family, and each of them can create their profile and monitor their performance as they progress.
RunSocial app: If you want to exercise smart, nothing beats guided elliptical exercising. The Schwinn 470 is compatible with RunSocial, a workout app that gives you access to the best routes worldwide and lets you compete with other fitness enthusiasts.
Also, this 20-inch stride elliptical comes with incline settings of up to 10%. This is lower compared to what's in the Sole E35 but compensates with its onboard and RunSocial workouts. Other accessories you'll no doubt enjoy are Bluetooth connectivity, audio speakers, fan for cooling, a bottle holder, and a USB charging port.
Pros
Offers 4 user profiles, which is more than what is allowed by other similar training equipment
Handlebars move smoothly for upper body exercising
Has contact pulse monitoring and is telemetry-enabled
Reasonable warranty – 10 years frame, 2 years mechanicals, 1 year electronics
Easy to set up
Cons
The display's blue background and white font don't contrast so well, so it's not the easiest to read
Related Post: Joining a Gym Vs Buying an Elliptical
2. Nautilus E614
Best Features
300 pounds weight capacity
20 resistance levels
22 strength training programs
20-inch stride length
The E614 by Nautilus is one of the best 20-inch stride elliptical machines on the market. It's an excellent piece of equipment and the right addition to your home gym.
Features
Frame: The quality and weight of a machine's structure determines its stability and ease of use, and that's what this 20-inch stride elliptical has. It is made of durable, high-quality steel tubing coated with corrosion-resistant paint. The wide base makes it possible for you to pedal without your legs rubbing each other.
Transport casters and a handle makes it portable and easy to move around. A 3-year warranty covers the frame.
Drive mechanism: This Nautilus interval training equipment uses a belt-driven mechanism. The system consists of a heavy duty training wheel and pulley.
Textured oversized pedals: The pedals on the Nautilus E614 20-inch stride elliptical are made of hard plastic with texturized surface to keep your feet in place.
LCD display: When it comes to tracking your progress, you need an easy-to-read, easy-to-use panel, and that's what the E614's DualTrack LCD window offers.
From here, you can choose a workout program from the 22 preset exercises. Honestly, this is more than what other models provide. On each side, you'll find a speaker and port so you can listen to music as you exercise.
Incline: This smart elliptical helps you target more muscles with the 6 levels of inclines that you get, the highest setting being 30 degrees – that's a lot!
One drawback though is that while you get an awesome incline feature, it's manual – meaning, you'll have to get off the unit and set the level manually via a lever.
Other features: Add-ons you'll enjoy include a media tray for your phone, a fan to keep you cool, and a water bottle holder.
Pros
Max of 30-degree incline, with 6 incline settings
22 preset workout programs
Extra cushioned to make sure your legs, joints, and back are protected from stress
Has a higher weight capacity than most 20-inch elliptical models
Cons
Manually set incline
Short warranty
3. Sunny Health & Fitness SF-3865 Elliptical
Best Features
20 inches elliptical stride length
12 pre-programmed trainings and heart rate monitor
16 levels of magnetic resistance
If you like going to a local gym, chances are you've come across a machine by Sunny. This industry leader is renowned for designing high-quality, user-friendly, and affordable fitness machines. We've already reviewed some of their peddler exercisers for elderly, and we can't not have them in this review. We've looked at their 20-inch stride elliptical, the SF-3865, and here's what impressed us.
Features
Built with a strong, sturdy frame, this long-stride exerciser is designed for tall people of all fitness levels. It is coated with rust-resistant paint, so you don't have to worry about rusting; besides, the black color will blend perfectly with your home gym décor. It is designed to support up to 265 lbs and comes with a warranty for 3 years.
To ensure your comfort, the SF-3865 long-stride cross trainer comes with non-slip peddlers and long handrails with textured leather cover. This elliptical has two sets of handrails, one for arms training and the other is sensor-equipped for heart-rate monitoring.
A 44-lb flywheel powers the handle and pedals to ensure that you train with adequate resistance. The SF-3865 20-inch stride elliptical has a simple LCD screen to help you track RPM, watt, and speed and choose your workouts from the 12 preset programs. It's warranty is pretty much the same as that offered by the Nautilus elliptical above.
Pros
16 levels of resistance, 7 workout modes, 12 built-in programs
Has heart sensors
Has bottle holder so you can stay hydrated while exercising
Integrated with floor stabilizers so you don't have to worry about out of control motions
Affordable
Cons
Lower weight capacity
Short warranty
4. Sole Fitness E35 Elliptical
Best High-end
Best Features
375 pounds capacity – higher capacity
20 – 22 inches adjustable stride length to support shorter users.
10 exercise workouts to meet your needs
If money is not tight, and you want a heavy-duty elliptical, the Sole Fitness E35 elliptical is your best pick.
Features
This top-rated long-stride elliptical supports up to 375 lbs which makes it great for heavy, tall persons. Just like the other equipment on this reviews list, it has a sturdily-built steel frame that is rust-coated to last you for a long time.
Now, here's something to write home about – the Sole E35 has wide foot levers that you can adjust from 20″-22″ to accommodate users who are not overly tall.
The Sole E35 has a front drive system and a 25-lb flywheel to ensure that your exercises are smooth, effective, and noiseless. You can exercise early in the morning or late at night without disturbing your neighbors.
For upper body exercising, you need moving handlebars, and you get those too from the Sole E35 elliptical. These are well-padded for comfort and covered with PU leather for easy cleaning. and to provide a rough firm surface. The handlebars also have sensors for heart rate monitoring so you'll know your range.
A 7-inch backlit console provides an easy way to track your progress. Also, the Sole E35 is Bluetooth-enabled so you can listen to music as you work out.
Lastly, there are two add-ons that make sure tall users get the best out of the Sole e35 – 10 preset workout programs and an incline function to get you a varied high-intensity workout experience. These two factors combine to ensure that you lose weight faster pace than when using a traditional elliptical.
Pros
Wide pedals allow repositioning your feet when exercising to reduce fatigue.
Lifetime warranty on frame, 5 years on electronics and parts, and an unbelievable 2 years on labor
Has wireless heart rate receivers
Cons
Heavy to move around
Expensive
5. NordicTrack E 7.5 Z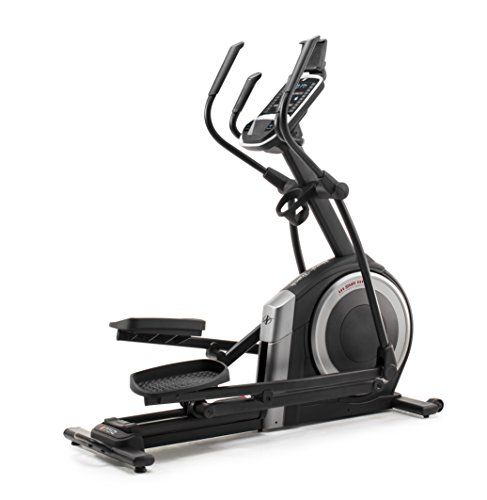 Best Features
20 magnetic resistance levels
300 pounds user weight
20″ adjustable stride length
The Nordictrack E 7.5 Z Elliptical is an excellent brand/model to consider if you're looking at the higher end of the price spectrum. Here's why.
Features
Workout Options: Like others on this list, you'll find onboard exercises to help you work out different muscles in the body. As expected from a NordicTrack, the E 7.5 Z Elliptical is iFit-enabled, giving you access to world-class fitness coaches, a library of workout videos, virtual classes, and virtual gym mates, which all come free for the first 30 days.
Frame: This machine is built using commercial-grade quality steel and coated with scratch-resistant, corrosion-resistant paint. It is designed to support up to 300 lbs and covered for 10 years. If any member of your family has a shorter stride – no worries, this machine offers adjustable stride length.
Flywheel: When choosing the best elliptical for your home gym, you need one with a heavy trainer, and the E 7.5 Z comes with a 15-lb flywheel. It uses SMR (silent magnetic resistant) for smoother, better, and quieter sessions.
Accessories: It also features a water bottle holder, cooling fan, and a large console to make sure your workouts are enjoyable and comfortable.
Pros
Incline of up to 20 degrees for intense exercising
iFit access for 30 days
10-year warranty on frame
Cons
6. BowFlex BXE116 Elliptical Trainer
Best Features
9 pre-programmed workouts
22-inches stride
25 magnetic resistance levels
375 weight capacity
Bluetooth-compatible, USB port and quiet operation
Equipped with heart monitoring
From tread climbers to ellipticals, you can never go wrong with Bowflex's machines. The BXE116 is a long-stride cross trainer that lets you shed pounds from the comfort of your home. I'm sure you'll want to know why the BXE116 made it to this list.
Features
You can't miss this – a maximum weight capacity of 375 pounds! You don't find that every day. Plus, this heavy-duty elliptical is protected for up to 15 years. Its coated in black and red paint that gives it a stylish, rust-resistant finish.
This is a heavy machine, and that's a good thing because it means it's stable and can handle heavy users. The machine feel sturdy under foot. Its stride is 22 inches long, which is longer than what most ellipticals offer. If you find the stride length longer than your natural stride, you can engage the upslope training feature.
Changing the inclination level is easy with the adjustment controls on the handles.
For upper body exercising, you get easy-to-reach long handlebars that can be held in three different positions. The handlebars have built-in sensors for heart rate monitoring. It's worth noting that this high-end 20-inch stride length is telemetry-enabled, which means you have the option to track your heart rate via a chest strap for hands-free exercising – it even comes with a chest strap!
Lastly, the Bowflex BXE116 elliptical is loaded with 11 exercises which takes the guesswork out of your training routine. Also, it saves information for up to 4 tall people allowing you to share it with your loved ones.
Pros
High weight capacity
Automatic incline adjustment
Equipped with a media shelf for your phone and USB charging port
Resistance and speed settings can be controlled via hand grips
Comes with a chest strap
Best for full-body exercising (lower and arms)
Cons
Stride length is not adjustable, making it not suitable for short users
Weighs 263 lbs, which means it's too hefty to move around
7. Spirit Esprit EL-455
Best Features
20 inches stride length
350 pounds maximum weight
20 resistance levels
Lifetime warranty on frame
Another best elliptical for the money is the EL-455. The Spirit EL-455 elliptical has a front drive that gives you a quiet, better, and comfortable pedal experience. It is equipped with a heavy-duty frame that is compatible and portable.
Features
A 30-lb flywheel ensures smooth motions and offers athletes with the resistance required for intense training.
The EL-455 20 inch stride elliptical comes with extra-cushioned pedals that you can adjust to 3 different positions to make sure that people of different heights are comfortable while using the machine ( read more on the side effects of elliptical machines ).
You can check your heartbeat via the LCD screen that is backlit for easy reading. Through the dashboard, you can track your other stats and choose from the 5 workout programs, including 2 that you can customize and 2 programs for the heart.
Pros
High quality, durable, and easy-to-use at home
Solid warranty
High weight capacity
Cons
Speakers are not loud enough
8. ProForm 520 E Trainer
Best Features
20° incline function
18 workout trainings to meet your needs
iFit-enabled and quiet operation
20 inches stride length
Our reviews list would be incomplete if we did not add the ProForm 502E elliptical which is a great budget option. The ProForm Endurance 502E elliptical is one of the most affordable ellipticals.
This top-rated elliptical is great for users in all fitness levels. It has a drive that allows for smooth training and workouts.
Features
For intense training, you'll find preprogrammed workouts to help you target different muscle groups, and since it is iFit-enabled and iFit-connected for the first 30 days, you'll get to try iFit's world-class training for free and see if that's what you want and need.
This popular program gives you access to online classes, coaches, and a wide library.
Pros
This HIIT trainer has wide peddlers to enhance user comfort
Auto-adjust incline
Comes with a heavy-duty flywheel and 18 resistance levels
Free iFit for 30 days
Cons
Difficult to move by yourself
What to Look for when Buying a 20-inch Stride Elliptical
If you are going to buy an elliptical, you need to know how to choose the best option that meets your needs.
Type of Elliptical
Choose the type of elliptical that is closest to what you need. There are three types of ellipticals, and these are:
Standing elliptical: All our excellent options in the buying list above are standing or upright exercisers. These products come at a great price and are ideal for people of different height.
Seated elliptical: We have recently reviewed the best seated elliptical machines, which are best suited for seniors and people suffering from joint, leg, knee, and back pain. They support the natural gait.
There are two sub-types of seated ellipticals – the under-desk units and seated ellipticals with backrest (called recumbent ellipticals).
Hybrid ellipticals: A combo elliptical trainer like those in the best elliptical bike combo machines reviews are probably the ideal choice for most people. A manufacturer can combine features of a treadmill and elliptical or exercise bike and elliptical, and as a result, these products offer more intense exercising than traditional equipment.
Size
How much spare space do you have for your 20-inch stride elliptical? Keep this in mind when you're checking the dimensions of the elliptical that you will eventually get. Not only should it fit your space, it must also be easy for you to move around and store when not in use. Will it fit your storage space? That's another thing to consider. Most important of all, you must choose a model that is compatible with your weight and stride.
Drive
The ellipticals on our buying list above all have a front drive because they are upright ellipticals. This design is greatly dependable and quiet. They are also cheaper than units with rear motor and center systems.
Onboard exercises
We recommend that you buy an elliptical with preset workout programs. It takes the guesswork out of your exercising routine. While most ellipticals come with free iFit, what happens if you later decide that you no longer want to keep paying monthly for it? With onboard programs, you'll continue to have guided workouts even after you part with iFit.
Incline
You want an option with this adjustable function. The function makes you feel like you're exercising uphill. This feature adds strength training to your routine and keeps you continually challenged. Also check on the stride length. Some machines are adjustable so you can change the stride length if you are shorter.
Resistance
The right unit should offer a broad range of resistance settings so that you don't outgrow it quickly.
Additional features
You'll also want a machine that comes with accessories, like a cooling fan, media rack for your phone, and sensors for heart rate monitoring so you can know your exercising range.
Relates Post: Learn How to Disassemble an Elliptical Machines Easily!
Final Thoughts
We've just covered the 8 best 20-inch stride elliptical machines, and we feel that you can't go wrong with the Schwinn 470 and Sole Fitness E35. Of course, the ultimate best for you would be the one that checks most, if not all, of the boxes that are important for you.
Then again, we're all different, with different needs, priorities, and budgets. The great thing is that when we came up with this list, we considered various price points. In other words, we made sure that you'll find the best 20-inch stride elliptical that will not be too hard on your pocketbook.
Get that elliptical now, and start living a happier, healthier life!
Written by Alisha Wishart – TheHealthPot.com
Certified Personal Trainer (CPT), Writer and Contributor
Alisha, is a Mother, Wife and Certified Personal Trainer (CPT).  She understands how demanding everyday life can be and takes great pride in working with individuals and groups to help them achieve their desired fitness goals. Read more about Alisha here.