Your joints take the beating whenever you do high-impact activities. That's not much of a problem for young people, but if you're in your golden years or suffering from skeletal issues or injuries, seated elliptical machines can help save the day.
Low-impact exercising machines, such as a sit-down elliptical, are perfect for rehabilitation or for people looking to protect their knees, hips, and back while working out.
The challenge is that you need the exercise and your skeletal system needs a little loving. The good news is, you'll accomplish both with a seated elliptical.
Our Top Seated Elliptical Trainers: A Quick Look
In this review, we've covered the 6 best recumbent trainers starting with the top-rated Teeter FreeStep cross trainer, followed by 5 other equally high-quality machines. Here's a quick look at our top three.
1. Teeter FreeStep Elliptical Trainer
3. Xterra Fitness Seated Stepper
To help you make a better informed decision, we've compiled a detailed list of the best features, pros and cons for each seated elliptical machines. Keep reading to see our findings!
Top 6 Best Seated Elliptical Machines Reviews
1. Teeter FreeStep Recumbent Cross Trainer and Elliptical
Founded over 40 years, Teeter is a US-based company that produces some of the best low-impact fitness equipment on the market. Their products include gravity inversion boots, bikes, back decompression tables, elliptical machines, and more.
The LT3 elliptical by Teeter is a unique, low-impact sitting elliptical machine. It offers most of the features you'll find on premium ellipticals such as the Nu Step elliptical at an affordable price. Let's have a quick look at some of its features.
See the Teeter FreeStep LT3 in Motion:
The LT3 seated elliptical machine is designed to minimize impact on your joints, hip, and back while exercising. It is equipped with a magnetic resistance system that allows for smooth motions and reduces impact on your body.
This magnetic system works quietly, allowing you to watch your favorite program while working out from the comfort of your living room.
Features & Specs
The Teeter FreeStep recumbent cross trainer and elliptical has several features to enhance comfort.
First, it has a well-padded seat with a backrest. The seat is wide enough to accommodate most users and adjusts to different heights with its spring-loaded adjustment knob.
The seat can also recline in 3 different positions, so you can find your sweet spot for maximum muscle engagement.
Second, you get wide, slip-resistant pedals that are effortless to move, taking the load off your joints and back.
Third, the LT3 sit-down elliptical features SureGrip front handles, which are coated with sweat-resistant rubber material. The handles isolate upper body muscles to work your triceps, biceps, back, and chest.
Lastly, you'll get to enjoy the easy-to-use, easy-to-read digital console, helping you monitor time, distance, calorie burn, and speed.
Pros
Handles on the seat sides add to the stability and engage different muscles
Pedals have tread overlay for traction and cushioning
Has multiple resistance levels for intense workouts
Comes with a water bottle holder
Transport wheels make it easy to move this recumbent elliptical machine
Can be used with the Teeter Move app for free workout programs
Cons
Not foldable
Not Bluetooth-enabled
2. Proform Hybrid Trainer
If it's a seated elliptical machine with workout programs that you're looking for, we recommend this Proform trainer ( read more on the side effects of elliptical machines ).
First off, it features a 2-in-1 design that lets you use this trainer either as a bike or an elliptical trainer. This not only saves you space but also money. It also ensures you get to work out your upper and lower body.
Related Post: Elliptical vs Walking
Features & Specs
As for programs, the Proform Hybrid Trainer is iFit-ready. With the iFit app, you can mix up your workouts, so there is never a boring workout day.
An iFit membership gives you access to a vast library of workout videos designed for users of different fitness levels and personalized training from world-class trainers. Why, you can even create your own workout route using Google Maps!
With iFit, trainers have access to your machine, so they can change your resistance level and speed to provide you more challenge and help you meet your fitness goals faster.
When it comes to this sitting elliptical's pedals, they're wide and adjustable to accommodate your height. This feature works whether it's the elliptical or bike function you're using.
For the Proform Hybrid trainer, one set of handles is never enough. Not even two sets, because you get three sets! Two pairs on the front and another on each side of the seat. The front handles offer a firm, sweat-resistant gripping surface. One set comes with built-in pulse sensors to help you monitor your heart rate.
To ensure that you stay hydrated during your routines, this Proform sit-down elliptical trainer comes with an easy to reach water bottle holder.
Lastly, this elliptical trainer supports users up to 350 lbs, which means it is heavy-duty.
Pros
Offers 16 levels of resistance to accommodate users in different workout groups
Ideal for users up to 350 lbs
Transport wheels make it very portable
Comes with a strong warranty: up to 5 years
Monitor is easy to use and has built-in speakers
Cons
Doesn't have a cooling fan
Labor and part warranty is short (90 days)
3. Xterra Fitness RSX1500 Seated Stepper
Offering 24 diverse workout programs, the Xterra Fitness RSX1500 seated elliptical is a fitness machine that will ensure you stay motivated and reach your fitness goals with ease.
Features & Specs
There are five reasons why this sitting elliptical stands out from the rest.
Dual action: This recumbent elliptical is a dual action exercise machine and is designed to work the upper body and lower body. The pedaling motion works the lower body while the handle motion works the upper body. With this recumbent elliptical you can work multiple muscles simultaneously.
Programs: If you want guided workouts, the RSX1500 is the machine for you. It offers 24 on-board workout programs. This includes 5 heart rate programs and 4 custom programs.
Comfort: The Xterra Fitness RSX1500 sit-down elliptical is designed with the user's comfort in mind. It features a mesh back seat, handlebars on the sides of the seat, and adjustable front handlebars to accommodate users of different heights.
Leg motion: Under-desk elliptical machines are great but have a limited stride range. The RXS1500 offers a 13-inch stride range, but if you're so much taller than the average person, you can check out these 20 inch stride ellipticals for standing exercises.
User capacity: This sitting elliptical can handle up to 300 lbs (136 kg), a great option for users on the heavy side.
There you have it, 5 reasons why this Xterra elliptical is a great pick, but there's more.
Other features you'll enjoy include the built-in speakers, pulse sensors to monitor your heart rate, and pedals with straps for your safety.
So, don't look far for a low-impact seated elliptical, check the RSX1500 by Xterra Fitness. It's a great pick!
Pros
Comes with a strong warranty: lifetime for frame
Dual action allows for upper and low body workouts
24 resistance levels for the intense workouts that you need for fast recovery and weight loss
Steel frame and wide base ensure stability during workouts
Cons
4. HCI Fitness Physiostep Seated Cross Trainer
Do you need an elliptical to aid you in physical therapy? You won't go wrong with any elliptical by HCI Fitness. This brand offers some of the best physical therapy equipment including the best low-impact treadmills, total body trainers, rowers, stretching tables, and more.
The PhysioStep LTD recumbent elliptical machine is ideal for people recovering from back, hip, and knee surgery. This seated elliptical machine needs some assembling, but it's straightforward. You only have to attach the monitor, arms and seat, and there is a manual to guide you through the process.
Features & Spec
It features a step-through frame that allows users to get on and off the bike without straining their knees and back.
The frame is sturdy and large enough to accommodate users from
4'10 to 6'4". To handle different types of users, this elliptical recumbent machine comes with some adjustable features.
First, its seat comes with a backrest that you can adjust forward and backward in 14 different positions. Yes, 14! The seat is well-padded for user comfort and comes with side handlebars for added stability.
These handlebars are fitted with pulse sensors to monitor your heart rate.
Another adjustable feature is the front handlebars. You can turn them to different positions for proper gripping. If you think the handlebars are only there to keep you safe, you couldn't be more wrong. They also move with the pedals to allow for upper body exercising!
Speaking of pedals, this HCI Fitness seated elliptical trainer comes with large foot pedals with straps for easy fitting. Their surface is textured, providing a firm grip for different types of exercise shoes.
The LTD physical therapy elliptical is powered by a poly belt drive system. This whisper-quiet system works smoothly, allowing users to exercising while watching TV or listening to their favorite podcast.
Lastly, this seated elliptical trainer comes with an easy-to-use, backlit monitor where you can track your progress, change resistance levels, choose a workout program, and keep an eye on your heart rate.
Pros
Offer 16 levels of resistance and 17 workout programs for guided and intense workouts
Seat is adjustable and can recline for user comfort
Has a backlit monitor backlit that's easy-to-use
Comes with a strong warranty
Great machine for rehabilitation
Cons
5. NuStep TRS 4000 Elliptical
The NuStep TRS 4000 is an elliptical trainer designed for the elderly and for people who need physical therapy. This high-end machine offers a lot of awesome features to users.
Features & Specs
First, its frame is made of 14-gauge heavy-duty frame, which means that it will last for years and is more stable than most seated elliptical machines.
This heavy-duty frame can handle up to 400lbs, making it one of the best elliptical for heavy people. This long-stride elliptical comes with a well-padded seat for user comfort. The seat also swivels 360 degrees to make it easy for users to get on and off.
The seat of the NuStep TRS 4000 sitting elliptical adjusts forward and backward to accommodate users between 4'6" to 6'4" tall.
Users like the large, textured pedals and the smooth motions that help avoid stress on joints and back.
This bike offers 10 resistance levels for warming up, intense exercising, and cooling down.
You choose and change the resistance levels via the easy-to-read digital monitor that automatically turns on when you get on this seated elliptical trainer. The monitor helps you keep track of your steps, time, and calories burned.
Pros
Arms are adjustable and well-padded for comfort
Has a higher weight capacity than other recumbent elliptical machines
Textured foot pedals keep feet secure
Comes with transport wheels for portability
Cons
Has fewer workout programs compared to the HCI Fitness LXT-700 elliptical
6. Octane Fitness XR6 Elliptical
One of the brands that can hold candle to HCI Fitness is Octane Fitness. From standing ellipticals to cross trainers and seated elliptical trainers, this brand is dedicated to providing high-quality and durable fitness equipment for users of different ages and sizes.
Features & Specs
The Octane Xr6 has an unbeatable design and offers loads of features.
One of the features we loved is its step-through design. Like the HCI elliptical trainer above, all you have to do is step in, work out, and step out. No hassle. No straining.
Its frame is large at 71 x 35 x 60 inches (180 x 90 x 152cm) and will require you to set aside a substantial space for it. Fortunately, it comes with front wheels that make it easy to move around.
For your comfort, this sitting elliptical trainer features a well-padded seat with a backrest. The seat is height adjustable in 20 positions and tilts in 5 different positions. On each side, you'll find a handle to hold for stability while exercising.
Also, these handles are integrated with pulse sensors for heart rate monitoring while exercising.
Your workouts will never be boring with the 43 preset workout programs and 20 resistance levels that this recumbent elliptical offers.
Lastly, you get access to the Octane App for tracking of your progress, setting goals, and working out smartly.
Pros
Has a strong warranty
Ideal for whole body workout
Fitness programs to ensure your workouts are interesting
Adjustable seats to accommodate users of different sizes and shapes
Cons
Related Post: Can I put my elliptical in the garage or outside?
Recumbent Elliptical Benefits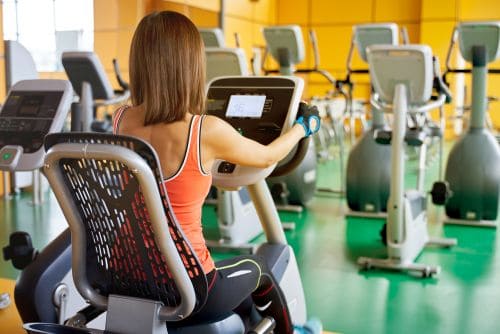 A sitting elliptical has the same benefits as a standing elliptical. Here are some of the benefits you'll get by using seated elliptical machines
1. Great for full body workout
2. Low-impact exercising
3. Easy to access
4. Improves cardiovascular health
5. Reduces inflammation – Some types of inflammation are caused by low blood pressure. Exercising on the best HIIT trainer will help boost your blood circulation, reducing inflammation.
How to Choose a Sitting Elliptical Machine
Choosing an elliptical trainer from the many offerings on the market is not easy. Hopefully with our list, your process of choosing an elliptical machine will be easier and faster. Here are the things you should check:
Frame construction
The way a machine feels while exercising dependent on the type of its frame. Most elliptical machines come with varying resistance levels: the higher the resistance level, the higher the energy or force required. You need to look for a machine that can handle the force.
One of the best ways to know if a machine has a durable frame is to check its weight. You should opt for one with a heavy frame and wide base for stability.
Resistance levels
Why do I need resistance levels? Resistance ensures your workouts are never 'easy'. A good unit offers adjustable resistance so you can warm up for a few minutes, proceed to a higher resistance level for more intense workouts, then reduce the intensity for cool downs.
There are two ways you can adjust resistance: with a knob (mostly for under-desk ellipticals) and through the control console (for recumbent units).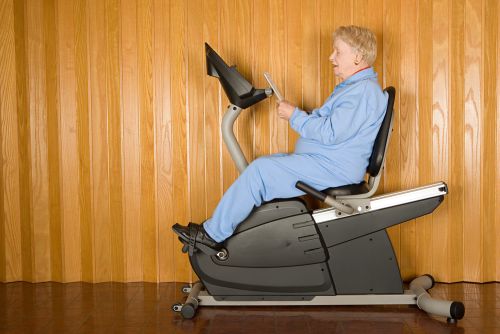 Seat
Under-desk ellipticals are straightforward. For office use, pick one that fits under your desk perfectly and remember to use the right chair. When choosing a recumbent trainer, check on the seat's adjustability and padding.
Stride length
The simplest way to describe stride length is the maximum distance or space between the two pedals on your machine. With most under-desk elliptical machines, you get around 5 inches. This is why these machines are great for office use since they don't take up much space.
The recumbent units offer up to 17-inch strides and would be most suited for home gyms.
Moving or stationary arms
Depending on the brand of sit-down ellipticals you choose, a unit can have stationary or moving arms. As a team, we opted for units with moving arms since those provided more intense workouts for the upper body.
Control panel
You want an elliptical machine with an easy-to-use, easy-to-read control panel. The mini elliptical machines on this list come with a monitor that allow you to track your calories burned, time, speed, and distance.
The other recumbent options provide easy-to-use control panels for changing resistance levels, tracking progress, setting goals, and more.
Warranty
Recumbent elliptical units have more parts, more programs, and cost more. Most brands offer lifetime warranty on the frame and 3 – 5 years on the parts.
Final Thoughts
How do you choose the best recumbent elliptical cross trainer? This is the question most people struggle with when choosing a trainer. We've streamlined your options to make choosing easier. With the above list, you'll be picking out from the best seated elliptical machines you can find, so deciding will be simpler and faster.
These machines include mini elliptical trainers and recumbent elliptical trainers, all of which are made of durable steel. Pick one that 'speaks' to you – you can't go wrong with that. Be healthy and happy!
FAQs
1. How many calories can you burn on a seated elliptical?
According to this study working out on an elliptical is better than doing most exercises. Working out for 30 minutes on an elliptical trainer will help you burn up to 250 calories. Remember to work out for longer to burn more calories and always observe your diet.
2. Which is better recumbent bike or elliptical?
Honestly, there isn't much difference between these two exercise machines. Working out on a recumbent elliptical mimics the running motion. An elliptical is great for anyone recovering from injury or for the elderly. A recumbent bike is ideal for beginners.
3. Does elliptical tone buttocks?
Yes, an elliptical trainer can tone your butt. The best way to tone your body is by burning calories, and for an elliptical machine, the higher the resistance the more calories burned.
Written by Alisha Wishart – TheHealthPot.com
Certified Personal Trainer (CPT), Writer and Contributor
Alisha, is a Mother, Wife and Certified Personal Trainer (CPT).  She understands how demanding everyday life can be and takes great pride in working with individuals and groups to help them achieve their desired fitness goals. Read more about Alisha here.