Why an elliptical bike combo?
If you had to choose between an elliptical and a fitness bike to buy for your home gym, which would you pick? I bet you'll have a long list of pros and cons for both pieces of equipment and still be hard put to make a decision.
So by choosing an elliptical bike combo, you do away with the trouble of choosing one because you can have both.
That's what this article is all about. I'm going to review 10 the best elliptical with bike combo machines on the market and show what each brings to the table for you and why they're worth your money.
An elliptical & bike combo machine is a versatile machine that helps you burn calories and shed off weight from the comfort of your home. In my experience, I've found that using the [amazon link=" B014IWD79G" title="Proform Hybrid Elliptical Trainer"/] is so much better than using a treadmill. With a dual trainer, I get to exercise more muscle groups than when using a treadmill.
In this article, you'll get to read about the 10 best 2-in-1 elliptical bike machines on the market, but if you're in a rush, you can look at our Top 3 bike elliptical combo trainers here.
Best Recumbent Bike and Elliptical Combo Picks:
10 Best Elliptical Bike Combo Machines Reviews
1.Proform Hybrid Elliptical
Best Overall
From experience, the Proform hybrid elliptical is a great machine for home use. Here's why.
Proform has been around for years, and their products are designed by professional fitness trainers, so you know they're people who know what is needed and how to do it. Also, Proform has a wide variety of products, including foldable stationary bikes, recumbent cross trainers and more .
Features & Specs
Learn more about this elliptical recumbent bike combo:
In case you don't know yet, all elliptical machines made by this brand are iFit-ready. We've discussed a bit about iFit on a recent post on Proform products, and I'll make sure to mention it again later in this article. Simply put: It's a great brand with high quality products.
Out of the box, one of the first things you'll notice is its study construction. Made of solid steel, this elliptical stationary bike is designed for robustness and rated to handle up to 350 lbs. You'll have to put it together, but don't worry because it comes with an instruction manual. It will take about 40 minutes, but if you enjoy the process like I do and read slow, it'll take you around an hour.
This arms bike offers you two functions at the price of one. You can use it as a bike and an elliptical trainer.
For the bike, you get a comfy seat and side grips. The seat comes with back pads to support your back and an adjustable cushion for your butt's comfort. The pedals are large and well-made, which are perfect for low-impact cardio.
As for the elliptical portion of this exercise bike with elliptical, you get well-padded handles, and a 13-pound balance wheel.
It ensures smooth stepping motion, while the pedals allow for gentle workouts. Your back and knees will be safe while you exercise using this exercise bike.
The dimensions of this 2-in-1 bike allows for strides up to 15 inches long, which can accommodate most people. The grips come with pulse sensors for heart rate monitoring.
You get an easy-to-use digital backlit LCD console for tracking your metrics like speed, calories burned, time, and heart rate. Its LCD window allows you to choose a workout program designed to provide you with a simpler, more effective way to exercise.
On top of the 16 workout programs, this compact machine comes with iFit. iFit membership allows you access to personalized training and on-demand workout videos. You can even design your own biking routes using Google Maps.
Related Post: Are recumbent bikes good for weight loss?
Lastly, other features you will enjoy include a water bottle holder to keep your water close, auxiliary port and speakers for your music, and wheels to move it around. This elliptical will meet your fitness needs, no doubt about that!
What We Liked
Clutches are height-adjustable to accommodate users of different heights
Comes with a strong warranty: 5 years on frame, 90 days on parts and labor
Bike offers 16 different levels of resistance and pulse sensors
This Proform HIIT trainer features a compact design that ensures you save money and space
Padded backrest to aid users suffering from back issues and discomforts
What We Didn't Like
The 15-inch stride might be a bit short for taller persons. For tall people, we recommend elliptical trainers with a 20-inch stride
2. Proform Hybrid Pro Cross Trainer
Another excellent option from this manufacturer is the Proform Hybrid Pro Elliptical Bike Machine for home use. It is an upgrade from the model we reviewed earlier.
You'll also love that it comes at almost the same price as the previous model but with more training programs plus iFit. So, let's check out this bike cross trainer in detail.
Features & Specs
First off, its frame is made of solid metal and can handle up to 350 lbs, making it possible to share this seated elliptical exercise bike machine with another person within your home.
To ensure your comfort while cycling, this 2-in-1 Proform hybrid elliptical comes with a recumbent style seat. This means a seat that is well-padded and comes with a backrest. The recumbent seating position is ideal, especially, for those who have issues with their back or hips, hamstrings, ankles, and joints.
On the side, you will find handlebars that you can hold onto for stability while cycling. The Proform recumbent bike combos are similar to the Proform model above and come with wide foot pedals and handlebars.
Proform Stationary Bike Elliptical Combo Key Differences
The key difference between this model and the other Proform stepper for home is the size of strides. This 2-in-1 recumbent bike combo allows for 17-inch strides, making it ideal for taller people.
Not only that. This recumbent bike cross trainer bicycle machine has more to offer in terms of training programs and resistance, bringing with it 20 levels of resistance and 20 training programs designed to provide intense HIIT workouts.
Best of all, this exercise bike cross trainer is iFit-ready. What this means for you is that you can access thousands of workout videos from the iFit library, workout with a coach, and do a lot more.
Also, another feature that sets this exercise machine apart is the incline function. You can adjust the incline lever between 3 and 20 degrees, which allows for strength training routines and help you meet your fitness needs.
What We Liked
This recumbent bike combo comes with a strong warranty: lifetime for the frame and 1 year on parts and labor
Has a large LCD console to help you track your progress
iFit can store workout statistics for up to 4 people
Uses silent magnetic resistance system for quiet workouts
Has high weight capacity compared to most 2-in-1 elliptical bikes
Ideal for people with back, joints, and knee problems
What We Didn't Like
Does not have a cooling fan
No water bottle holder
3. GoPlus Hybrid Elliptical
GoPlus brand is a newer kid on the block and their products are quite popular. For this review, we'll take a closer look at the GoPlus 2 in 1 Elliptical Bike Machine for home use, which is marketed with the tagline 'performance meets versatility'.
Features & Specs
Made of steel, rubber and plastic, this hybrid elliptical is designed for longevity and the user's comfort in mind. It is constructed to work your:
Quad and hamstring muscles
Arms muscles
Abdomen muscles
Thigh muscles, and
Butt muscles
This bike elliptical combo has durable and stable frame, coated with rust-resistant black and silver paint. So you can work out with peace of mind knowing there is little maintenance needed on the frame.
You can use the GoPlus bike cross trainer in two ways: either seated or standing. The seating position allows you to use this hybrid elliptical as a bike.
For the bike, you get handlebars and a seat. The clutches are wide enough to accommodate different cycling shoes. Unlike the Proform recumbent bike, this GoPlus 2-in-1 elliptical bike trainer comes with a spin-bike-like seat.
It allows upright cycling to target more muscles and is wide enough to accommodate most fitness enthusiasts.
However, if you suffer from back pain, we recommend the Proform options for you.
For athlete stability while riding, this hybrid indoor bike has well-padded handles to offer you a firm grip. The handles are equipped with hand pulse sensors for monitoring of your heart rate.
The elliptical side of the bike has a lot to offer too. You get sturdy, non-slip pedals handlebars.
The GoPlus hybrid elliptical comes with a 6-pound, built-in balance wheel for a smooth stepping motion. You can use this bike with elliptical from the comfort of your home without disturbing your neighbors or sleeping partner and kids.
For resistance, this exercise bike elliptical combo offers 8 resistance levels, making it suitable for beginners and even seasoned gym rats. You can control the level of resistance via an easy-to-reach knob. The GoPlus stand up bike has a basic console for keeping tabs of your calories burned, time, speed, and distance.
What We Liked
Great for working out different muscle groups together
The GoPlus elliptical recumbent bike trainer is one of the best exercise bike elliptical combo machines on the market
Lighter than elliptical machines and has casters for transportation
Affordable and easy to assemble
What We Didn't Like
Does not have extra features such as tablet holder and water bottle holder
4. Body Rider 2-in-1 Elliptical Recumbent Bike (BRD2000)
Budget Option
Also read: Full review of the Body Rider Dual trainer BRD2000
The Body Rider 2-in-1 Elliptical Recumbent Bike (BRD2000) is a great option for anyone looking for a budget-friendly bike elliptical combo trainer and is designed to expand your workout potential.
This machine combines the functions of dual exercise bikes – recumbent and upright – at the price of one. It also means that with this 2-in-1 stationary bike and elliptical combo, you get more workout combinations than someone using those two machines separately.
Features & Specs
The stand-up bike features a strong frame with silver and black paint finish and is covered by a one-year frame warranty.
Note: For the bike, you get an upright seat. You can adjust it vertically or horizontally to suit your height. The saddle style seat is comfy.
You also get sturdy clutches and well-padded handlebars. This bike elliptical combo allows for spinning. This position ensures you utilize the same muscles as you would while riding outdoors, burn the same amount of calories, and workout more muscle groups.
You also workout your upper body, mainly your shoulders and arms.
The elliptical is designed to help you exercise your quads, butt, hamstrings, and more. This elliptical is powered by a fan-blade flywheel system for smooth stepping motion, and does all these quietly. The BRD2000 comes with wide pedals to ensure your workouts are gentle on your hips, hamstrings, ankles, and back.
Last but not least, the BRD2000 comes with an easy-to-use console for tracking of your statistics, such as your speed, distance covered, calories burned, and workout duration.
What We Liked
This elliptical combo machine comes with a heavy-duty flywheel, providing a fluid workout
Assembly is straightforward and supports up to 250 lbs
Has wheels for moving it easily
This high-tech machine needs little storage space
Covered by a 1 year frame warranty
What We Didn't Like
The BRD2000 elliptical trainer's seat is not so comfortable
5. Plasma Fit 2-in-1 Cross Trainer Exercise Bike Combo
The Plasma Fit 2-in-1 Elliptical Bike Trainer for home is another excellent fit for anyone looking for a 2-in-1 bike that is both affordable and space saving.
Features & Specs
This 2-in-1 compact machine is made of tubular steel which makes it sturdy and durable. All that steel on the bike's frame brings its weight to 60 lbs, which might be a bit heavy for some fitness enthusiasts. If you're concerned about portability, no need to worry because the casters will make moving the bike easier for you.
Just like other ellipticals with bike exerciser in this list, it features a 2-in-1 design. This means you get to work out your whole body using one machine and save on space.
Measuring about 21 x 35 x 58 inches, this hybrid elliptical trainer requires little storage space. It'll fit right into your home gym. The elliptical offers wide, textured clutches (6-inch wide and 13.5-inch long) for a more secure foothold.
One of the most important concerns in an elliptical is the stride, which is a bit short at 11 inches in the Plasma Fit exercise bike. This is slightly shorter than what the Proform bike elliptical combo machine offers. So, if you're a tall person, this may not be the 2-in-1 stand-up bike for you.
On the bike, you get a 10.5 x 10.25 inch seat that is comfy and slip-resistant. You also get well-padded handlebars for comfort and support. With this 2-in-1 elliptical and bike combo trainer, getting a full body workout will never be a problem.
For the monitor, the Plasma Fit elliptical bike comes with a simple monitor for tracking of calories burned, time, distance covered, and pulse rate.
Lastly, this machine offers resistance that you can control via a knob, making it ideal for all types of fitness enthusiasts.
What We Liked
Compact size for easy storage
Strong steel base for stability
Can hold up to 250lbs
Padded handlebars for comfort and smooth arms workout
What We Didn't Like
Does not come with extra features such as cooling fan or water bottle holder
6. Body Champ 2-in-1 Hybrid Trainer
Body Max is known for manufacturing some of the best exercise bike exercise machines for athletes, and we'll give a detailed review of the Body Champ 2 in 1 BRM3671 in this section.
This hybrid stepper elliptical with bike needs some assembling. You have to put it together with the aid of an instruction manual.
Features & Specs
Once assembled, this exercise bike with elliptical measures 38.6 x 12.6 x 24 inches and can hold up to 275 lbs. These specs will be perfect for most people.
You'll love its step-through design for a hassle-free access to the machine, especially for old people or those with mobility issues. The bike side of this hybrid stepper machine comes with a seat that you can adjust vertically or horizontally to accommodate your height.
I believe that another reason for the popularity of this recumbent bike for home use is its handlebars that come with built-in pulse monitor to track your heart rate. It's not a standard feature across elliptical bike combos.
Similarly, the elliptical part of the machine also comes with awesome features. You'll love the long, padded handles that provide a good gripping surface.
What really sets apart this elliptical bike combination trainer from others? What else, its preset programs! Unlike many recumbent bike exercise machines, the Body Champ BRM3671 bike cross trainer offers 12 programs.
Each is designed to provide you with fun, intense HIIT workouts for weight loss. Rest assured, there won't be weight loss plateaus for you as long as you use this 2-in-1 cross trainer and exercise bike.
Last but not least, this hybrid elliptical comes with a DVD to help you through your strength training routine. This Body Champ cardio bike will be a great addition to your home gym.
What We Liked
Bidirectional pedaling helps you build muscle mass and meet your fitness needs
High-quality materials and solid construction
Step-through style for mounting and dismounting
Easy to use console with 12 built-in training programs
High tech features make it one of the best exercise bike and elliptical combo machines for home
What We Didn't Like
7. Xterra Elliptical Trainer
If you're looking for heavy-duty elliptical machines for home, this Xterra hybrid elliptical is a great pick. This bike elliptical combo machine is one of the best exercise equipment for home.
Features & Specs
Why choose this Xterra 2-in-1 cardio dual trainer elliptical? First and foremost, its sturdy frame supports up to 286 lbs, which allows you to share the bike with family and friends.
Its step-through style makes it easy-to-use especially for the elderly. Another feature that ensures this Xterra elliptical with bike stands out is the heavy-duty balance wheel. At 11 lbs, this 2-in-1 bike ensures your workouts are smooth, quiet, and safe.
The pedals are large (15.7 x 5.9 inches), with strides up to 14 inches.
This dual cardio machine offers 8 resistance levels making it ideal for the elderly, the young, and sport enthusiasts. You can adjust the resistance level through an easy-to-reach adjustment knob.
For the LCD window, you get to monitor important metrics such as heart rate, calories burned, distance, and time. Lastly, this dual cardio machine is easy to store and comes with wheels for transportation. If you want a tough workout routine, this elliptical is the right solution.
What We Liked
This 2-in-1 has adjustable sleeves that keep the machine from slipping
Offers longer strides than some bikes within its price range
Has dual handles
Offers magnetic resistance system for intense training
What We Didn't Like
8. Akonza Elliptical and Exercise Bike Dual Trainer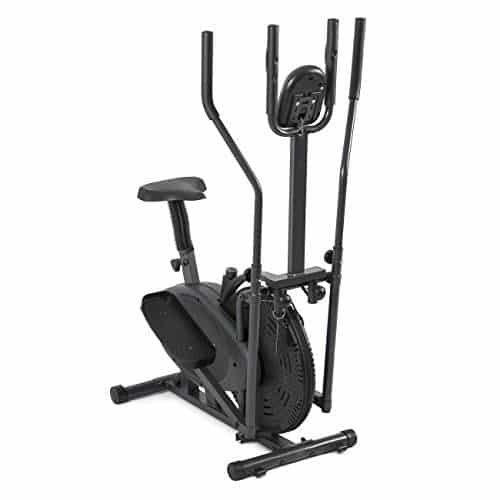 The Akonza Elliptical and Exercise Bike Dual Trainer can accommodate most people who are interested in doing various types of strength training workouts at home.
Features & Specs
This 2-in-1 cardio stand-up bike can support up to 250 lbs of user weight. It features a strong frame that weighs about 65 lbs. Too heavy to move around? Not at all! The designer has added wheels that make it easy for you to move it around.
Another feature you'll enjoy is the adjustable seat height. You can adjust it vertically or horizontally to accommodate your height or shape. Also, this Akonza elliptical bike machine comes with large pedals that allow for bidirectional pedaling.
Why is that good? When you pedal in reverse, you get to engage more muscles.
For the monitor, you get a standard LCD screen to track time, distance, calories and speed.
Lastly, this elliptical with bike exerciser comes with magnetic resistance tension levels that you can control using a knob. These levels make your workouts more challenging, ensuring you never experience a weight loss plateau.
What We Liked
Base has caps to prevent sliding and protect the floor from scratches
Comes with handgrips equipped with built-in hand pulse monitors for heart rate monitoring
Simple assembly
Uses magnetic resistance which is quiet and ensures smooth motion
What We Didn't Like
9. Body Power 3-in1 Recumbent Bike with Elliptical
Body Power has produced some of the best recumbent bikes with elliptical on the market, and in this review, you'll see the Body Power 3-in 1 Recumbent Bike with Elliptical in the list. Let's see what it can and can't do.
Features & Specs
Just like the rest of the bikes in this list of machines, the BRT5088 is made of sturdy material and can hold up to 250lbs of weight.
What really sets this hybrid elliptical apart from other exercise bikes on this list is its 3-in-1 style. This unique design allows you to use the machine as an elliptical, recumbent bike, and upright bike.
For your comfort, this recumbent bike with elliptical comes with a well-padded seat and backrest. The seat is adjustable to accommodate people of different size and shape. The handlebars are there to enhance safety and comfort while pedaling, but more than that, the handgrips also house the built-in sensors for heart rate monitoring.
This 3-in-1 machine also comes with a simple LCD window where you can track your time, calories burned, distance covered, and heart rate, and it's undoubtedly one of the best recumbent bike and elliptical combo machines on the market.
What We Liked
This bike elliptical combo trainer is affordable compared to other equipment
Comes with back pads which is best for people with joints and back problems
FREE diet plan
Built-in pulse sensors
Uses fan blades for resistance and cooling
What We Didn't Like
Does not come with extra features such as iPad holder
10. Best Choice 2-in-1 Bike Elliptical Combo Trainer
When it comes to exercise equipment, Best Choice is one of the leading brands known for sturdy and durable units. Their catalog includes foldable exercise bikes, dumbbells, mats and more.
Best Choice has the best 2-in-1 elliptical and bike machine in their collection. So lets see what this Best Choice 2 in 1 cross trainer & exercise bike has to offer.
Features & Specs
It's designed from aluminum and features scratch and rust-resistant gray paint. The frame features a wide base for balance and floor protection.
This recumbent bike combo machine also features a 2-in-1 build elliptical with bike. You can alternate between these two integrated machines for strength training. This elliptical cross trainer has a height-adjustable seat so that users of different heights can use the bike comfortably.
And the last feature worth noting is this elliptical combination cross trainer comes with a standard LCD monitor to help you track your progress. With the Best Choice elliptical machines, training possibilities are limitless.
What We Liked
Dual design allows you to save space and money
Adjustable tension makes your workout challenge intense, which allows you to burn calories meeting your fitness needs
This upright bike comes with built-in wheels to make transportation easier
Cushioned to protect against pain
What We Didn't Like
Capacity lower than other ellipticals
Elliptical Bike and Combo Machine Benefits
When I used to frequent the gym, I noticed many people preferred these exercise bikes to other gym machinery. Having used one for the past two years, I can tell you why some of us stand in line to just to get 30 minutes on this 2-in-1 machine. Here are some of the many benefits of using a bike elliptical combo trainer at home.
1. Works out your whole body
Many low-impact cardio equipment, such as bikes, work on your lower body. If you want to work your whole body, a bike cross trainer machine or rowing machines work muscles in your upper and lower body.
The clutches will give you a good lower body workout while the handles will allow you to work out your upper body. This type of elliptical machine takes your workout challenge to a whole new level and gives you limitless training possibilities.
2. Low-impact exercise
If you experience knee or joint pain, it is important you go for a machine that ensures your workout routine is pain-free. The units we covered in the elliptical bikes reviews list above come with wide pedals and heavy-duty balance wheels that work smoothly to ensure your joints are protected during workouts.
Also, if you have a back issue , we recommend you go for a machine with a backrest to provide support for your back while working out.
3. Speeds up your weight loss journey
Although the amount of fat loss depends on your age and gender, many people have found that using a hybrid elliptical helps them reach their weight loss goals faster. As we stated earlier, traditional exercise bikes target one particular muscle. However, if you want to work out different muscles together, it is advisable you go for a cross trainer.
The machine choices above will help you exercise your legs as well as your biceps.
4. Saves space and money
Is your budget limited? Or is your apartment or gym small? The good news is, the exercise bikes reviewed above are quite affordable. Most of them cost the same as a traditional elliptical or bike. Also, these exercise bikes take up the same space as traditional fitness equipment. So, if you're looking to save on space and money, a hybrid elliptical is the best pick. Also, with this equipment you save on gym membership.
5. Convenient
There are two reasons why some people prefer to exercise from home. One, people whose schedules are busy, working out from home is the right solution, and don't have time to go to the gym. Two, people who enjoy their privacy.
If your schedule is busy, you can squeeze 30 minutes in the morning or at night with a cross trainer at home and get a good workout. If you want to maintain your privacy, this cardio dual trainer elliptical is the perfect solution.
Related Post: Does a Recumbent Bike Work Inner Thighs?
Factors to Consider when Choosing a Bike and Elliptical Machine
There are important features to check for when shopping for a cross trainer for home. Here are some of the most important factors to look for:
Stride length: Your height determines the length of strides. Most hybrid ellipticals offer at least 14-inch strides. Before you hit the buy button, be sure to check the stride length and choose a machine that will allow you to step in and out comfortably.
Resistance: A lot of hybrid ellipticals offer several resistance levels. When choosing, opt for a bike cross trainer that comes with an easy-to-reach resistance adjustment knob.
Handles: Some of these exercise bikes do not have handles. However, for arm workouts and comfort while working out, we recommend you go for one with handles.
Smooth movement: For your machine to work smoothly, opt for a unit that comes with wide pedals and a heavy-duty flywheel.
Space and budget: Lastly, be sure that the upright bike elliptical machine you pick is within your budget. Set aside enough money for the elliptical you want. Also, ensure it can fit in your garage or home.
Final Thoughts on Stationery Elliptical Bike Combo Machines
Choosing the right elliptical/bike combo cross trainer for home use can be overwhelming especially if you are just starting your fitness journey. Lucky you, because we've got your back.
The elliptical machines in the elliptical bikes reviews list above offer 2-in-1 function, an elliptical with bike combination. All the above exercise equipment are affordable and durable and provides a means for users to experience low-impact cardio. You can burn calories and escape gym membership fees with any of the choices above.
Written by Alisha Wishart – TheHealthPot.com
Certified Personal Trainer (CPT), Writer and Contributor
Alisha, is a Mother, Wife and Certified Personal Trainer (CPT).  She understands how demanding everyday life can be and takes great pride in working with individuals and groups to help them achieve their desired fitness goals. Read more about Alisha here.