Hi Everyone! Today, I want to talk about a subject close to my heart and something that I think many of you will agree with. The love/hate affair that we have with the gym.
I love exercising, but I hate going to the gym, and I can give you a million reasons why. Off the top of my head are three reasons. One, I have to change my outfit for the gym; two, the commute drains me; three, waiting for the right machine can be a pain. Of course, how can I forget the rubbery smell. Ugh, nauseating! And who can forget parking hassles!! If any of these resonates with you, then you need a ProForm HIIT Trainer.
Our Top ProForm HIIT Trainers: A Quick Overview
In this review, we'll discuss the best ProForm HIIT Trainer that are ideal for your home workouts. Without further ado, here are our top picks in a nutshell:
3. ProForm Hybrid Trainer PFEL03815K
5. ProForm Endurance 520 E Elliptical
If you've read any of my other articles, you know that I'm a big fan of rowing, but you know what? When you do the same type of exercise day after day, your body gets used to it.
This means that you burn fewer calories, you stop building new muscle, and you have to work out harder or longer to get the same results.
This is why I heartily recommend doing other forms of exercise. When we keep our bodies guessing as to what we will be doing or how long we will be doing it, we can continue to lose weight, maintain our weight, and build new muscles.
So today, let's talk about how adding high-intensity interval training to your regimen can really up your game, and you can easily do that with a ProForm HIIT trainer.
If you've never tried an elliptical, this will enrich your workout experience, I promise. ProForm Cardio HIIT trainers are compact and durable. They come with preset workout programs, and best of all, they are iFit-enabled. If you didn't know what that means, iFit is an app that gives you workout routines and acts as a gateway to world-class virtual training.
Top 5 Best ProForm HIIT Trainers Reviews
1. ProForm PFEL09920 Trainer
The PFEL09920 HIIT trainer (Proform Cardio HIIT H7 elliptical) is the beast that takes your workout experience to another level.
Below, let me highlight all of the great features this elliptical has, and where I think they could have done better.
Features & Specs
Frame: I love how the ProForm Carbon HIIT H7's frame feels! This elliptical trainer is solid steel that does not wobble even during interval training. The frame measures about 52″ x 29.25″ x 66.7″ (LWH), which is compact enough to fit in small spaces.
If your home gym space is small, you will need a HIIT trainer that will fit right in, without having to move and remove furniture. This ProForm Smart HIIT Trainer was the perfect fit for me, and I think it would also work for you if you're struggling with a small apartment or living space.
However, since the ProForm Carbon HIIT H7 is made of commercial-grade steel, it's quite heavy. It weighs over 220 lbs, and yes, for most people, that's too heavy to move. Thankfully, the ProForm Carbon HIIT H7 offers front-mounted wheels that make it easier to move and store.
I also love that the frame is covered by a 10-year warranty and 2 years on parts, so your investment is well protected.
Pedals: I prefer a trainer with foot pedals that leave enough room to reposition my feet while exercising if that's what I need to do. The cushioned foot pedals are made of heavy-duty anti-slip plastic with a textured surface designed to move smoothly both vertically and horizontally.
Console: Now this is a big selling point in my book. I've used different ellipticals at the local gym, and despite the sturdy build, the digital console left a whole lot to be desired. It's a different story with this ProForm smart HIIT trainer.
A typical elliptical has a 2.5 or 3-inch monitor that only gives you the basic yadda yadda. This incredible elliptical boasts a 7-inch color backlit monitor that will keep tabs on distance, speed, calorie burn, heart rate, and RPM. It also allows you to access the iFit preset workout programs, and resistance settings.
iFit Workouts: This Proform HIIT trainer is iFit-enabled. If you aren't familiar with iFit, get ready to be amazed! This downloadable app offers workouts for dozens of different exercise machines (treadmills, rowing machines, etc.). What's more, the iFit workouts automatically control the amount of resistance (so you will pedal harder going uphill with a stationary bike, for example) without you adjusting anything!
One of the other things I love is that you get to try out the iFit app for 30 days FREE. This app gives you access to a library of workout videos for the different muscle groups, you can get guidance from training coaches, and customize your program via Google Maps workouts. Now, that's something to write home about, as my grandma used to say!
This elliptical offers a full-body workout so that you can get in some serious weight loss, enjoy personalized training, and get all the benefits that high-intensity interval training (HIIT) has to offer.
Handlebars: Another feature you will love on this cross trainer are the multi-position handlebars. First, with multiple grip positions, you can work a different muscle group, which can make for a pretty intense workout.
Second, as you will notice, there is another stationary set of handlebars. Most ellipticals come with only one set of handlebars, but this elliptical has two. The stationary handlebars not only let you work the lower body, like a stair climber, but they also have built-in pulse sensors (EKG Grip-Pulse sensors) that help you track your heart rate.
Pros
Elliptical stride of 10″ vertical and 5″ horizontal helps burn more calories
Comes with a media shelf, water bottle holder
Equipped with a CoolAire fan, aux port, and 2-inch Bluetooth speakers
Features a 2-in-1 design that lets it alternate as a stepper and an elliptical trainer
Has one of the best warranties on the market: 10 years on frame, 2 years on parts, 1 year labor
Offers 24 levels of resistance for intense training
Supports up to 325 lbs
Cons
What You Need to Know
There are ellipticals, and then there's the ProForm HIIT Carbon H7. If you want an elliptical that is tops when it comes to outperforming traditional steppers and regular ellipticals, and if you want a high-weight capacity elliptical that takes up a lot less space than other machines, then you shouldn't settle for anything less than the ProForm Carbon HIIT H7.
2. ProForm HIIT Trainer Pro
The ProForm HIIT Trainer Pro (Proform Pro HIIT H14) is an upgraded version of the PFEL09920, the first model on this list. You might not have thought it possible, but this elliptical has a better console and offers more resistance adjustments.
This Proform HIIT trainer is a combo of two machines, a hybrid that combines the features of an elliptical and a stair climber.
Features & Specs
This top-of-the-line trainer is constructed with commercial-grade steel, solidly built to support up to 325 lbs, making it perfect for heavy persons.
The console offers a 14-inch full-color display, as well as Bluetooth connectivity. Of course, with a wider screen and brighter resolution, your stats will be easier to read and the workouts will look more alive.
You will enjoy the same 32 workout programs, iFit-readiness, and a free 30-day iFit trial.
Basically, the differences between the H7 and the H14 are the screen size and number of resistance adjustments.
That's still a lot. Bigger screen?! More digital resistance adjustments? Yes, please!
Pros
A touchscreen that's double the size of the Carbon HIIT H7
Longer warranty than most models available: 10 years on frame, 2 years parts, 1 year labor
Comes with transport wheels for portability
iFit allows up to 4 user profiles so you can share the trainer with your loved ones
Shock absorption features protect knees, ankles, and back
Cons
You have to pay for iFit subscription once the trial period is over
The start/stop button at the base is a bit hard to reach
What You Need to Know
If you're interested in a fantastic elliptical that offers one of the longest warranties in the business, has a huge monitor for viewing your workouts, and still has a compact footprint, you should check out the ProForm Pro HIIT H14 elliptical trainer.
Related Post: Learn How to Move an Elliptical Trainer Easily!
3. ProForm Hybrid Trainer PFEL03815K
The ProForm PFEL03815 (ProForm Hybrid Trainer Recumbent Bike and Rear Drive Elliptical) is one of the best ProForm HIIT cardio elliptical trainers on the market. It's a cross-trainer that combines all the functions of an elliptical and a recumbent exercise bike in one machine.
Features & Specs
This unique combo offers a wide range of low-impact exercises. If you've been skirting around the thought of buying a ProForm HIIT trainer but you worry about your back, this elliptical machine might be what you've been looking for.
Some of the best features of this cardio endurance machine include:
Frame: This recumbent machine has a frame that is lighter than the models above, weighing only around 115 lbs with built-in transport wheels at the front for easy transportation. It measures 70.5″ x 24.5″ x 60.5″ (LWH).
The frame is coated with scratch-resistant and rust-resistant paint, so it's low maintenance. On top of that, it is protected by a 5-year warranty on the frame.
2-in-1 design: Most pro athletes use hybrid trainers, and one of the most obvious reasons is that it helps break the monotony of doing the same workout every day.
Honestly, riding a bike can get boring pretty fast, right? With this ProForm cardio HIIT trainer, you can use it as a bike today and an elliptical tomorrow.
You can use it sitting or standing, as a bike or an elliptical. Also, the 2-in-1 design allows you to use the major muscles groups of your upper and lower body.
Seat: This recumbent elliptical comes with a seat that has a backrest, which is another feature that sets it apart from the ProForm HIIT trainers above.
A backrest is beneficial for seniors, people with back problems, or those with joint problems who find that a weight-bearing exercise machine is painful. The seat is wide and well-cushioned to accommodate users of different sizes, and the backrest is made of mesh to keep you cool while you exercise.
On each side of the seat, you will find built-in handlebars that you can hold while exercising for extra stability.
Pros
This elliptical with 15-inch stride length is large enough for most users
Has a 350-lb weight capacity
Comes with a water bottle holder so you can stay hydrated as you work out
The transport wheels make moving this machine easy
iFit-enabled and equipped with dual speakers, making it easy to follow iFit instructions
Cons
Shorter warranty than the first two ProForm cardio HIIT trainers in this review
Does not have preset workouts
What You Need to Know
Recumbent cross trainers are fantastic for anyone suffering from bad knees, arthritis, or those recovering from an injury. You will see similar machines in a physical therapist's office.
You will enjoy all the benefits of an iFit membership and be able to reach your fitness goals quickly.
Related Post: Do Ellipticals Help Lose Belly Fat Fast?
4. ProForm Hybrid Trainer
You get double value with yet another 2-in-1 machine – the Proform Hybrid Trainer, which is an elliptical that also works as a recumbent bike.
Features & Specs
This personal training machine has a slightly larger frame than the recumbent trainer above, measuring 76″ x 26″ x 63″ (LWH) and protected by a 5-year frame warranty.
The LCD console is easy to navigate but rather basic. It pivots to accommodate your eye level when you're using it as a recumbent bike or as an elliptical. You can set your target pace and let the indicator light guide you when you need to speed up or slow down.
There are 14 resistance levels to continually challenge you and 14 workout programs (8 calorie and 6 performance apps) to choose from – all these are easy to access with a gentle touch of your finger.
Another important feature are the large soft pedals, which let you adjust to several foot positions to make your workout comfortable and truly low impact. This hybrid trainer offers a 15-inch stride length, which is perfect for most people. If you're quite tall and require an elliptical with significantly longer strides, consider any of these 20 inch stride elliptical machines.
Its console is also large and user-friendly. The LCD is touch sensitive, so you can change the resistance level and workout programs in one touch.
Most important of all, this ProForm HIIT trainer comes with large cushioned pedals offering 17-inch stride length, which is perfect for tall users. If you're so much taller and require an elliptical with significantly longer strides, consider any of these 20 inch stride elliptical machines.
Pros
It has transport wheels for portability and leveling feet for stability
Seat has a backrest for back support
Has side handles for stability when using the recumbent bike
Has EKG grip for heart monitoring when using the elliptical
Can support users up to 350 lbs
Cons
Tall people may find the stride length inadequate
Short warrant (5 years on frame and only 90 days on parts and labor)
What You Need to Know
This machine doubles as a recumbent exercise bike and a rear-drive elliptical. Like the other ProForm machines, you can enjoy this low-impact cardio machine and do HIIT workouts right in your living room! No more trips to the gym! And since it has a high weight capacity, you can share it with other members of your family!
5. ProForm Endurance 520 E Elliptical
Can HIIT workouts be done on an elliptical? Of course! HIIT workouts are possible with almost any form of exercise, even those that don't use machines. You can absolutely do HIIT on an elliptical trainer, and for that, our top picks include the ProForm Endurance 520 E elliptical.
One of the main features that determine whether a cross-trainer makes the cut and gets included in these "best of" lists is the frame. A home gym is an investment, and I don't know about you, but I want to get the most bang for my buck, which means that every trainer has to be solidly built.
Features & Specs
The ProForm 520 E is made of commercial-grade solid steel, which means it's stable and durable. It allows for user weight up to 300 lbs, accommodating most people.
Another feature I like is the oversized leveling pedals that are made of hard plastic, texturized to protect from slipping and cushioned to protect your joints and back from the impact of the exercise.
Like other ProForm HIIT trainers, this model comes with two sets of handles. One set has pulse-sensors for heart rate monitoring and another set moves with the pedaling motion, adding upper body movement to the exercise.
The Endurance 520 E HIIT trainer comes with a front-drive system that provides up to 18 levels of silent magnetic resistance (SMR). The resistance level is changed automatically via the console.
One my favorite programs that comes with the 520 E and iFit is training with landscape scenes from around the world. You can experience any given location, virtually, of course, as this cross-trainer auto-adjusts the ramp by as much as 20 degrees! This elliptical machine comes equipped with a 5″ backlit LCD screen, which can be used alongside your cellphone or tablet since this ProForm smart HIIT trainer is fully Bluetooth-enabled.
The machine measures 68.25" x 34.4" x 69.3" (LWH) and weighs over 200 pounds.
Pros
Works well with Bluetooth-enabled chest straps (not included)
Offers a 19-inch adjustable stride path which is more than enough for most people
Ramp is power-adjustable up to a 20-degree incline
Allows bidirectional pedaling to recruit more muscle groups
10-year lifetime warranty on frame, 2 years on parts, 1 year labor
Cons
Quite heavy and needs two people to assemble
Pricey
What You Need to Know
When it comes to low-impact elliptical training, the Proform HIIT 520E cross trainer offers good mechanics and lots of motivational features.
The 20-degree incline feature is unique to this machine, and it's a terrific plus when you consider the price and the free 30-day iFit trial.
Even without the iFit app, the 520 E can keep your entire family motivated to exercise with its onboard workouts, adjustable-angle tablet computer holder, and sound system designed just for MP3s.
How to Choose a ProForm HIIT Trainer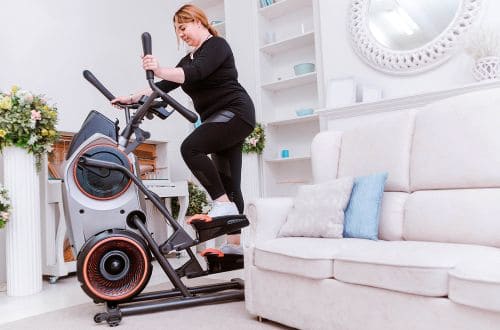 After reading about these machines, aren't you all excited to order one right away, pick a workout, and start on your fitness journey?
That's all good, but there are a few things you should consider before you put your credit card on the table, so to speak.
Size
Most ProForm cardio trainers are compact and will easily fit most homes and garages. When you measure the machine's dimensions vs the space you have, check overhead clearances too. Consider your height plus the maximum height you climb when using steppers, and make sure there's enough clearance. It sucks when you bump your head on those popcorn ceilings. That's experience talkin' here!
Frame and Pedals
The sturdy frames can support from 30o-350 lbs. If you need a higher weight capacity, you might need to consider a different type of exercise machine.
For the pedals, opt for a HIIT trainer with pedals made of hard plastic for extra durability. The pedals should be large enough to accommodate different types of workout shoes and also allow foot shifting while exercising to reduce fatigue.
Console
Nearly all of the ProForm HIIT trainers that I've reviewed above come with large, fully colored, backlit digital monitors, making it easy for you to track your workout stats. If you plan on casting your iFit app program to your television, then those types of monitors won't make much of a difference.
If you're looking at other brands as well, such as the Bowflex Max Trainer, make sure to check how consoles, LCDs, and preset programs compare.
Resistance
These HIIT training ellipticals come with high resistance options to ensure that you work your muscles hard enough and benefit from high calorie burn. The trainer you pick should have adequate resistance to provide a continual challenge.
Incline
Aside from resistance, incline features are terrific for intensified workouts and resistance training, whether its a treadmill or an elliptical. The ProForm Cardio HIIT trainer elliptical machine comes with an incline function that will knock your socks off!
The Final Takeaway
The ProForm HIIT trainers on this list are designed for anyone who wants to work out smart and burn more calories than when using other types of equipment.
For me, all these ProForm HIIT trainers are winners, but I think the ProForm HIIT Trainer Pro checks all the right boxes for me. It is a heavyweight, and I like that. Its 34 workout programs and 26 levels of resistance will keep me engaged even if I later forego iFit.
The monitor could be larger, but 10″ should work fine.
Another thing that really got me was the lifetime warranty on the frame and 5-year warranty on parts. While all these models come from ProForm, they're not all created equal as you can see from their warranties.
The recumbent models – the Proforms with seat and backrest – will be perfect for people who need back and weight support. So if you or a member of your family needs a feature like that, make sure to factor it into your decision-making process.
Of course, don't forget to check maximum weight capacities and price. I'm sure you'll find your HIIT trainer here.
FAQs
1. How do you use a Proform HIIT trainer?
Here is a video that shows just how easy it is to use this piece of exercise equipment:
2. Can you do HIIT on an elliptical?
Absolutely! High-intensity interval training can be done on an elliptical or almost any piece of exercise equipment. All you need to do is choose the right resistance settings or incline settings, and you're good to go. When it comes to ProForm machines, the iFit app will automatically adjust both the incline and resistance, so you don't have to do anything except move and sweat! Make sure that your HIIT trainer comes with a heavy-duty frame so that it can handle what you throw its way.
Written by Alisha Wishart – TheHealthPot.com
Certified Personal Trainer (CPT), Writer and Contributor
Alisha, is a Mother, Wife and Certified Personal Trainer (CPT).  She understands how demanding everyday life can be and takes great pride in working with individuals and groups to help them achieve their desired fitness goals. Read more about Alisha here.