Hi everyone! Kathleen here, and today, I want to talk about a versatile piece of exercise equipment that I've used in the past.
My experience goes back to a time when I injured my back. I was anxious about spending several weeks without exercise, and it was when my physical therapist had me use a recumbent cross trainer during my visits. I was concerned that this machine was not going to cut it, so let me share with you what I learned about using a recumbent cross trainer.
What is a recumbent cross trainer? If you've ever seen a recumbent bike, then chances are you already know what a cross trainer is.
Let's spend a few minutes talking about these wonderful little devices, what the differences are between cross trainers and recumbent bikes, and common myths about the machines.
What Is a Recumbent Cross Trainer?
Recumbent is a big word for sitting down.
Recumbent cross trainers are like ellipticals, except for the fact that you are sitting down, some even have a backrest, and you can use both the moving handles or the pedals separately.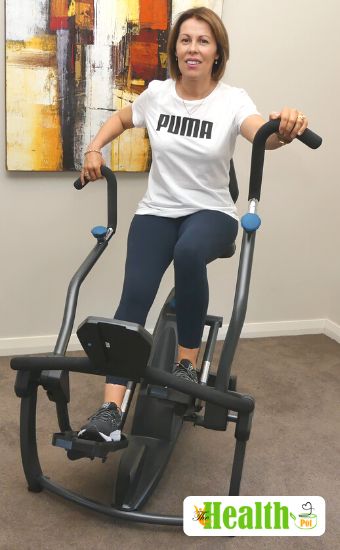 First, think about recumbent bikes. They allow you to sit down with your back supported by the backrest, and then you can pedal away, increasing your heart rate towards improved cardiovascular health.
Next, let's talk about ellipticals—they have you standing up, walking with your legs, and moving your arms back and forth.
Now, you can think of a recumbent cross trainer as an exercise machine that combines a recumbent bike and an elliptical to give you the best of both worlds.
You sit down and move your legs as if you were walking or biking, and you can move your arms for an added upper body workout.
The word cross trainer means that you have choices. You can use just your legs and ride it like a bicycle, you can use just your arms, or you can do both together.
Is a Seated Elliptical a Good Workout?
It's a better workout than you probably imagine it would be.
No, it's not going to get you in shape to run a marathon, but that's not who this machine is for.
For many people, exercise is a double-edged sword. Everyone knows about the benefits of exercise, but when it hurts to walk or stand, or if you're injured or suffering from a condition (a herniated disc, for example), then you can't get the exercise you need.
Welcome to the recumbent cross-trainer workout—it allows you to enjoy the benefits of exercise, work all your major muscle groups, and get a nearly full-body workout, all in one affordable machine.
Related Post: Front or Rear Drive Elliptical
Is a Recumbent Cross Trainer Better than a Recumbent Bike?
That would depend on your circumstances, but in many instances, the answer is yes.
If you have health issues or problems with your arms or hands, then you will want/need a recumbent bike with its stationary handlebars.
However, if you simply need back support, or if you can't stand on a traditional elliptical, then a recumbent cross trainer is the perfect answer for you.
Unless you have a reason for not using your arms, I think that cross-trainers are a better option. You not only get an upper body workout that you don't get from bicycles, but you will also burn more calories and reach a new fitness level faster using a recumbent cross-trainer.
Are Recumbent Bikes, Ellipticals, and Cross Trainers Hard to Use?
No, not at all.
While riding a regular bicycle on the street may require a certain level of balance, a recumbent exercise bike requires no balancing because it securely sits on a base that keeps you from falling if you don't have a good sense of balance.
Get Inspired by Our Video Featuring the Teeter FreeStep LT3:
Similarly, recumbent cross trainers and recumbent ellipticals are even easier since their seated position is usually a more comfortable position than those in bikes.
Some bikes tend to have seats leaning backward. A recumbent elliptical or cross-trainer often have adjustable seats and even various resistance levels to help keep you comfortable yet challenged.
Can You Lose Weight With a Seated Elliptical?
You absolutely can. However, you will need to work at it because there is no magic pill for losing weight. You need to create a calorie deficit, which means that you need to consume fewer calories than you burn.
This is rarely accomplished by exercise alone. Regardless of your mobility issues, you need to eat a healthy diet and get in at least 30 minutes of heart-pumping exercise.
Yes, you can get your heart rate up by using a recumbent elliptical trainer or a recumbent elliptical.
Try tracking your calories each day, along with your calorie burn from exercise. Try to eat about 250 less calories than you need and exercise long enough (and hard enough) to burn about 250 calories.
A calorie deficit of 500 calories daily should give you a weight loss of about 1-2 pounds per week, depending on your current weight.
Exercise equipment won't work itself, so get busy! You can create the life you want if you are willing to put in the effort!
Are Recumbent Cross Trainers Easy on the Knees?
You bet they are!
I think one of the most appealing aspects of a recumbent elliptical or recumbent exercise bike is that it is a low-impact exercise that gives you all the benefits of exercise but none of the strain on your joints.
Whether you have bad knees, bad hips, a bad back, arthritis in your neck, or if you've injured yourself and need some help getting back into shape, the comfortable position of sitting as you work out is something that you can't argue with!
Exercising the lower body can be painful unless you use a recumbent elliptical or some type of recumbent cross-trainers.
If your local gym doesn't have one of these, you can always check out this affordable piece of fitness equipment here.
Will a Recumbent Cross Trainer Fit in My Home Gym?
That would depend on how big your home gym is and the size of the recumbent elliptical or recumbent exercise bike you plan on purchasing.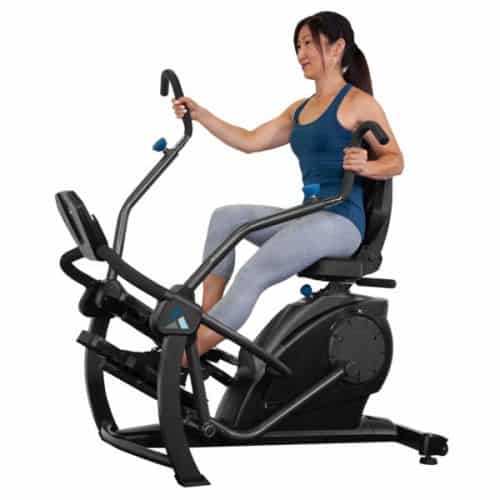 While I was recovering, I used the Teeter FreeStep LT3. It has a very compact footprint, is super affordable, and it feels exactly like the machine I had used in my physical therapist's office.
I like that this cross trainer has a free app, called the Teeter Move app, that gives you exercise tips and workout programs. It helped me get a total body workout at a time when I thought there was no way for me to get moving.
However, not all recumbent ellipticals are the same, so be sure to compare before you buy.
Every single part of the Teeter FreeStep is adjustable, from the handle length to the seat positions. This means that you can get super comfortable while you are getting a total body workout from a seated position!
With zero-percent financing, there is no reason why you can't enjoy all the benefits of a recumbent elliptical in your own home.
Check out the Teeter FreeStep! You can find out more info here.
By the way, I also use the Teeter FitSpine. If you've got back problems, you will love how you feel after using this incredibly comfortable equipment. Find out more about inversion tables here!
I'm sure you'll love the Teeter FitSpine!
The Final Takeaway
If you have a difficult time using any type of exercise equipment or find that workouts hurt more than they help, if you can't use the traditional treadmills or even walk without pain, then a recumbent cross trainer is the answer you've been looking for.
Get in a total body workout from a seated position and never again be scolded by your doctor for not exercising.
My Teeter FreeStep recumbent cross trainer was one of the best investments I ever made for my health.
Invest in your health and see what recumbent cross trainers can do for you!
Stay happy and healthy, friends! Life is too short for anything else!
Written by Kathleen Langdon – TheHealthPot.com Founder
Certified Personal Trainer (CPT), Certified Corrective Exercise Specialist (CES)
Kathleen, a mother of two, struggled with ongoing weight and health issues.  She created this website after she turned her life around.  She built Thehealthpot.com to help inspire and motivate others with their fitness goals. Read more about Kathleen here.