A seated calf raise machine is a variation of the standard calf raise machine. Unlike the standard one, users work their calves when seated down. This is meant to isolate specific muscles of the calves and enhance their strength along with fitness.
Unfortunately, calves are stubborn muscles and do not respond to most of the exercises. These muscles are also resistant to muscle growth, unlike other parts of the body. In short, routine training is less likely to bring any positive changes to your calf muscles.
What you need to do is try various angles to work the deep muscles in this section of the body. This is why both standing and seated calf raises are an important part of your exercise routine.
Fitness experts recommend at least two calf workouts per week. You should do them with heavy weights in sets of about 4 to 6 reps, and 25-50 reps for lighter weights.
You can work the muscles alone or pair them with exercises targeting muscle groups to which they're attached. It does not hurt to include lunges and squats in the same session.
Our Top Machines for Seated Calf Raises: A Quick Overview
Using seated calf raise machines will help you continually attack these muscle groups and force the calves to grow. This article looks at some machine brands you can buy to meet this goal, along with advice on how to work out the calves effectively. To get us started, here are our top three picks.
1. XMark Seated Calf Raise Machine
2. Valor Fitness Calf Raise Unit
3. Soozier Adjustable Calf Raise Machine
For a comprehensive breakdown of the advantages and disadvantages of each machine, keep on reading!
Best Seated Calf Raise Machines Reviews
1. XMark Seated Calf Raise Machine XM-7613
The XMark seated calf raise machine is a compact fitness equipment meant for home exercises. The frame is made with 2″x3″ 11-gauge steel components bolted securely, so you're confident it's sturdy.
The surface of the frame has a baked powder coat finish that is scratch resistance, making it low-maintenance and good-looking even after years of usage. The feet are skid-resistant, allowing you to push to the maximum to increase your calf exercises without sliding or risk of injury.
Here is the best way to use this seated calf raise machine.
The swiveling thigh pads, which rotate as you do leg raises, are height-adjustable. For adequate support and comfort, the machine features three-inch non-deforming Duracraft cushions. At the front of this seated calf raise machine is a dual Olympic weight post that allows you to fit over 400 pounds of weights.
It works with the two-inch standard Olympic weights, which are pretty common with most weight lifting machines. The base of the XMark sitting calf machine has rubber padding to ensure stability and prevent scratching of the delicate floors such as wood and stone.
Pros
This is a compact machine that takes up little room in your home.
Robust construction means you're going to use this for a long time.
It works with Olympic weights, which are now a standard in the weights industry.
Few moving parts and scratch-resistant coating makes this a low-maintenance machine, which is great for busy people.
Most users have praised the cushioning for its firmness and comfort.
Cons
Its compact size makes it too small for people with longer legs.
It does not fit small, one-inch weights.
2. Valor Fitness CC-5 Calf Raise Unit
The Valor Fitness CC-5 seated calf machine is built for performance, power, and strength with its 12-gauge steel frame and diamond-plated footplates to ensure stability, strength, and durability.
The weights are held together with chrome-plated sleeves capable of holding a maximum weight of 350 pounds, way higher than most people would need for their workout.
You can use the steel popper pins to adjust the knee pad to any if the 6 vertical and 5 horizontal positions. Settling to your optimal position, you may now lift your knees and move the safety bar to push your calves to the extreme and go the full range.
The Valor Fitness CC-5 measures 51″ x 25″ x 36″ and fitting it in one corner of a room shouldn't be so much of a problem for most homes or home gyms.
The manufacturer attests to the quality of the fitness machine by giving a three-year warranty on the frame, two years on the pad, and a year on the popper pin.
Pros
The machine has robust, durable construction and can be used in a small gym.
The rolling pads make regular exercising on the machine a lot easier.
It is easy to assemble the machine and just requires a wrench and some screws.
You can adjust the knee pad into various positions, which gives you added comfort.
Cons
It is quite long and might pose some traffic issues in an already tight room.
It does not come with the tools for assembling it.
The warranty period is too short for the machine
3. Soozier Adjustable Steel Sitting Calf Raise Machine
Soozier combines strength with ergonomics to give you a calf raise machine that offers a mix of user-friendly design, ergonomics, and durability. This enables you to work out your calf muscles better and longer.
It is made of durable, sturdy, powder-coated steel with 2″ x 3″ cross-section. The powder coating ensures that it remains looking great years down the line without so much maintenance.
Ergonomic controls and handles make it possible to pull and push without overexerting yourself.
A unique foot platform eliminates the strains on the balls of your feet so you can push weights to the maximum height and do full range of motion to optimal results.
Adjustable thigh pads provide comfort and a flexible setup for people of different heights.
Soozier features dual Olympic weight posts capable of handling up to 440 pounds and a safety mechanism to keep the weights bound securely.
A textured foot brace bar prevents slippage or similar accidents. You may want to check out other Soozier machines like sissy squat benches and more.
Pros
It has a compact yet eco-friendly design that works for most fitness enthusiasts.
The powder coating on the steel surface ensures that the machine will last for years.
The weight bar allows it to handle Olympic size weights with ease.
Its deep dark color makes it a beautiful accessory in any room.
Cons
It will not work with your smaller-sized weights. You must buy the standard Olympic set.
4. Body-Solid Powerline Calf Raise Machine (PSC43X)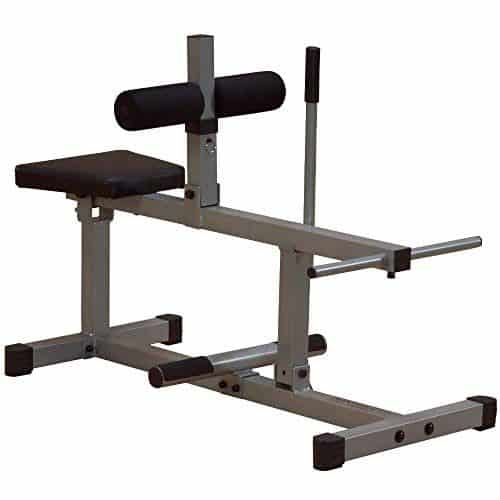 The Body-Solid Powerline Seated Calf Raise Machine (PSC43X) adopts a minimalist look, yet nothing is minimal about its effectiveness as a calf workout equipment.
It has a 3:1 weight ratio on performance, meaning it offers a force equivalent to three times the weight you load on the machine. Here is an example: When you load 100 pounds into the machine, you expect to get a downward force of 300 pounds. That saves you from buying more weights as you make progress in your muscle strength.
This seated calf raise machine is constructed from powder-coated steel, which means you'll get a machine that you can use regularly for a long time. A non-slip angled foot platform allows you to push the balls of your feet to the maximum. The rolling pads are height-adjustable. For additional challenge, you can use either the 1-inch weight plates or collars.
It only measures 45″ x 21″ x 32″ and weighs about 44 pounds, meaning it's easy to move around and will not take up too much space.
As proof of the quality of the machine, the manufacturer offers a 10-year warranty on the frame and a year's warranty on other parts.
Pros
Because it is compact, you can use it even in places where there is little room.
The adjustable rolling pads let you to enjoy full range motion.
The 3:1 weight ratio gives you maximum benefits for a small weight.
It is a robust, durable equipment backed with an equally long warranty period.
Cons
It will not work with Olympic-size weights, but you may purchase a sleeve to allow for 2-inch weights. This adds to the costs of owning the machine.
5. Deltech Fitness Seated Calf Machine
Deltech Fitness calf machine combines a little bit of the toughness of the Xmark brand and the sturdiness that comes with BodySolid machines.
The steel material has a 2″ x 3″ cross-section for a heavy-duty workout machine that's also low-maintenance due to its baked powder coating. The manufacturer wanted to give this seated calf raise machine a minimal look without sacrificing its performance.
If you have old 1-inch weight plates, you can still use them in the machine. It also comes with an adapter for standard Olympic 2-inch plates.
The adapter is easy to install and holds the large weights in place. You can adjust the height of the thigh pads depending on your height. Like most of the machines on this list, the footrest is textured and non-slip to keep you in position as you push your soleus muscles.
Assembling is straightforward because the nuts are placed near the part where you will fasten them with much ease.
Pros
It is cheaper than most models of comparable quality.
Its compact size makes it great for people with little space.
It has rubberized edges for safety and to prevent it from scratching your floor.
The fact that it can work with different weights is an added advantage to most users who already own some weights.
Cons
Some joints are not welded so well.
7. Body-Solid Calf Raise Machine
Body-Solid has built a name for offering quality exercise machines over the years, and the Body-Solid GSCR349 is no exception. Its 11-gauge 2″ x 3″ steel tubing indicates that it is made for durability and performance. You may even use it for light commercial exercising.
This machine adopts a minimalist and ergonomic design approach that allows for natural weightlifting while reducing the strain on the ball of your feet, resulting in deep activation of your ankle muscles.
You can adjust the thigh pads to accommodate your height and ensure your comfort as you push for full range of motion. The pull pin is located on the front side that faces the weights, and there's a ball handle to make it easier for you to move the pads.
With the handles on the top of the pad bar, you can exert extra force on your ankles when lifting the weight. These handles are rubberized for a good grip even when working out with sweaty hands.
This machine measures 47″ x 20″ x 39″ and weighs about 93 pounds. The weight bar uses the standard 2-inche wide Olympic weights.
Like its sibling that we've earlier reviewed, this seated machine has a 3:1 weight ratio, meaning each weight you put delivers thrice the weight you need to push up. Of course, it means that you get triple the benefits with low weights.
Lastly, it has thick DuraFirm seat and knee padding, which is firm yet soft and does not deform with regular usage.
Pros
It is a solid calf workout machine that can be used at home or in a light-traffic gym.
It is relatively cheap when compared to similar models of competing brands.
The 3:1 feature gives you unlimited force to work your muscles.
It works with the standard Olympics weights, which are now a standard around the world.
Cons
The foot supports are quite small and may feel a little uncomfortable for large feet.
The compact size makes taller people sit in an awkward position when working out.
Assembly takes time and may require a helping hand.
8. TITAN Seated Calf Raise Machine V2
The TITAN Seated Calf Raise Machine V2 is a well-built calf raise machine that features thigh roller pads for enhanced comfort and reduced soreness. It also comes with a diamond-plated steel foot plate.
Its frame is made of a 2″ x 3″ 11-gauge steel tubing to withstand heavy use without deforming.
This seated calf raise machine is an improvement from a previous version for increased comfort and performance. It targets medium and regular trainers.
It also has a dual loadable weight post sleeve for 2-inch Olympic-standard plates, steel, or bumper plates. When you remove the sleeve, you'll have 10 inches of usable space for your small weight plates, meaning you can push your muscles as far as you wish by adding extra weight to 500 pounds on the machine.
There's also a height adjustment mechanism that allows you to get the perfect fit depending on your legs' size.
The Titan seated calf machine V2 only weighs 64 pounds and measures 47.5″ long and 20″ wide. Some assembly is required, but it just takes a wrench and a little of your time.
Pros
This machine is simple to use and allows for height adjustments.
It accepts both Olympic-standard weights and your regular weights.
The Olympic sleeve can be removed to put more standard weights depending on your needs.
It has a simple yet durable construction.
Cons
You may feel a little loosening at the bolt joints after using the machine for some time. This may require you to tighten the bolts every now and then.
It has a stripped-down, basic appearance, which others find off-putting.
Some customers have complained that the seat is not adequately padded.
How to Choose a Seated Calf Raise Machine
There are various leg press machines out there, and not all have the same performance. To avoid getting overwhelmed by all the choices, you need to know which qualities and criteria must be prioritized. Here is a quick look at some of the important points to consider.
Go for Adjustable Height
Be sure to check on the height variations between the lowest and highest points to determine if the height is adequate for your needs.
Adjustable Distance
The position of the weight relative to the length of your legs is an important factor in determining the effectiveness of the exercise. In other words, you should get a machine that allows you to adjust this distance, ensuring that people of different height and leg length will get similar benefits from their workout sessions.
The Diameter of the Loader
The size of the loader will influence the size of plates that you can use on your machine. This can deeply inconvenience you if you already have large weights and end up buying a small loader machine. Where possible, go for a two-inch loader.
The Maximum Capacity
The maximum weight that a machine can hold determines how far you can go with your exercises. A machine that can handle heavier weights is made of heavy-duty, long-lasting materials. Compare weight capacities among different machines before making a choice.
The Padding Comfort
Your comfort when doing the seated calf raises is vital so you can push your muscles to the extreme. It also helps you prevent injuries to your knees, thighs, and related muscles. Check the make of the seat, its ergonomics, and size.
Resistance Type
You may go for a machine that comes with weight stacks. In this case, you will not have to own weight plates. On the other hand, this seated calf raise machine might limit you if you outgrow the weights on the machine. If you decide to go for a free weight machine, you will need to buy weights on the side. This will be an added cost, but you can increase the weight as you wish depending on your fitness goals.
Benefits from Calf Raise Machines
1. Growth of the Soleus Muscle
2. Shortened Reaction time
3. Ankle Stability and Strength
4. Lower Body Performance
5. Prevents Injury
6. Bigger Calves.
Do you think it fair to grow muscles in the other parts of your body and leave out your calf muscles? Of course, not. You don't want to it to be your Achilles heel, so start strengthening and building up your calves.
FAQs
1. Are seated calf raises effective?
Yes, calf raises are effective if done properly and with the right machines. With a seated calf raise machine, you can safely work out this deep muscle in a way that will cause it to respond fast. Therefore, you should include seated calf raises in your exercise routine.
2. How many seated calf raises should I do?
Do at least three sets of the exercise. This means you will have done 30 reps by the end of the session. However, do not overwork your muscles by doing more than 35 reps.
3. What muscles does seated calf raise work?
The seated calf raise workouts target the soleus muscle at the flat area of the calf just above your ankle. This is a deep muscle that attaches to the edge of the gastrocnemius lateral and media muscles.
Unlike the two, the soleus is only activated when you have bent the knee at 90 degrees or less. Therefore, you need an exercise that gets the muscle through a seated mechanism, hence this exercise. This muscle is key to managing your ankle joint when running or jogging.
Written by Alisha Wishart – TheHealthPot.com
Certified Personal Trainer (CPT), Writer and Contributor
Alisha, is a Mother, Wife and Certified Personal Trainer (CPT).  She understands how demanding everyday life can be and takes great pride in working with individuals and groups to help them achieve their desired fitness goals. Read more about Alisha here.