The Goplus treadmill is one of the best fitness running machine for home use. This compact treadmill is well-built for stability and durability, folding to save space, cushioned running surface to reduce stress on joints and back and offers incline for intense workouts.
Our Top Treadmills by Goplus: A Quick Look
Which Goplus model is the best? In the article below we review the 9 best Goplus treadmills. We've included the main features, specs, pros and cons. First, here are our top 3 picks:
1. Goplus 2.25 HP Folding Electric Treadmill
2. Goplus 2 in 1 Folding Treadmill
3. Goplus 800W Folding Treadmill
To help you make a better informed decision, we've compiled a detailed list of the best features, pros and cons for each Goplus treadmills. Keep reading to see our findings!
Top 9 Best Goplus Treadmills
1. Goplus 2.25 HP Folding Electric Treadmill
One of the most popular Goplus treadmill is the Goplus electric folding treadmill. I've used this gym machine for a few months now and here is what I like about this top rated fold a way treadmill model. When choosing a fitness machine, you want a machine that is sturdy and stable. This Goplus model is made of durable steel that is coated with scratch resistant and rust resistant paint.
I love how the treadmill feels underfoot even at high speeds. Speaking of user weight, this Goplus treadmill is can support up to 250 pounds. Also, the frame is foldable. When done exercising, fold it and store it upright on the corner. The base includes transport wheels for portability.
Running surface: Another feature that has impressed me is this home treadmill's running surface. One, it comes with a large tread. Most treadmills within its price range offer a 39 x 13.4 running surface. But, you guessed it; this small Goplus model offers a larger running surface 47 x 17 inches. This dimension is enough for most people for walking, jogging and running exercises.
However, if you are tall, I'm talking about 6 foot and above, you may be more comfortable on a larger running surface. Here are some treadmills to consider.
Two, all Goplus treadmills come with well-cushioned running surface and this unit is no exception. The cushioning protects your joints from stress when exercising. A 2.25 HP motor is what this gym machine offers. The motor works pretty well. There is no noise or vibration. I can exercise without disturbing my neighbors, so no noise complaints from neighbors.
Console: Its console area is packed with lots of awesome features. First, it comes with a large LCD display monitor. When working out, it's important to keep an eye on your workout stats such as speed and time so you can track your progress.The Goplus electric folding treadmill features a 5-inch LCD monitor where you can track time, distance, speed, calories burned and heart rate. Also, you can pick a program from the 12 preset programs.
Now, a quick note on the programs. I always go for a treadmill with workout programs and here is why; it takes the guesswork out of my routine. A workout program will help you burn the exact number of calories you want to burn for the day. Plus, it will control the treadmill's speed and incline automatically. So, it's a win.
Handrails: This Goplus electric treadmill features long handlebars so you can hold onto them for stability while exercising. Also, the handlebars come with built-in pulse sensors for heart rate monitoring and quick controls for speed.
The heart rate monitoring function helps increase your endurance and prevents overtraining. This is a feature that really stands out. Most Goplus treadmills do not have this function. Incline on a treadmill is like running up a hill. It engages more muscles and burns more calories per minute.This Goplus unit offers manual function. This means you have to get off the machine to set the percentage. It offers three percentages positions 5%, 10% and 15%.
Pros:
Comes with floor stabilizers for stability on different types of floors
Offers speeds of up to 7.5 mph and simple to setup
Has a safety key for emergency stops and wide side rails for easy on/off the machine
Cons
2. Goplus 2 in 1 Folding Treadmill
Performance meets versatility are the words that best describe this Goplus unit. The Goplus 2-in-1 folding treadmill is a unique modern treadmill that is ideal for office and at home use. First, the treadmill ships fully assembled. No assembly needed. Out of the box, fix the handrail and you are good to go. This home goplus treadmill features a very unique frame, one of a kind. The frame allows you to use the treadmill in one of two ways.
One, with the handrail up/raised as a running treadmill. On this mode you get speed of up to 7.5 mph. How fast can you run? The average human speed is up from 6 – 8 mph, so these speed are okay.
Two, you can use this small home treadmill with the handrail folded/down as a walking treadmill. With this mode you get speeds from 0.5 – 3 mph which are ideal for slow walking and brisk walking exercises. With the handrail folded, you can place the machine under a desk and use it as an under desk walk treadmill.
The frame is made using strong steel and has a user capacity of up to 265 lbs. Another feature users rave about is the belt; wide, large, and cushioned. If you have joints problems or would want to protect your joints and back, this is the best treadmill.
It features 5 different layers including a shock absorption layer that reduces impact by up to 30%, a noise reduction layer for quiet workouts, and a compression layer. The top layer is made of wear resistant and slip resistant material. Our tester said that it feels nice and smooth while running. No choking or slipping. It has the right bounce.
Now another aspect that is unique to this home treadmill is the led display. It's integrated to the treadmill, front side. This LED screen shows the basic metrics; time, distance, speed and calories burned. All you have to do is glance down to check your metrics then continue with your full body workouts.
Naturally, your next question is, how do I control the speed? Well, this top Goplus treadmill is remote controlled. The device allows you to start and stop the machine and control the speed with ease. On top of offering great speeds and versatility, this fitness equipment is Bluetooth enabled and has built-in speaker. If music pushes you to work harder, the Goplus 2 in 1 folding treadmill will not disappoint. Connect it to your phone and you are in for a good workout.
Pros:
Available in different colors; red, blue, black, silver and more and no assembly required.
Folds completely flat for storage under bed or couch
Phone holder for your devices and speaker
Cons:
Does not have preset programs
Must Read Article: Does running make your thighs smaller faster?
3. Goplus 800W Folding Treadmill
Boasting of great performance and foldable design, the Goplus 800W folding treadmill is another great pick for anyone looking to work out from home. This powerful home treadmill is a budget machine. What this means is, it costs less that our first pick, so won't break the bank. But, you'll have to give up on some features.
For the frame, we like that it's made of steel for durability and stability. It has a capacity of 220 pounds. also, this foldaway treadmill is on the smaller side, measuring 56 by 24 by 45 inches, making it best for small home gyms and apartments. Now, because of its size, most of the features are limited. The tread is smaller compared to the models we've looked at in this reviews list
This small 800W treadmill features a 38.2 by 14 inches running surface. Honestly, the surface is small for sprinting exercises. So we recommend it for short users and for walking exercises. If you want a treadmill that can handle more, you are better off choosing from the treadmills above.
The exercise surface is powered by a 2.0 motor. It provides sufficient power for walking exercises without overheating. For speed, it offers 0.5 to 6.5 mph.The console area features two cup holders so you can stay hydrated throughout your run, a led display to track your stats; time speed and more, and a safety key for emergency stops.
This Goplus model offers 12 preset workout programs and has built-in pulse sensors for heart rate monitoring. Overall, having tested this treadmill, I'd recommend it for any one looking for a light exercising machine; something to keep you active. For intense full body workouts, our first pick is the right pick.
Pros:
Available in two colors; Black and pink treadmills and little assembly needed.
Built-in speed controls in handrail make it adjusting speed simple
Foldable for storage
Cons:
Running surface smaller compared to other Goplus machines
4. Goplus 1.5HP Desk Treadmill
Today, most people are opting for smart treadmill for home use or office use. A smart treadmill offers the benefits of the traditional treadmill, without breaking your wallet. If you want an affordable smart treadmill to use while you work, the Goplus ultra thin electric folding treadmill is a great pick. This gym machine is available in black. It's truly gorgeous and blends in perfectly. We were pleasantly surprised by the sturdiness of the frame; quite stable and durable.
The frame features wide side rails so you can get off with ease. Its front side is integrated with an LED display where you can track speed, time, distance covered and calories burned ( read about how accurate are treadmills calorie counters ). This small Goplus model is controlled via a remote control. Another feature you'll love is the wide and long running deck. Measuring 41 by 17 inches the deck is cushioned for comfort and is long enough for striding. It can accommodate users of different heights.
Now, because this is a space saving under desk treadmill, you can only use it for walking exercises. ­Speed range from 0.5 – 4 mph. this research shows that walking on a treadmill burns as many calories as jogging outdoors.Also, this top rated fitness trainer is integrated with 12 preset programs. you can find a program for your fitness level.When done, you can easily stow it under a couch, bed, or corner.
Pros:
Features rubber stabilizers at the base for stability
Made of durable material
Screen touch sensitive for manual control
Cons:
Does not have power incline function
5. Goplus Space Saving Electric Treadmill
There are two types of Goplus 2-in-1 folding treadmills; there is the one we discussed above and then there is this top model. They share similar features with a few differences here and there. Let's look at this Goplus model. This top model is made of sturdy steel and has a user weight capacity of 265 lbs and below.
It's also equipped with a 2.25HP motor that works quietly, allowing you to exercise while your baby is sleeping or in your office without disturbing your colleagues. Its workout surface is also worth raving about. The running deck is large, 40 by 17 inches. Our testers noted its smooth operation, firm grip, and great bounce.
Your feet will bounce on the surface comfortably. Also, this compact fitness trainer tread is made up of 5 layers including a noise reduction layer and a shock absorption layer. On the front side of this Goplus 2 in 1 folding treadmill, you'll find the LED display. We loved the output; large letters for tracking time and more. Also, the front is integrated with Bluetooth speaker which you can pair with your smart phone for background music while exercising.
Another key similarity between this fold a way treadmill and the other Goplus dual machine is this model can also be used in two ways; with the handrail up as a running treadmill and with the handrail down as a walking treadmill. Now, the key difference between this fold away treadmill and the other Goplus unit is the handrail. This 2 in 1 folding treadmill model has armrests while this model does not have armrests. The workouts are hands free.
Pros:
Remote control to start and stop and increase and decreasing the speeds easily
Folds completely flat for storage
Quiet operation and bluetooth connected speaker and device holder
Running belt integrated with shock absorption layer to minimize impact on knees and joints
Cons:
Not ideal for intense full body workouts
6. Goplus 1.0 Hp Electric Folding Treadmill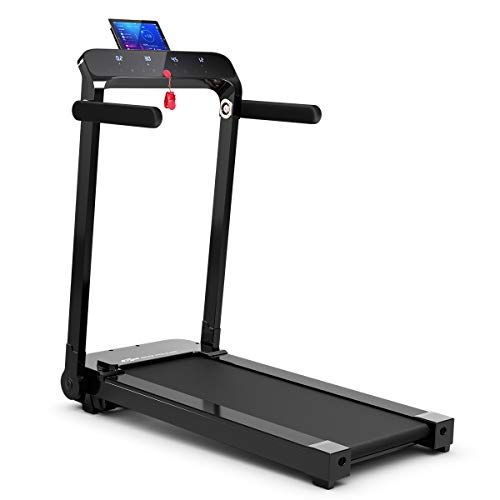 Not satisfied with the treadmills above? Goplus has another model that our testers love. The Goplus electric treadmill is a versatile unit that can be used at home or office. Boasting of a 1 peak horse power motor, this fold away treadmill operates quietly and efficiently. Like other Goplus treadmills, it features a well-built, sleek frame made of aluminum for durability. the frame is coated with black paint to protect against scratching and corrosion.
Now, the base of the frame has rubber tabs which help stabilize the fitness equipment and also protect the floor from scratches. The team said that feels strong. No shaking. For the motor, this cardio fitness option is equipped with a 1 HP motor. The motor works quietly without overheat. Honestly, we were not impressed by the motor's capability. Here is what you need to know about treadmill motors
1 – 2 HP motors – best for walking exercises. 25 – 3 HP motors – designed for jogging and running. 3 – 4.5 HP motors – best for intense workouts.This Goplus unit falls in the first category. With a 1.0 HP motor, this fold a way treadmill is designed for walking exercises. Just that. I'm a runner. So… But, if you want a walking treadmill, this Goplus model will work perfectly. It's cushioned to protect the joints and folds for storage.
Pros:
Has rotatable armrests for stability while exercising
Offers 12 preset exercise programs for guided workouts
lcd display touch-enabled and quite responsive to track time and more and phone holder
Running belt well cushioned. You can walk, jog or run.
Cons:
1 HP motor is not ideal for intense workouts
7. Goplus Folding Treadmill with Incline
Another Goplus treadmill we liked is this small electric model. Like other treadmills on this goplus 2.25hp folding treadmill reviews list, it's made of sturdy steel and has floor stabilizers for user safety and comfort while exercising. This foldaway treadmill larger compared to its siblings. Measuring 62 by 26.5 by 49.5 inches, its dimensions requires a larger space. Also, because of its dimensions, this space saving fitness machine offers a larger running surface, 47 by 17 inches to be exact.
This running deck is ideal for intense workouts and can accommodate tall runners. Just like other Goplus models, the running deck is well-cushioned to protect user knees, ankles and back. For the console, we liked its solid build with a large 5-inch LCD monitor. From the monitor, you can view all your exercise stats plus choose a workout programs from the 12 onboard programs.
Another feature that stands out is the power incline. Earlier we discussed about this function, it's like climbing uphill. Also, the treadmill we looked at earlier requires the user to get off the treadmill to set the percentage level. With this Goplus fold away treadmill, you can control the percentage via the monitor. You don't have to get off the treadmill.
Also, another feature unique to this top rated treadmill is it can be controlled via a smart phone. All you need to do is connect your phone to the treadmill via a smart treadmill app and you can adjust the speed and incline and also share the data with your friends.
Pros:
Built-in pulse sensors for heart rate monitoring
Has a larger running surface area
Foldable design and four caster to move it around easily
Cons:
8. Goplus Electric 2.25HP Electric Treadmill
Boasting of a sleek, portable design, this Goplus treadmill is the right pick for any one looking for a basic treadmill. You know the type of treadmill with no extra features. Just for running. The frame weighs 75, is foldable and is equipped with built-in transport wheels at its base for portability. This frame supports users up to 265 pounds. It supports more weight compared to its siblings.
For the running deck, this compact fitness machine also has more to offer. It comes with a slightly larger deck that is integrated with an 8-stage damping system. Now, this system is unique to this small home treadmill. It helps reduce impact on joints and back by around 30 percent, ensuring your workouts are safe and comfortable. The deck is powered by a 2.25HP motor that works quietly and efficiently without overheating and choking. You can exercise late at night; early in the morning or even while your others are sleeping without causing any disturbance.
Another feature our testers raved about is the console area. This space saving Goplus treadmill features a wide lcd display screen where you can check your steps, time, distance, and calorie burn. Also, the console area features ergonomically designed handles to keep you stable while walking or running.
Our team noted a significant drawback to this model. One of the drawbacks of this model is it does not come with preset workouts. So, if you are a beginner, we do not recommend this fold a way treadmill. For pro athletes who already have an idea as to how long they should run to burn a certain amount of calories, this is fitness trainer is okay.
Pros:
Features a safety key for emergency stops
Wide side rails make it easy to hop off the running belt
Larger than most Goplus treadmills models accommodating users of different heights
Bluetooth connectivity so you can enjoy music as you exercise
Cons:
No preset workouts like other Goplus models
9. Goplus 1100W Folding Treadmill
Our last pick is the Goplus 1100W folding treadmill. this Goplus treadmill model is made of three different materials; a steel frame, ABS console, and a PVC running deck. This home treadmill's frame is foldable to save space and supports users up to 220. the frame is coated with black scratch resistant and rust resistant paint, ensuring the machine looks as good as new even after years of use.
The running tread is made of PVC. The material is not only strong but provides the right amount of bounce so your workouts are comfortable. This belt is made up of several layers including a noise reduction layer for quiet exercising and a top wear resistant layer that offers the right amount of grip to keep you from slipping.
The deck is powered by a small, powerful and quiet motor that allows for speed of up to 6.0 mph. These speeds are okay for brisk walking exercises and light running. For intense, guided workouts, this small Goplus treadmill features 12 preset programs. you can find at least 2 – 3 programs that are best for your fitness level. Lastly, this space saving foldaway treadmill has long handles for stability that also feature built-in pulse sensors so you can check on your heart rate while exercising.
Pros:
Features a large LCD screen to track your workout data; time distance and more
Offers power incline up to 4%
Cons:
Running surface smaller than other Goplus treadmill models
Final Thoughts
Over the years, Goplus has designed a lot of space saving treadmills. But, which is the best Goplus treadmill? In this small fold away treadmill reviewn list above, we've discussed our findings. These fitness machine feel stable underfoot and are durable. You can opt for a 2 in 1 folding treadmill that can be used for walking or running exercises or the other models that are still foldable but cannot be used under desk. These treadmills are best for beginners as well as seasoned athletes.
Written by Alisha Wishart – TheHealthPot.com
Certified Personal Trainer (CPT), Writer and Contributor
Alisha, is a Mother, Wife and Certified Personal Trainer (CPT).  She understands how demanding everyday life can be and takes great pride in working with individuals and groups to help them achieve their desired fitness goals. Read more about Alisha here.