Hi everyone! It's your favorite cardio queen Kathleen (I'm going to get a coffee mug with that line on it!), and today I want to address seniors.
Unfortunately, I know too many seniors who think that they don't have to take care of their bodies because they no longer look or feel sexy.
As I used to tell my grandma, sexy or no, your body will just rot like a piece of wood if you don't put it to use.
There are many reasons for seniors to exercise, including keeping their heart healthy and free from heart disease, reducing your risk of a stroke, heart attack, or dementia, improving your mood, and perhaps best of all, being able to move about and do the things you want to do!
Our Top Rowing Machines for Seniors & Elderly in a Quick Overview:
2. The Ergatta Indoor Rowing Machine
3. The Teeter Power10 Elliptical Rowing Machine
To gain an in-depth understanding of the pros and cons of each rowing machines, continue reading!
I'm not quite a senior yet, but yes, I do know that health problems and injuries tend to happen as we age. Whether it's arthritis or bad knees from activities you did in your younger years, it can be painful to exercise so some seniors just give it up for couch life.
If you want to live a longer, happier life, you need to move, and rowing is one of the best exercises on the planet! No, I'm not kidding! Rowing is low-impact, so it won't hurt those arthritic or stiff joints, it will help your knees hurt less, and it's a terrific cardio workout!
So I've convinced you, right? Bless your heart, I hope so!
Now you are probably wondering which rowing machine would be best for you and are rowing machines good for seniors?
Today's list is directed to all senior citizens from 50 to 100. Are you ready to see some of the most outstanding rowing machines that are nothing short of awesome?
Sit down, friends, and take a load off. You are going to want to read this. Pour me some of that sweet tea and let's get started.
Are Rowing Machines Good for Seniors?
Before I start telling you about the terrific rowing machines I've found, let me give you a quick run-down about all the reasons you should invest in a good rowing machine.
Rowing is an exercise that you can start at any age and continue for the rest of your life. I've seen rowers in their 90s who, while not as fast as their younger counterparts, were healthy and full of vigor!
A few of the many reasons to start rowing in your golden years include:
Rowing improves your posture, making you feel and look younger
Rowing will also strengthen your leg and core muscles, improving your balance
A rowing workout will simultaneously engage 86 percent of the muscles in your body. This not only means that you can exercise less, but that you will greatly reduce your risk of falling due to weak muscles
Rowing is a low-impact exercise that won't put more strain on your joints, including your knees.
A rowing workout is fairly easy to learn with most people picking up this skill in a two hours
Rowing on a regular basis will increase your VO2 max, which is inversely correlated to the risk of disease in senior citizens
Any regular aerobic exercise will help reduce the risk of chronic illness and disease, enhance the immune system, and improve the digestive system; it also lowers the risk of heart disease, heart attack, stroke, and dementia
There are a great many more benefits but this should be more than enough to motivate you to get off that sofa and get on a rowing machine.
Is It Safe for Seniors to Take Up Rowing?
I want to say right up front that I'm not a doctor or a health care professional, so any advice here should never be considered a professional consultation.
You should always speak to your doctor and ask them about starting a new exercise routine to ensure that you have no medical condition that would be made worse by exercise.
Generally speaking, rowing is perfectly safe for everyone, including seniors and those with mobility issues.
I know several people who took up rowing in their 40s, and they are still rowing in their late 60s. I often see 80 and 90-year-olds competing in rowing events (click here to see rowing split times by age you will be impressed!)
Paraphrasing my mother a bit, she would say that rowing is good for what ails you, and if nothing ails you, it's good for you anyway.
The Top 5 Best Rowing Machines for Seniors
Keep in mind that a rowing machine for seniors is an investment in your health. I've used at least a half dozen different types of rowing machines, so I can say from personal experience that if you want a rowing machine that is going to last and keep you motivated, you'll want one of the newer smart indoor rowing machines.
Don't let the word "smart" make you think of some complicated device that you will never learn to use. If you own a smart phone, you will have no trouble using one of these outstanding rowing machines.
Are you ready? Let's rock and row!
The Hydrow Rowing Machine
The Hydrow was made by professional rowers so that those using it would feel as though they were really rowing on the water.
While you might not think that is important, it actually is.
One of the biggest problems with exercise is that people get bored after a few months so they stop using the machine or they stop exercising all together.
Hydrow offers thousands of on-demand workout programs that feature different waterways from around the world. I'm betting the scenery alone keeps you interested. I love it when the instructor tells you about points of interest (say, you've joined a live rowing on the River Seine), and he's like, "If you look to your left, you can see the top of the Louvre."
So, if you want to travel the world from your own living room, the Hydrow is one healthy way to do it!
There are also personal trainers who can help you get started or help you reach your goals. For me, I so love the live classes and the super-upbeat instructors.
The Hydrow offers a full-body workout so you won't need any other machines if you don't want to use them, but there are also off-the-rower workouts, like yoga and Pilates, so you can stay flexible and limber!
Hydrow has a maximum weight capacity of 375 pounds so you can feel safe climbing on board. There is music to listen to, or you can also use your own Bluetooth headphones.
This incredible rowing machine uses computerized magnetic resistance. This means that, depending on the rowing machine workout that you choose, the computer will automatically control the resistance so you don't need to fiddle with any knobs.
Hydrow also offers you adjustable magnetic resistance. If you feel the program is too easy or too hard, one touch of your finger on the 22-inch HD touchscreen will change the resistance instantly.
If you want the absolute best rowing machine that will keep you from getting bored, making you look forward to your next exercise, then you should check out Hydrow.
Oh, by the way, you can try Hydrow for free in your home for 30 days. If you don't think this is the best indoor rowing machine ever, keep the box and return it.
You've got nothing to lose but oh so much good health to gain!
The Ergatta Indoor Rowing Machine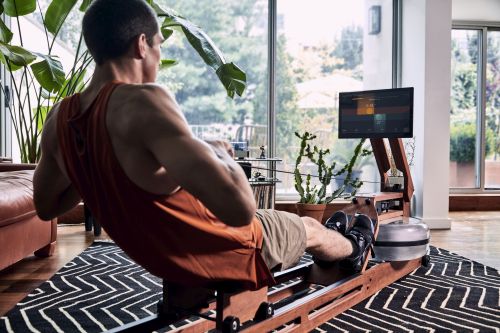 After I just gave the Hydrow such a glowing review, you might wonder why I've bothered to list other rowing machines!
The truth is, everyone is different so everyone has different tastes.
The Ergatta is a completely different rowing machine from the Hydrow.
Just one look tells you that while the Hydrow might be sleek and futuristic, the Ergatta, made from stunning cherry wood, looks like a piece of furniture.
While it may look complicated, this rowing machine software is just as easy to use as your television or smartphone.
This is a water rower, which means that it uses water inside a tank for resistance, rather than magnets. Many people find the sound of water gently swooshing around the tank relaxing.
The 17.3 -inch touchscreen tablet is neatly organized into large sections that tell you exactly what types of workout are available for you to choose from.
I love how this water rower calibrates itself so that you get the perfect workout for your fitness level.
When you first set up your Ergatta with your username and profile, you will be asked to do a 1,000-meter row. Ergatta will assess your fitness level and assign you a category based on your strokes per minute and the amount of time it takes you to complete the row.
For example, if you haven't exercised in a while, or maybe you're nursing an injury, Ergatta might assign you to Category 7. The machine will recalibrate your fitness level after every 10-or so rows or races. In a few weeks, you might move to Category 6 and so on. Your workouts will become more challenging as you become fitter!
Ergatta Rower vs Concept 2 – Click Here to See Who Won!
What makes Ergatta different from other rowing machines is that there are no instructors, no classroom or gym-type settings, rather, these rowing machine workouts offer games, racing, and other rowing exercises that prevent you from becoming bored.
I've used the Ergatta and I'm telling you that I quickly became hooked on the races. I lost my first race badly and wanted to try again right away. I ended up working out much harder and longer because I wanted to win!
This is a compact rowing machine, despite its look. You can roll it away using the transport wheels and store it on one end. This takes up no more space than an average dining room chair. Move a picture off the wall if necessary because that's about all you will need to do to store this piece of exercise equipment.
To be completely honest, the Ergatta is one of the best indoor rowing machines I've ever used. If you think instructors are a bore but you think racing and games would make rowing exercise fun, you've got to check out the Ergatta.
The Teeter Power10 Elliptical Rowing Machine
You might have read the headline and wondered what the heck is an elliptical rowing machine.
Let me tell you what this is- this rowing machine is a wolf disguised as a typical physical fitness machine!
The Teeter Power10 takes rowing to a whole new level, and the handles make all the difference.
First, the handles make you push and pull, like you do with an elliptical, not just pull like a regular rowing machine. Then, these multi-position handles end up working an entirely new set of muscles whenever you change the position of your hands.
On top of that, when you add the rowing motion, you can see exactly why this piece of exercise equipment is like nothing else I've ever seen.
There is no fancy touchscreen monitor, but there is an LCD digital performance monitor that will track all your metrics, such as your time, strokes per minute, calories burned, and more.
This magnetic rowing machine has 7 levels of resistance. It also has a free app called the Teeter Move, which offers workout programs made especially for the Power10, so you can get the most out of it.
This rowing machine for seniors is very low impact and lightweight, so you can roll it into another room for storage.
Related Post: Suffer from Hip Pain? Learn if a rowing machine causes Hip Pain!

Related Post: Is it Safe to be Rowing After a Hip Replacement?
The free app is a big plus, but do you want to know the really cool thing about this rowing machine? It comes with a free chest strap so you can monitor your heart rate as you exercise AND it is Bluetooth-enabled, so you can connect those headphones and listen to whatever you like.
If you're interested in a low-tech device that will improve your cardiovascular system, build muscle and endurance, offers free workout programs, a free heart rate monitor, and has beginners programs for seniors, you should check out the incredible Teeter Power10.
LIT Strength Machine
You might notice right away that this exercise machine doesn't say "rowing" on it.
That's because the LIT Method is more than just a rowing machine for seniors!
The LIT machine is, at its heart, a water rower, which means you get to row and hear the lovely sound of moving water.
However, this rowing machine offers anchor points for resistance bands. If you haven't used resistance bands before, you should! Resistance bands are very similar to dumbbells without the weight. You pull on these giant rubber bands, and they act just like strength training.
The LIT rowing machine also has an app that you can download to your cellphone or tablet. This allows you access to hundreds of workout programs that will have your heart pumping away in no time!
This rowing machine is a low-impact workout that offers you a whole-body workout. I'm sure you'll love how this home rowing machine will make you look and feel.
Do you love a bargain? I know you do because I feel good when I buy a product with an incredible warranty. If you feel the same way, check this out: The LIT machine has a lifetime warranty. Yep. Read that again. A lifetime warranty on the frame.
Talk about confidence in the quality of your product! You won't find a warranty like this on ANY rowing machine!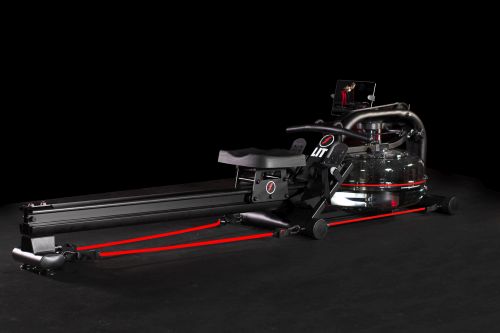 If you want a rowing machine for seniors that you will never have to replace, if you are interested in building physical stamina, and you want a workout routine that will never get old, the LIT Strength Machine is right up your alley!
The Aviron Rowing Machine
Like all the rowing machines mentioned above, the Aviron has a little something extra going for it when it comes to rowing machines for seniors.
You've seen magnetic rowing machines and water rowing machines (also click here to see our list of best rowing machines under $500), but the Aviron quality went all the way up by creating a rowing machine with two forms of resistance, magnetic and air.
Air rowing machines have been around for decades, and if you've ever used one at your local gym, then you know just how loud they can be! This isn't true with the Aviron, however.
Aviron's unique system makes their rowing machine no louder than your average office meeting or room conversation, which is about 60 decibels.
By using both air and magnets, Aviron gives you the best of both worlds! There are 16 levels of resistance, and I can promise you that you will always feel challenged with this indoor rower!
The Aviron is one of the best rowing machines for gamers. If you love playing video games with your grandkids, then you're really going to enjoy this indoor rower.
Aviron makes two types of rowing machines, and in this article, I'm going to talk about the home model called the Impact.
I love the way this rowing machine features its workout routines. All of the workout programs are designed to be efficient, allowing you to get in shape in the shortest amount of time possible because, you know what, seniors have other things to do than spend their time exercising, right?
The 22-inch HD touchscreen monitor makes everything easy to read, and it has such breathtaking scenery on the open row program that you might think you're at the movies or watching in real-time.
Aviron features beginner programs for those who have never rowed before; you can choose fully-animated games, live racing, or specific workout programs, such as burning X number of calories or rowing until you complete X number of meters. There is a performance monitor section that stores all your workout info so you can track your progress.
This is one of the best exercise machines for those who tend to get bored easily with exercise routines.
The weight capacity of this rowing machine is an incredible 397 pounds, and it accommodates persons who are up to 6′ 8″ tall.
The sturdy steel frame construction comes with a 10-year warranty, which is a longer warranty than almost any other rowing machine currently sold.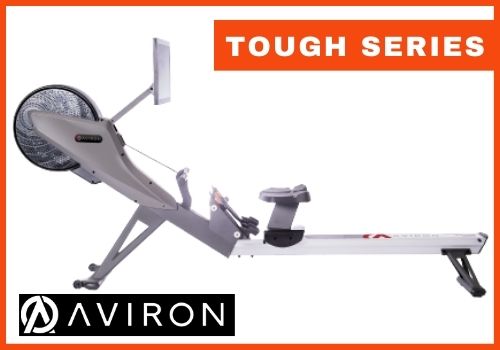 The Aviron rowing machine gives seniors all the choices they could want and the cardiovascular workout they need!
FAQs:
1. Is a rowing machine good for a 50-year old? How about a 70- year old?
You bet they are! There is no better exercise for seniors than a rowing machine! You can start rowing at any age (with your doctor's approval) and get a full-body workout that will rock your world!
2. Is a rowing machine workout too difficult for seniors?
I think this would be like asking if a marathon is too difficult for seniors. Even if it took you two days, I think most seniors could finish a marathon that they trained for! You may not finish it quickly, but you could do it! Rowing is the same.
You start off slowly, and over time, as your entire body becomes stronger and your fitness improves, you will be able to row faster and/or longer. Rowing can include intense workouts, but you can take on only as much as you are able. This low-impact exercise is the perfect workout for anyone with weak joints, painful arthritis, or bad knees.
3. How long should a senior use an indoor rowing machine?
Health experts say that even seniors should get in 150 minutes of exercise each week. This averages out to about 25 minutes a day, 6 days per week. If you find that you can't exercise for that long, you can try breaking it up into two 13-minute sessions or work yourself up to 25 minutes each day.
Written by Kathleen Langdon – TheHealthPot.com Founder
Certified Personal Trainer (CPT), Certified Corrective Exercise Specialist (CES)
Kathleen, a mother of two, struggled with ongoing weight and health issues.  She created this website after she turned her life around.  She built Thehealthpot.com to help inspire and motivate others with their fitness goals. Read more about Kathleen here.