Hello fellow cardio fans! This is your old friend Kathleen.
Have you tried that cool app called Zwift? I've used it a couple of times, and it's wild!
I believe the creators intended this app to be used on regular bikes that have been altered so that you can use them indoors. However, more and more people are on their knees begging to make this app available for their stationary bike!
Whether you've got a Peloton bike, a Proform TDF bike, Wahoo Kickr bike trainers, or one of the NordicTrack bikes, you've probably been wondering if there's a way to put the app right on your monitor so you can enjoy Zwift on your smart bike.
I've got good news for you, friends. It IS possible! At least on NordicTrack and Proform bikes, but there are a few things you need to do first to get that program on your bike's screen.
Follow my step-by-step instructions, and you'll be on your way toward enjoying the Zwift experience in minutes and turning your NordicTrack into the best exercise bike you can possibly have.
How Do I Connect My NordicTrack to Zwift?
Get the best of both worlds, and install the Zwift app!
Let me begin by telling you that I am going to give you instructions for the two different types of NordicTrack or Proform bikes so you can read less (because I'm respectful of your time and all that, right?!)
If your NordicTrack or Proform bike has a PM monitor, which is just an LED screen that gives you data but no pictures or video, you'll need a tablet to follow my steps.
If you have a bike with a tablet that enables you to see the iFit app, the process is a bit more complicated, but it can be done. You'll need another tablet and an IOS device (an iPhone or Apple tablet).
There is no reason why you can't enjoy the best of both exercise worlds – iFit and Zwift!
I will do the PM bikes first.
Let's get started.
Using Zwift with Exercise Bikes that Have PM Monitors Only
The problem, if you will, with Zwift is that it needs IOS to be installed. So find an iPhone and an iPad for starters. Yes, you will be using both devices for installation purposes.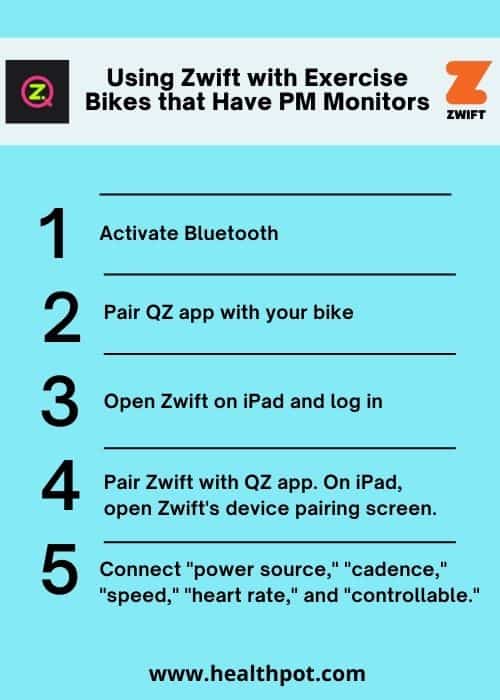 You'll need to download two apps. On the iPhone, download the QZ application. On the iPad, download the Zwift app.
Plug in or turn on your indoor bike and move the pedals for a few seconds to activate your Bluetooth connection.
Open the QZ app and pair it with your bike.
Open the Zwift app on the iPad and log into your account.
Connect Zwift with the QZ app. On your iPad, open the Zwift "Paired Devices" screen.
Now connect the "power source", "cadence", "speed", "heart rate", and "controllable".
That's it!
QZ acts like an adaptor, allowing your Android bike to read IOS data.
You can prop up your tablet in a clamp-on holder, or if your bike has a tablet holder or shelf, you can use that to watch the Zwift app.
Using Zwift App on a Touchscreen Console
If you have a NordicTrack or Proform bike (such as the NordicTrack S27i or the Proform Studio Bike Pro), then you'll need to "jailbreak" the tablet.
Don't let the word scare you, friends. Old Kathleen would never recommend anything illegal.
This simply means that you'll need to do some tricks to access the browser so you can use Zwift.
This might take you some time at first, but after the installation, you won't need so much time to do this.
Ready?
Step-by-Step Instructions for Installing Zwift on Smart Bikes 
You'll need two other devices in order to do this. This time, you can use any Android device or smartphone (an Apple iPhone, a tablet, or whatever you have) and an additional IOS device (such as an iPad).
First, install the QZ application on the smartphone. Now install the Zwift app on the iPad. It's possible to run the QZ app and the Zwift on one device, but you'll need to keep the QZ app open in the background. Most users find it easier to install them on two devices.
Once you have those downloaded, you can get started:
Do a factory reset on your bike. This is usually done by sticking a bobby pin or a paperclip into the tiny hole on the console designed for resetting a frozen console. Turn on the bike and then hit that reset button within 10 seconds. You might find this easier to do with a friend. The reset can take 5-7 minutes, so be patient.
Once you see the iFit icon on your monitor, tap on any blank area. Tap 10 times then wait 7 seconds and tap another 10 times. You should see a screen that says Privileged Mode (Don't you feel special?!) You should see a screen that asks you to enter an activation code. A pop-up window should occur that gives you the code to enter. Enter the code.
Swipe up from the bottom of the monitor. Select Settings, then System, then Advanced Settings and then About Tablet. Write down the IP address of your bike and then look for "Build Number". Tap on "Build Number" seven times. You should see a popup notice that says something like "Developer Mode Unlocked." Hit the back arrow so you are back at Advanced Settings.
Now select "Developer Mode" or "Developer Options". Look for USB Debug or USB Debugging. If it is off, turn it on. When you see "USB Debugging Enabled", touch "Yes" or "OK".
Now install the QZ companion app on your bike. Type in C:\qz-companion>qz-companion. You will see that it asks you for your bike's IP address. Type it in. Let the app download and extract, then open the BAT file (QZ-companion BAT file). It might ask you to press any key to continue. Do so if prompted to. It will ask you to enter the IP address of the bike one more time then the system will reboot.
The QZ companion app will be running in the background. It transmits the info (your speed, incline, etc) to the QZ application (which is the translator between the Android tablet and the IOS Zwift app).
Take a break and congratulate yourself on a job well done. Now we need to connect and configure the QZ app to the QZ companion. You're almost done!
Open the QZ Companion on your phone or tablet. Go to Settings.
Expand the Bike options. You should see Proform/Nordictrack. Expand that section.
Choose your bike model and then enter the IP address of your bike.
Click OK, then exit the app and turn the phone or tablet off and on.
If everything is working out well, you should see the QZ app with tiles showing that it is communicating with your bike.
Go back to Settings and select "Experimental Features". Expand the menu.
Enable just about everything, including enable virtual device, virtual device Bluetooth, and Wahoo Direct Connect. Again, select OK, exit the app, and turn the tablet or phone off and back on.
Start a manual workout on iFit and put the phone and tablet where you can see them. The QZ companion should transmit your data to the QZ app, which should transmit your data to the Zwift app.
Whew! That took a few minutes, but it is SO worth it to be able to use your NordicTrack bike and enjoy indoor training on the Zwift app!
After you have everything set up and working, you'll only need to open the QZ app and the Zwift app. The companion app will be open and working every time you start a manual workout on your bike.
Check out this video that explains things in detail if you feel lost. This video is for treadmills, but just think "bike" whenever you see the treadmill word.
What If I Don't See My Bike Listed on the Companion App?
The QZ app is always being updated by the developer. If you don't see your bike model listed on the app, you can email the developer at [email protected].
Hopefully, he will get back to you shortly and let you know that he's added your bike model to the list. This is probably also true of treadmills!
Can't I Simply Install the Zwift App on My NordicTrack?
Well, yes, and no.
Technically, yes, you could install the Zwift app using the same jailbreak method as above only substituting Zwift for the QZ Companion app, but here is the problem.
Most exercise bike tablets do not have the storage or graphic capacity needed to run the Zwift app. You can download it and give it a try, but it appears that most people just give up due to poor quality graphics combined with the screen freezing up every few minutes.
If you want to try, I say go for it! You can always remove the Zwift app if you change your mind and go back to using the QZ Companion app.
Which NordicTrack or Proform Bikes Are Compatible with Zwift?
This isn't a complete list since bikes are being added all the time, but the following list should be a definite Yes!
NordicTrack Indoor Bikes
NordicTrack S15i
NordicTrack S22i
NordicTrack S10i
NordicTrack S27i
Proform Exercise Bikes
Proform TDF1
Proform TDF2
Proform TDF4
Proform TDF5
Proform Carbon CX
Proform Pro 22
Proform Studio Bike Pro
Proform Pro C10R
Proform Pro C10U
There are probably many more bikes that this hack will work on, so why not give it a try on your bike? You've got nothing to lose!
Can You Use Other Apps on the NordicTrack Bikes?
Yes, you can!
Using some of the methods mentioned above, if you want to watch Netflix, for example, you follow a similar process.
Do the tapping process mentioned above. Swipe up until you see the browser. Go to Netflix and sign in. You can now watch Netflix or YouTube or Hulu as you ride your exercise bike!
Will the QZ Companion App Affect Other Apps on My Indoor Bike?
No, adding the QZ Companion app will not change anything. Think of the companion app as a translator or an adaptor.
You can still (and you definitely should!) do iFit updates, tablet updates, or whatever updates your indoor riding bike tells you that it needs. It won't affect your QZ Companion app, or vice versa.
At the End of the Day When It Comes to Zwift on NordicTrack Bikes
I think the one thing that is true regardless of the type of bike you own (Peloton bike, NordicTrack, Proform, or other smart bikes) is that you want variety and you want a choice.
Personally, I think a lot of manufacturers haven't caught on to that yet, but they will.
Give the people what they want, and that is VARIETY!
I hope you have good luck running Zwift and enjoying their virtual training world!
Stay healthy and happy Zwifting!
Written by Kathleen Langdon – TheHealthPot.com Founder
Certified Personal Trainer (CPT), Certified Corrective Exercise Specialist (CES)
Kathleen, a mother of two, struggled with ongoing weight and health issues.  She created this website after she turned her life around.  She built Thehealthpot.com to help inspire and motivate others with their fitness goals. Read more about Kathleen here.