Not all treadmills will work for you if you're tall, a runner, or one who prefers sprinting. Treadmill workouts like those require a wide belt treadmill to give you ample space to do intense routines and still have room for error to keep you safe.
A wide-belt treadmill has a large running surface (around 20 inches to 22 inches wide) so you can run comfortably. The ideal machine must have a multiple-layered surface to protect your knees and joints, with plenty of guided workout programs like iFit and Google Maps to help you in your training.
Each of the treadmills below features a safety clip or key for emergency stops. I'll cover each machine in detail so you'll get the feel of it, familiarize with their features and pros & cons before deciding to buy one.
Our Top Treadmills with Wide Belt: A Quick Look
If you're in a rush and can't wait to read everything, I recommend the Nordictrack 2450. You'll see that it's a wide-belt treadmill that checks all the right boxes.
There are 8 products on this list, so let's check them out, starting with our Top Three Picks.
1. NordicTrack Commercial 2450
2. Sunny Health & Fitness Treadmill SF-T7718
To help you make a better informed decision, we've compiled a detailed list of the best features, pros and cons for each wide belt treadmill. Keep reading to see our findings!
Top 8 Best Wide Belt Treadmills
1. NordicTrack Commercial 2450
I researched about treadmills for months and was split between a smart modern treadmill and the traditional type treadmill. I'm a runner, but my tall partner is a walker, so I wanted a running treadmill that could accommodate our needs without breaking the bank. I came across the NordicTrack commercial series and liked the reviews I read. So, I went for the 2450 treadmill, which is kind of the middle child in the NordicTrack commercial series.
Basically, it has all the features of a modern running treadmill and is sturdier unlike traditional elevated treadmills. The NordicTrack 2450 treadmill is designed to meet the needs of all types of runners. We've had this awesome machine for almost a year now, and this is what our running experience has been.
First, the flat folding treadmill comes in parts, packed in one box, and you'll need to do some assembling. And boy, is the box heavy!
Here's more about the 2450 treadmill.
Thankfully, the delivery crew was quite helpful, and because this compact treadmill machine is on the larger side, I asked them to carry it to the garage where we have set aside some area for our home gym. The assembly process of this low-profile treadmill was surprisingly easy. The frame feels nice and sturdy under foot. It weighs around 300 pounds and really stable.
I like its black gray color because it blends in with the rest of the home gym. Also, the paint protects it against rust and scratches, so if you've got young kids, your treadmill will be safe. Another feature I love about this wide treadmill is its folding design. It's integrated with NordicTracks EasyLift Assist system that makes it easy to fold up the machine for easy storage. So, if you have a small home gym, this treadmill is the perfect pick.
The NordicTrack 2450 treadmill offers an impressive 60 by 22 (L x W) inches of running surface. This heavy-duty machine has a low-profile deck, unlike traditional options in its price range. What this means is, there is no limit to the type of exercises you can do at home. From walking to jogging to sprinting, I've done these exercises comfortably on this treadmill. My partner has done some treadmill interval training exercises on this treadmill and love how the tread feels underfoot.
Also, you can have confidence on the extra NordicTrack Flex Cushioning tech which absorbs up to 40% impact reducing stress on the knees. (If you have knee issues you might also like to read are treadmills bad for your knees) The running surface is powered by a powerful 4.0 HP motor. Treadmills come with motors of different capacities, which will determine the maximum speed, how fast a treadmill adjusts speeds, and the smooth exercising of the treadmill belt.
The NordicTrack 2450 treadmill has a 4.0 HP motor which is one of the most powerful motors out there. You'll find that most gym treadmills have motors with this capacity or higher. A 4.0 continuous horsepower motor can handle anything you throw at it.
If you want to jog for 30 minutes or do interval training for an hour, this exercise machine can hold its own. Also, the NordicTrack 2450 is designed to self-cool as you exercise. This means no overheating or choking.
Console: Now, to the smart part of this treadmill. First, the console area is impressive. I like that there is a built-in device holder where one can keep all the small items, such as remote, keys, mobile devices, and other stuff.
Second, next to the LCD display you'll find water bottle holders so you can stay hydrated throughout your routine.
Third, this wide track treadmill has a large 14″ full-color monitor where you can track your max speed, time, distance, calories burned, pulse, and steps. You can plug your device while you listen to music and access iFit through the console.
Workout programs: The NordicTrack 2450 has 40 preset workout programs. A treadmill program is designed to control the treadmill's speed and incline, ensuring you get a good workout per session. It also makes workouts interesting. With these exercises, you can be sure that your needs are met. To add to this, you also get a 1 year subscription that covers the whole family. Yes, iFit family membership allows 5-user profiles.
With iFit, you get access to world class trainers, run or walk on trails in the world from the comfort of your home, and join classes. The treadmill will automatically change the speed range and incline/decline to mimic those trails, ensuring you get a good workout as you would when exercising outdoors.
Incline and decline: Lastly, we loved that this flat folding treadmill offers decline and incline function, making it the perfect exercise treadmill for walkers and runners alike. With this function, it's like walking or running uphill which works more muscles and burns more calories. Honestly, the NordicTrack 2450 is the best treadmill with wide belt on the market.
Pros
Has a strong warranty; 10 years on the frame/body and 2 years on parts
Built-in fans and tablet holder for your mobile device
Top speeds from 0.6 – 12 mph making it ideal for all fitness enthusiasts
Cons
You'll be required to pay iFit subscription fee after the trial period
2. Sunny Health & Fitness Electric Folding Treadmill SF-T7718
How do you move a big treadmill? Simple, get a folding treadmill with transport wheels for portability. The perfect pick, of course, is the SF-T7718 strider treadmill which has a 20″ wide deck. Sunny Health & Fitness is a US-based fitness brand that offers top-rated products.
We're excited to share with you some of the capabilities of the SF-T7718.
This Sunny Health & Fitness Treadmill is on the smaller side compared to other treadmills in its price range. It measures about 63 by 29 by 49 when unfolded. This size is smaller and because of this, we recommend this compact treadmill to users with smaller bodies. It is foldable with a folded dimension of 63 x 29 x 10.5 inches. This folding design plus built-in transport wheels make the treadmill easy to transport.
Plus, weighing only a little over 118 pounds, it's easier to move than, say, the BXT216 that weighs 340 lbs. Understandably, because of its size and weight, the Sunny Health & Fitness SF-T7718 treadmill supports less weight than what the other running machines do.
It is designed with a maximum weight capacity of 265 lbs, so if you weigh less than this, the treadmill will work for you. On the other hand, if you're looking for a flat folding treadmill that can be shared in your home, we recommend you go for another treadmill.
Honestly, I was a bit disappointed by its 2.5 HP motor, which demonstrated lower capacity than the other machines we tested. Compared to other elevated treadmills, this strider treadmill has lower speeds, which is why we recommend it for walking, especially seniors, or light running exercises.
This Sunny Health Fitness run trainer SF-T7718 20″ wide belt machine offers max speed of up to 9 mph with 9 built-in programs. The speeds maybe low, but speeds from 6 mph to 9 mph are great for intense workouts. The maximum speeds and incline function are controlled via the console and handrail.
To make up for the lower speeds, this big treadmill features a well-cushioned running surface with big side rails. This treadmill was obviously designed with the comfort of runners in mind. The deck by Sunny health machine has a 47″ by 20″ wide running surface, which is smaller in width but not that significant. However, if you have a longer stride, go for a running treadmill with a longer running surface, preferably 60″ long.
The console area features dual bottle holders and long handrails. You can also connect to the Sunny via a USB or headphone jack to plug your phone mobile device. The LCD monitor makes it easy for you to keep track of your progress. You can check some best pink treadmills by Sunny here.
Pros
Has built-in controls in the handles for speed and incline
This Sunny Health Fitness treadmill is light and folds for easy storage
Soft Drop system makes it easy to unfold the treadmill
You can connect to the Sunny via Bluetooth and use the built-in speakers for entertainment
Cons
Low user weight capacity and does not have built-in fans
Related Post: Do I Need a Mat Under My Treadmill?? Click Here to Read More!
3. Nautilus T616 Treadmill
Nautilus is a trusted brand that offers affordable and fitness equipment for home use. Based on my research, the Nautilus T616 is one of the wide belt treadmills that can hold a candle to the NordicTrack 2450 treadmill. The T616 20″ wide track treadmill's frame is lighter than the NordicTrack treadmill above. Weighing 215 lbs, this is well-made and stable.
Related Post: How much distance is a mile on a treadmill
It's made of durable steel with black finish to give it a stylish, sleek look. Given that the treadmill is large, the color helps it blend into the background perfectly. The T616 flat folding treadmill is integrated with Nautilus SoftDrop system that makes folding and unfolding easy. Honestly, though, 215 pounds is still a lot of weight to move around.
Nautilus treadmills have large decks with StrikeZone cushioning, and the T616 treadmill is no exception. Its deck measures 60 by 20 inches which makes it ideal even for the tallest runners. Its length gives you a great workout experience while the shock absorption protects your joints, lower center, back, and legs. The tread provides the right bounce so you can run comfortably.
A powerful and quiet 3.0 HP motor is what this home treadmill provides. It makes sure the treadmill is responsive and performs per expectations, allowing for all types of treadmill exercises. The average human can sprint at speeds of about 7 mph, while the Nautilus T616 boasts of a max speed of up to 12mph. You'll find the controls on the right side of the console, right next to the LCD monitor, so increasing your top speed is within easy reach. I like how the treadmill picks speed smoothly.
The console area is user-friendly, and you can reach any part of the console without interrupting your workout. This area features two water bottle holders, 2 backlit displays to track your speed, time, distance, calories burned, pulse, and steps, and allows you to plug in your phone and other gadgets. On the left side of the display window, you'll find incline controls for adjusting the treadmill to a maximum incline of 15%.
The T616 treadmill has 26 built-in workout programs covering all fitness levels. Also, this exercise treadmill works with fitness apps such as the Nautilus Trainer 2 app, MyFitnessPal, and even the RunSocial app that you can use to run around the world. All you have to do is download a route, and the treadmill will set its incline and speeds to mimic the route. It'll never get boring with this treadmill.
Pros
Incredibly strong warranty: 15 years on frame and 5 years on parts
Has both contact and telemetry heart rate monitor
You can run any route in the world from the comfort of your home
Has built-in fans to cool you down during workouts
Cons
Does not have decline function
4. Proform 705 CST Folding Treadmill
Proform treadmills are some of the best machines for home use. Weighing a cool 216 pounds, the Proform Pro 705 CST Treadmill is a versatile machine that has a large 20 inch belt which makes it ideal for users of different heights. Proform is a popular brand among fitness enthusiasts, and it's not surprising because this company combines durability and affordability in their products.
Here are other features of the Proform Pro 705CST 20″ wide trainer that our testers loved.
This Pro treadmill trainer is powerful and can be folded, with wheels at its base for portability. It requires some assembly, nothing hard, and blends perfectly in the background. The Pro 705 measures about 79 by 37 by 61, and you bet, you can walk, run, and sprint comfortably on this strider treadmill surface.
The flat folding pro 705 CST motor has a low capacity compared to the two picks above and has an output of 2.75 HP, but this is not a deal breaker. It is powerful enough to work smoothly and ensure that speed changes are seamless without the runner having to stop. The Pro is self-cooling and works quietly, so you don't have to worry about overheating or choking. It supports up to 325 lb.
Measuring 60 by 20 inches, this running belt is one of the most comfortable treads we've tried. 60″ length can accommodate even the tallest runners while the 20″ width gives you enough elbow room. Its lower center of gravity supports greater stability, giving users the perfect workout space. The tread is integrated with ProShox Cushioning, kind of like NordicTrack Flex Cushioning, which reduces impact by up to 40% and protects your knees and joints.
The Pro 705 CST's console is user-friendly. It features handgrips with built-in EKG pulse rate sensor, an important feature for heart rate monitoring, especially if you're into endurance training. Also on the console, you'll find a 5″ backlit full-color LCD monitor. From the LCD touchscreen you can track your speed, time, distance, and calories burned. The workout data tracking function is accurate, meaning you won't need to buy a separate fitness tracker like the best smallest fitness tracker we've featured in another article.
The Pro wide treadmill has 22 preset cardio exercises, and while these are fewer than what the NordicTrack 2450 and T616 offer, they are sufficient for personal use. Plus, you'll get a 30-day free iFit, giving you access to personalized coaching, Google Maps that allows you to customize your routes, and a library of exercise videos. You'll never get bored nor have to worry about going into a weight loss plateau.
Pros
You can plug your device into the USB and listen to music
Offers an incline up to 12% off the ground to mimic an outdoor running experience
This Proform 20 inch treadmill has a safety key for emergency stops
It folds up to save space, making it great for smaller spaces
Cons
5. Schwinn 810 Treadmill
If you're looking for a machine that will fit in your place, then you should look in the direction of the Schwinn 810 treadmill. With a 20″ wide belt, this adjustable treadmill is designed with comfort, stability, and performance in mind. You can do all sorts of exercises – from walking to jogging to running – on this low-profile treadmill from the comfort of your home.
First, the frame is smaller compared to our top pick, the 2450. The main advantage with this size is it's easy to move around. This running machine weighs only about 155 pounds and is foldable for easy storage in an upright position. I also like the finish, which is black with a gorgeous Schwinn logo. It's perfect for all home gyms. The main disadvantage/cons with its size is its low weight capacity compared to other treadmills.
The Schwinn 810 running treadmill supports runners up to 275 lbs, so people below that weight can comfortably and safely use this flat folding treadmill. The Schwinn 810 is equipped with a running surface integrated with Schwinn's SoftTrak system, which offer cushioning to reduce impact on your joints and back.
The 810 treadmill has a 2.6 HP motor that allows for long workout sessions and lets you do speeds from 0.6 – 10 mph, which you control from the console. It works quietly so you can exercise early in the morning or late nights. The power is decent but not the best for intense workouts.
Console: This Schwinn treadmill is integrated with a user-friendly console. First, this home treadmill comes with dual bottle holders to make sure that you have your water bottles within easy reach. Second, the 810 has built-in pulse sensors for heart rate monitoring, which you need if you're into endurance training.
Third, the console features a midsized 5″ LCD display for viewing your workout data and choosing a workout. You'll love that this compact treadmill allows for two user profiles. It saves workout data for two people, so you can share it with your partner. Lastly, this 20″ wide belt machine is Bluetooth-enabled and compatible with the Explore the World app, which is a must-have if you love running through scenic routes. Who doesn't?
Pros
Has 6 exercise modes for runners of all fitness levels
Built-in cooling fans and port to charge your device
More affordable than most treadmills and easy assembly
Cons
Maximum incline up to 10%
6. Bowflex BXT216 Treadmill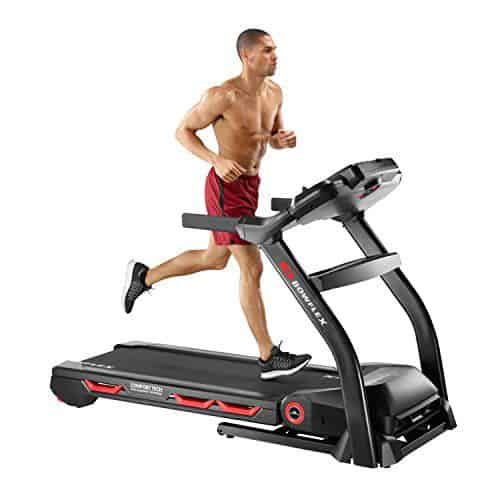 Sometimes you need to walk, other times run, and still other times sprint or do HIIT. For this, you'll need a treadmill that supports all types of exercising without overheating or choking. The BXT216 by Bowflex is a powerful top-rated machine that gives you the same running experience as top performing gym treadmills. Here are some of its standout features.
For starters, this wide running treadmill is designed with the largest and heaviest frame on this reviews list.
Wait… I know you're thinking that it might be too heavy to move around, but there are two good reasons why you should consider this compact treadmill.
One, its folding design and compact construction is great for saving space, and it has wheels on its base for portability. Two, because of its size, this flat folding treadmill is more stable and supports more weight than most treadmills in its price range. The T216 supports max user weight up to 400 pounds, making it perfect for heavy people and for sharing with your family members.
Treadmills with motor power of above 3.0 HP can handle pretty anything you can throw at them, so how much more with the T216 treadmill? It is powered by a 4.0HP motor, the same as most gym treadmills, making it ideal for intense exercising. With this Bowflex treadmill you get speeds from 0.5 – 12 mph.
Whenever you get on a treadmill, it's important to check on the build of the running surface A good treadmill should have a well-cushioned, flexible but firm deck. The T216 features Comfort Tech cushioning for its deck to protect users' joints. It feels firm but provides the right amount of bounce to your feet. Also worth mentioning are the sizeable side rails for easy access on and off the treadmill.
The BXT216 has a large well-designed console, integrated with four water bottle holders, a device holder to securely hold most tablets, a headphone jack to charge your devices while you exercise, and a large touchscreen.
Treadmill with 22 Inch Wide Belt
The BXT216 treadmill has the largest LCD monitor in this list – a 9″ screen – through which you can view your basic workout data plus pick an exercise ( see treadmills with tv screens ). Yes, this 22 inch wide belt cardio trainer has fewer programs than others, but we found them sufficient for most people. They are designed by coaches, so you get a great workout. You also get a coach who cheers you every time you reach your goal and encourages you to set a new goal and build endurance.
The console area features built-in speakers for background music and USB or headphone jack to plug your mobile phone device. Lastly, this large running treadmill is telemetry-enabled and contact pulse rate reading enabled. You can track your heart rate via a chest strap (included) or the built-in pulse rate sensors on the handgrips.
Pros
The incline function goes up to 15%
Has an audio jack for connecting your device while you listen to music or podcasts and a media port for charging devices
Top speed is up to 12 mph on its wide belt
Has a higher user-weight capacity compared to most big-sized treadmills
Cons
Has fewer built-in workout programs compared to other wide treadmills
7. Xterra Fitness TRX3500 Folding Treadmill
The Xterra Fitness TRX3500 treadmill is another great option for serious runners. Boasting of quality performance and superior folding capabilities, the TRX3500 is a heavy-duty treadmill that is well-built and stable, supporting users weighing up to 350 pounds. Like the other treadmills on this reviews list, this running treadmill features a sleek design and compact mechanism.
We like that it is coated with scratch-resistant and rust-resistant paint. It is protected by a lifetime warranty, which is excellent. This flat folding treadmill has a peak HP of 3.0, providing sufficient power for all types of exercises. It works quietly and cools itself to allow for long workout sessions. You can run at greater speeds from 0 to 12 mph on the 20″ wide belt.
The console area features a built-in cooling fan to cool you down and let you keep exercising, built-in speakers, an MP3 jack, handlebars with built-in pulse sensors, and a 6.5 backlit display.
Just like other treadmills this LCD screen tracks top speed, time, distance, calories burned, and heart rate. You can also pick a program from the 30 available. Lastly, this flat folding treadmill offers 12 incline levels for intense workouts that enable you to burn more calories per minute.
Pros
Has one of the best warranties on the market – lifetime for motor and body
Allows you to plug devices into the USB port so you can listen to music
Integrated with Xtrasoft cushioning to provide support and protect knees
Has 20 inch wide belt and shelf to hold mobile devices
Cons
Not compatible with workout apps
8. 3G Cardio Elite Runner Treadmill
Our last pick, the 3G Cardio Elite Runner Treadmill, has one of the longest and widest running belts on the market. Built for serious runners, this running machine has awesome features that will leave you smiling ear to ear. Featuring the heaviest frame, weighing over 380 lbs, this running treadmill is made of steel to ensure stability and durability. These are clearly the advantages of a heavyweight machine, but this weight also has its cons.
The main advantage is that it supports up to 400 lbs and is one of the best treadmills for heavy persons. The disadvantage is it's too heavy to move and the unfolding design doesn't make things easier. It measures 84 by 35.5 by 58 inches, so make sure to set aside space for this machine.
This home treadmill has a powerful 4.0 HP motor, which is the motor capacity offered by most gym treadmills and preferred by serious runners. The motor works quietly without vibrating or overheating and is great for intense workouts and speeds up to 12 mph. This motor has a max incline of 15%, allowing you to engage different muscle groups at the same time.
Ideal Home Treadmill with an Extra Wide Belt
For the tread, you'll love what the 3G Cardio Elite Runner treadmill has to offer. It has the largest running surface we've seen so far. Measuring 62 inches long and 22 inches wide, even runners 6 feet tall and above will find it spacious and comfortable. The wide belt is integrated with cushioning to protect users' knees.
The large console area is as impressive as the running deck. You get space for your water bottles, built-in fans to keep you cool, speakers and audio jack, a headphone jack to charge devices, and LCD monitors. Most importantly, the console has a safety key for emergency stops. Lastly, the 3G Cardio Elite Runner running treadmill has 10 guided workouts, including 8 preset and 2 customizable.
Pros
Features an orthopedic for a comfortable workout experience
Lifetime warranty for residential use
Telemetry-enabled and has a shelf to keep mobile devices
Cons
How to Choose a Wide Belt Treadmill: Buyer's Guide
There are thousands of treadmills on the market. In fact, if you try researching on a popular online platform, you'll find over 7,000 treadmills to choose from. So, how do you pick the right treadmill for you?
You should consider the following factors to narrow down your top choices list for the best wide treadmills.
Size of machine
Treadmills are available in all sizes. You'll find slim treadmills that can fit under a bed or couch. There are also mid-sized treadmills and large treadmills like the ones above. When purchasing a treadmill, first inspect your home or garage to see if you have enough space for a home gym.
You may not need to worry so much about matching your decors and interiors because these treadmills are mostly available in grey/black.
Design
Treadmills generally come in two types – either folding/flat folding or non-folding. Foldable treadmills save space and usually come with built-in wheels for easy portability.
If you're working with a small space, a running treadmill that is folding is a great buy. Most of the treadmills above are integrated with SoftDrop system for easy folding and unfolding. Non-folding treadmills, such as the 3G Cardio Elite Runner, are quite large and require lots of space.
Cushioning
Always go for a machine with good cushioning to protect your knees and joints. Bowflex treadmills are integrated with Comfort Flex cushioning, while NordicTrack are integrated with Flex Cushioning, Proform Pro 505 with ProShox cushioning, and other models with similar patented cushioning tech. Wide treadmills have 20″ wide or 22″ wide belt, so choose the size that meets your exercising needs best.
Workout programs
I have nothing against self-training. It's great that some guys can do it, but I find it hard, or maybe I don't like guessing. That's why I love a treadmill with workout exercises, and there are no compromises to that. Built-in programs connect me to fitness coaches and more. All I need to do is hop onto my machine, select a program or route, and get to know the calories burned during the exercise, and just exercise. The treadmill will automatically change the speeds, incline, and decline – it's awesome.
The treadmills above have preset exercises with some offering 50. Also, the Proform treadmill is iFit ready, while a few others work with other workout apps.
Your budget vs price
Treadmills are somewhat expensive. I use the word somewhat because, yes, the initial cost might be high, but considering all the benefits a treadmill provides, it's worth the price. Plus most running treadmills come with long warranties so you're assured your machine is protected.
Final Thoughts on Treadmills with Wide Running Belts
If you're a serious runner looking for a treadmill to handle HIIT exercising, or you're tall and looking for a treadmill that gives you sizeable room, a wide-belt treadmill is the right running machine for you. The treadmills above are sturdy, stable, affordable, and durable. What's more, they offer numerous options for guided workouts, combining high-quality performance and versatility.
Written by Alisha Wishart – TheHealthPot.com
Certified Personal Trainer (CPT), Writer and Contributor
Alisha, is a Mother, Wife and Certified Personal Trainer (CPT).  She understands how demanding everyday life can be and takes great pride in working with individuals and groups to help them achieve their desired fitness goals. Read more about Alisha here.