There is no doubt every fitness enthusiast needs a fitness tracker. But what do you do if the standard models don't fit your wrist? We've got your back. In this article, we review the best smallest fitness tracker for small wrists..
With Fitbit leading the pack, these trackers are great for activity tracking, heart rate, and sleep monitoring. Also, some offer extra features such as blood pressure monitoring, breathing exercises, and coaches for guided workouts.
Here are our top picks at a glance:
1. FitBit Inspire HR Fitness Tracker
2. Bellabeat Leaf Urban Smart Tracker
4. Samsung Gear Fit2 Fitness Tracker
5. Garmin Vivosport Activity Tracker
7. FitBit Zip Wireless Activity Tracker
10. Letscom id115 HR Plus Fitness Tracker
Best Smallest Fitness Tracker Reviewed
1. FitBit Inspire HR Fitness Tracker
Features
Specifications

OLED display
Heart rate tracking
Cardio fitness score
Sleep tracking
Fit-Bit app compatible
Goal setting
Waterproof

Size: 1.2 x 3.9 x 8.9 mm
Weight: 3.5 ounces
Battery life: 5 days
Warranty: 1 year limited warranty
Check out how the Fitbit Inspire works
Our first pick, a top-rated tracker, is the FitBit Inspire HR tracker. If you've owned the Alta HR or Alta, you'll be pleased by the Inspire HR. It's an upgrade of the two models, with more exciting features to offer.
The FitBit Inspire HR offers continuous fitness tracking, heart rate monitoring, and tracks your sleep stages. Just like the other FitBit models, the Inspire HR is easy to use. Featuring a minimalist design, this small fitness tracker will look good on your wrist without standing out.
This FitBit for small wrists comes in black, white, and lilac, making it ideal for different outfits. Its band is made of silicone for durability. The material is also hypoallergenic; you don't have to worry about irritation. You also have the option to upgrade to a steel band.
The Inspire HR features an easy to use display with a sensitive touchscreen. When it comes to features, this small Fitbit tracker comes with the basic features and more.
It can track your day-to-day performance through its 15+ exercise modes including running, biking, swimming, and treadmill modes. I tested my tracker using the treadmill mode. I was able to monitor my heart rate, track pace, distance, speed, and calories burned.
For modes such as running, you can connect this fitness tracker to your phone's GPS which gives you a better picture of your route. As we've mentioned, the Inspire HR also has a sleep tracking feature. This impressive feature allows you to keep an eye on sleep patterns. This feature is ideal for suffering from conditions such as sleep apnea.
Lastly, the manufacturer claims the battery can last up to 5 days when fully charged (100%), which means you'll need to recharge your tracker at least twice every week. Now, honestly how long the battery lasts will be determined by how you use the tracker.
A few tips to help you maximize the battery life, turn off notification and screen wake when you retire for the day, and during the day turn notifications on for only calls and texts.
What we liked
Features a narrow, sleek design
Great sleep tracking feature
This Fitbit tracker for small wrists has a long battery life
Smartphone call and message notifications
What we didn't like
Small screen
No onboard GPS feature
2. Bellabeat Leaf Urban Smart Tracker
Features
Specifications

Wireless sync
Menstrual tracking
Smart alarm
Guided meditation
Sleep tracking
Activity tracking

Size: 1.89 x 1.18 x 0.43 inches
Weight: 0.5 ounces
Colors: Black silver, rose gold,
Battery life: 6 months (4320 hrs)
The Bellabeat Leaf Urban is one of the best small fitness trackers for women. There are hundreds of amazing trackers on the market but most of them do not have features to cater to women's health needs. But, the Bellabeat Leaf Urban got your back. It's the perfect fitness device for every woman young or old. Let's see what it has to offer.
The Bellabeat Leaf Urban features a leaf shape and is available in two colors; rose gold and silver black. You can wear this fitness tracker in three different ways; a bracelet, necklace, or clip it on your cloth. The leaf shape is stylish; it doesn't look anything like a fitness device and will compliment your outfit.
Like all the other trackers on this list, the Leaf Urban tracks your steps, calories burned, inactivity, and sleep. For activity tracking, this fitness device cannot tell activities apart so you'll have to manually enter the activity you're doing through your smartphone.
Also, as a person who works in a busy office, I enjoyed its periodic reminder that gave me the push to get up and stretch; mostly short walks. You can customize these reminders so the alarm goes off every 40 minutes or so. There is also the 'do not disturb' option for when you have long meetings or something. One thing I noted the alarms are great for when I'm up but as a morning alarm it didn't work for me. I'm a heavy sleeper.
Speaking of sleep, this smallest fitness tracker has the ability to track your sleep patterns. It'll accurately track the hours you sleep and the quality, so you can change your habits for better rest.
For women's reproductive health, the Bellabeat Leaf Urban tracker allows you to track your menstrual cycle. This means you can track your safe days and ovulating days with ease. You can also use this fitness device to track your pregnancy.
To view your data, you'll have to pair this device with your phone. You'll love that it has a lot of fitness activities to choose from.
Another appealing feature is the battery life which lasts up to 6 months. No worrying about cables or charging. Also, replacing the battery is easy. A standard CR2032 battery works just fine.
What we like
Best small fitness tracker for women trying to conceive
Stress tracking function to help find out what brings about stress in your life
Guided meditation and breathing to help reduce anxiety
Gorgeous design; can complement any outfit
What we didn't like
Does not monitor blood pressure
3. Moov Fitness Tracker
Features
Specifications

Real-time audio coaching
Sleep monitoring
Motion sensors

Size: 1.1 x 0.3 x 8.9 inches
Weight: 5 ounces
Color: Aqua blue, fusion red, blizzard white, black
Battery life: 6 months
If you are looking for a small fitness tracker for HIIT, the Moov fitness tracker is the right pick. Made for all types of athletes, this tracker is what you need to set fitness goals and help you achieve them.
So, who is this tracker for? The Moov tracker is ideal for running, climbing, walking, swimming, boxing, and cycling exercises. You can wear it on your wrist or ankle.
Its band is made of silicone material which is lightweight and comfortable. The tracker fits snugly, will feel like part of your wrist or ankle.
How does this Moov smart fitness watch work? Unlike other trackers on the market, Moov uses motion sensor technology. It's fitted with 3 sensors that track your movement and translate it into usable data.
Another feature that sets this small fitness band apart from others on the market is the audio coaching. This unique feature will guide you in 5 different sports.
The cycling coach will guide you in your cycling sessions. You can use the Moov tracker to track speed, distance, cadence, and heart rate.
You also get a running program with a coach. Here this tracker tracks calories burned, steps, and elevation. For swimming, you can track stroke count, turn times, rests, and distance.
You also get access to a body-weight training and boxing. This real-time coaching ensures your workouts are fun and intense to target different areas in your body.
As for the battery life, the manufacturer claims it can last up to 6 months and most users have said this is true.
What we liked
Waterproof. You can use it when swimming, showering, kayaking
Inexpensive
Comes with multiple coaching options
Can be worn on the ankle or wrist
What we didn't like
No heart tracking feature
The sleep tracking feature does not give accurate data
4. Samsung Gear Fit2 Fitness Tracker
Features
Specifications

Large, full-color touchscreen
Slim stylish design
Bluetooth connectivity
Compatible with iOS and Android smartphones
Built-in GPS
Water and dust resistant

Size: 6.42 x 2.72 x 3.62 inches
Weight: 3.84 ounces
Color: Blue, Dark Gray, Black, Pink
Battery life: 4 days
If you are looking for an alternative to the Fitbit fitness tracker, consider the Samsung Gear Fit 2. I believe Samsung is the only brand that can hold a candle to Apple products. Now, this fitness tracker has loads of features that will ensure your workout experience is smooth and enjoyable.
Featuring a sleek, ultra-slim design, the Fit2 tracker is designed for any sport that requires pace, distance, and heart rate monitoring. Some of the basic features this small fitness tracker offers include heart rate, calories burned, and pace. It comes with a built-in GPS that allows it to track your pace and distance accurately. Also, to complement the GPS function, the Fit2 watch has a timer that tracks even your inactive moments, giving you accurate metrics at the end of the day.
So, how accurate is this minimal fitness tracker? The Samsung Fit 2 comes with multiple sensors, a gyroscope, a heart rate monitor, a barometer, and an accelerometer that will provide you with accurate metrics. Also, the Fit2 can be connected to your phone via Bluetooth so you can track your metrics via your phone. This tracker is compatible with Android and iOS smartphones.
Apart from connectivity to your phone, the Samsung Fit2 small fitness tracker is compatible with 2 apps; the S Health apps and Samsung's Gear app. The S Health App uses the data provided by the tracker to customize your fitness routine. It also works perfectly with Google Health and Google fit (read more here on how to link fitbit to Google Fit)
The Gear app by Samsung allows you to upload music to your tracker. Also, the Fit2 is preloaded with Spotify so you can listen to music anytime anywhere.
For your comfort, this tracker comes with ultra-thin and light straps with a curved display that ensures the tracker rests on your wrist perfectly. Made of silicone, the bands are water-resistant and sweat-resistant, making this tracker perfect for all day wear.
What we liked
Available in an array of stunning colors
Water-resistant and dust-resistant material ensures its durability
Easy to charge and fully battery lasts up to 4 days
Plenty of storage space (4GB) and Spotify access
What we didn't like
The Samsung Fit2 is not waterproof
5. Garmin Vivosport Activity Tracker
Features
Specifications

Built-in GPS
Slim design
LiveTrack feature
Wellness monitoring
Built-in apps
Heart rate sensors

Size: 8.7 x 0.82 x 0.43 inches
Display: 0.38 x 0.76 inches
Weight: 0.96 ounces
Color: Fuchsia focus, Limelight, black
Battery life: 7 days smartwatch mode, GPS mode 8 hours
Garmin is another renowned brand in the world of small fitness trackers. Some of their popular options include the Vivosmart series, the Forerunner series for runners, and the Fenix 6 series for water sports. For this review, we'll look at the Vivosport activity tracker.
The Vivosport small fitness band is an upgrade of the previous model, the Garmin Vivosport HR+. They share some similarities and the Vivosmart comes with some extra high-end features which make it a worthy buy.
For style, truthfully this watch is not designed to make a fashion statement. It features a basic design; ultra-thin rubber bands with a small rectangular screen for the watch. The bands are available in three colors, so you can choose one that best suits your style.
We love that the display is colored and barely uses power. This fitness device needs just a little ambient light for the screen to light ups, the brighter the sun, the clearer it gets. When you go into a dark room, you only need to tap on the screen for the tracker to light up. This ensures this device can stay on 24/7 without having to charge it frequently.
Another feature you'll love is its ability to track all your activities during the day; your steps, stairs climbed, and even moments when you are stationary. Apart from outdoor activities such as running, this fitness band has a gym mode that allows you to track your workout routine at the gym, specifically weight lifting.
For outdoor activities, the Garmin Vivosport tracker comes with a built-in GPS tracker that will give you accurate data depending on the route or trail you use.
Lastly, according to the manufacturer, its battery should last 7 days or 8 hours in GPS mode. Well, most users have found that it'll last at least 3.5 days when fully charged. Also, charging it is easy, it comes with a charging cable.
What we like
Lightweight and slim design compared to the previous model
Efficiently tracks different activities
Easy to operate and comfortable
Saves on power
What we didn't like
Water-resistant but not waterproof. It's not ideal for tracking swimming activities
6. Polar A370 Fitness Tracker
Features
Specifications

GPS tracking
Removable straps
Easy charging
Heart rate tracking
Bluetooth app connectivity
Waterproof up to 30 meters
Sleep tracking

Size: 4.53 x 2.95 x 3.74 inches
Weight: 3.21 ounces
Color: Black, White
Battery life: 4 days
If you are looking for a fitness watch that will give you a detailed overview of your day, consider the Polar A370 fitness tracker. Made of durable material, this fitness watch is ideal for anyone looking for a less flash alternative to the Fitbit tracker.
This tracker features a slim and stylish design and comes in multiple stunning colors including ruby red, deep blue, white, and black. The straps are comfortable and removable to allow you to access the charging port at the back of the device.
For the display, you'll get a rectangular colored screen with large, easy-to-read numbers.
It comes with multiple activity modes to track different types of sports. Frankly, it has more modes than most trackers. Also, the Polar A370 is GPS enabled. We noticed the Bluetooth connection was a bit shaky but it still gave accurate metrics. Also, the A370 makes up for this by offering continuous heart rate monitoring.
For fitness apps, this watch works perfectly with most fitness apps including the Polar smartphone app and MyFitnessPal. You have to customize the watch through your phone.
Last but not least, we liked that the battery, when fully charged, can last up to 4 days.
What we liked
Waterproof casing protects it from sweat
Comes with the Polar Sleep Analysis App
In-depth sleep analysis makes it easy for you to adjust your sleep habits
Affordable compared to most trackers with the same features
What we didn't like
You have to sync it manually with your phone
You have to sync it with your phone to use the GPS function
7. FitBit Zip Wireless Activity Tracker – The Smallest Step Tracker
Features
Specifications

Small and discreet
Activity board
Waterproof
Wireless syncing
Removable band
Tap display

Size: 0.25 x 1.25 x 1.75 inches
Weight: 0.32 ounces
Color: Lime, charcoal, blue
Battery life: 6 months
There is no doubt Fitbit designs some of the best smallest fitness trackers and the Zip wireless activity tracker is no exception. Featuring a simple, stylish design, the Zip is small and easy to wear. Just put it in your pocket, clip it on your bra or waistband and you are good to go.
Smallest Activity Tracker
But, don't let its small size fool you. It's packed with loads of features that will remind you to stay on your feet so you can achieve your fitness goals. As for connectivity, the FitBit Zip comes with a 3-axis accelerometer and is Bluetooth enabled (4.0) to sync it with your devices. This small activity tracker can be paired with over 200 Android, Windows, and iOS devices.
Once connected to your device, you can then see your stats and view your progress via the FitBit dashboard. And, apart from using your phone, the FitBit Zip comes with an easy-to-read screen where you can view steps, calories burned, times, and distance covered.
So, how accurate is this small FitBit? It's accurate than some of the smallest activity trackers. Users noted for every 2500 steps it was only off with one step which is quite impressive. Some fitness trackers are off with around 100 steps. When it comes to distance covered, this tracker is off by around 2 miles for every 10 miles which is a bummer but it makes up for this by recording time perfectly.
So, basically, the FitBit Zip tracker has a few flaws but it makes up for them with some excellent features every fitness buff needs.
What we liked
Small and lightweight. You'll hardly notice it
Compatible with the FitBit app that allows you to interact with your friends and share your progress
Battery lasts for up to 6 months. No worry about charging and stuff
Inexpensive
What we didn't like
Does not have a sleep tracking feature
Doesn't come with a heart rate monitor function
8. Pard Fitness Tracker
Features
Specifications

Heart rate monitoring
Sleep analysis
Multiple sports modes
Blood pressure monitoring
Bluetooth connectivity

Size: 4.7 x 7.9 inches
Color: Silver, Gold
Battery life: 5 – 7 days
From the H8 series to the C7S series to the Q8 series, Pard is an industry leader in smart fitness watches for men and women. The Pard fitness tracker we are about to look at is part of the H8 series and boy does it have loads of features.
First, this slim fitness tracker is for any woman looking for a stylish fitness watch. The tracker is cute and will be a great addition to your wardrobe.
Apart from being stylish, this tracker is a worthy buy because it tracks up to 8 different kinds of sports. You can use it to track your progress when
Ridding
Walking
Climbing
Swimming
Playing football
Basketball
Playing badminton
When playing these sports it helps you track calories burned, time, and your heart rate. For walking, climbing, and running, it'll also help you track your steps.
Also, you can pair this fitness tracker for small wrists with your phone for easier tracking. It works well with iOS 8.0 and above and Android 4.4 and above.
Apart from exercising, you can use this cute tracker for blood pressure monitoring and sleep monitoring. What more could you ask for?
What we liked
Available in 2 beautiful colors and features a stylish design
Perfect for all day use
Stainless steel bands that great for all skin types
Can be paired with a phone for message notifications
A fully charged battery can last up to 7 days
What we didn't like
Heavier than trackers with silicone bands
9. TMYIOYC Fitness Tracker – Best Fitness Tracker for Small Wrists
Features
Specifications

Heart rate monitor
Blood pressure and sleep monitoring
Message and call notifications
Sedentary reminder
Adjustable band

Size: Adjustable
Weight: 0.8 ounces
Color: Silver, Black, Gold
Battery life: 5 – 7 days
Made of durable steel, the TMYIOYC Fitness Tracker is another great pick for women of all ages. It features a 0.96 inch OLED screen that responds easily to touch. The bands are easily adjustable; you can remove or add links to fit you snugly.
Just like the other small fitness trackers on this list, the TMYIOYC tracker will help you keep an eye on the basics; time, distance, heart rate, steps, and calories burned. And, it has more to offer. The features that make this tracker stand out included the sleep tracking feature that helps you maintain or change your sleep habits.
This tracker also comes with a blood pressure monitoring feature which makes it ideal for seniors.
Another feature that you'll love is the alarm reminders. You can set the tracker to remind you when to get up and stretch. Also, you can sync it to your phone to get SMS, SNS, and call alerts.
What we liked
Comes with a remote control camera shooting
An ideal present for a loved one
Easy to charge; full battery can last up to 7 days
What we didn't like
Not ideal for swimming exercises
10. Letscom id115 HR Plus Fitness Tracker
Features
Specifications

Sleep and heart rate monitoring
Multi-sport modes
Call and message notifications
Built-in charging port
Remote camera shooting
Sedentary alert

Size: 5.4 – 7.5 inches
Weight: 0.6 ounces
Colors: Blue, Black, Pink, Purple, Red, Green,
Battery life: 7 days
If I were to describe this tracker in one sentence it would be, the Letscom ID115 HR Plus is the best smallest fitness tracker for both men and women. It has lots to offer and comes at a very affordable price. Letscom is a leader in the tech industry, creating products that are user-friendly and affordable.
The ID115 HR plus is a unique fitness tracker that can be used in 14 different sports which are hiking, running, spinning, riding, treadmill, badminton, dancing, yoga, HIIT, basketball, and more.
To get the most out of your ID115 HR Plus, connect it to your phone via Bluetooth. It works perfectly with android 4.4 and above and iOS 7.1 and above. Once connected via BlueTooth, use your phone's GPS to get real-time stats when exercising.
The data you'll get includes steps, calories burned, distance, and heart rate. Apart from exercising, you can use the ID115 HR plus to get notifications of calls, messages, and SNS messages. You'll never miss any important calls or messages when you exercising.
Also, we like that the Letscom ID115 HR Plus comes with a sleep monitoring feature that allows users to get data on their sleep habits.
What we liked
Comes with an inactive alert feature that reminds you to get up and stretch
Long battery life; lasts up to 7 days
Waterproof (IP67)
Comfortable and easy to use
What we didn't like
Heart rate monitoring feature not accurate
How to choose the smallest fitness tracker
Fitness trackers are not designed equal. So, which fitness tracker should you get? Here are some important factors to keep in mind when choosing the smallest fitness tracker.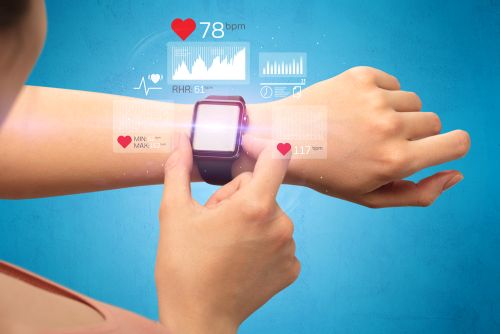 Brand
The first thing you want to consider is the brand. You may opt for bigger brands such as Samsung and Apple but from our research, we've found that even less known brands such as Pard manufacture equally awesome products. Some popular fitness tracker brands include Garmin, Apple, Samsung, Fitbit, and Misfit. If you are low on budget, go for lesser known brands that offer the same features as the renowned brands.
Sport
Which choosing a fitness tracker for small wrists, consider the workouts/sports you are involved in. most trackers are designed for multiple sports while others are for one or two sports. A tracker is structurally designed for specific sports. If you want to use it when swimming, opt for one that is waterproof and can count strokes.
Design
Want a minimalist design or a trendy design? Some brands such as FitBit provide stylishly designed trackers. Honestly, they look nice and compliment any outfit. On the other hand, brands such as Polar pay little attention to the design but focus on the features. If you want a tracker for all day wear, opt for a stylish one that you can wear to the office. For women, we recommend Pard tracker or BellaBeat Leaf Urban Tracker.
Fitness features
Now, this is the most important factor to look at. You want a tracker that meets all your fitness needs. Your ideal tracker should show basic stats, that is calories burned, distance, steps, and time. Additional fitness features you can consider include GPS tracking so that you get real-time data and on-screen coaching for guided workouts. Also, a tracker with a sedentary alert feature would be a great choice.
Health features
We all want to know how our bodies are doing without having to visit a hospital. Some fitness watches offer more than the basic fitness features. You can get a tracker that will help you in blood pressure monitoring, sleep analysis, and guided breathing programs. This will help you develop better habits for a healthier, happier life.
Also, if you are a woman you could opt for trackers that help you keep an eye on your menstruation cycle and pregnancy.
Battery life
How long will the tracker last when fully charged? Some trackers such as the smallest FitBit band we've reviewed in this article offers up to 7 days of continuous use when the battery is charged. Another option you could go for is trackers that come with lithium batteries. This type does not require charging and can last up to 6 months. Pick one that will meet your needs best.
Final Thoughts
What are the best fitness trackers for small wrists? You can go for renowned brands such as FitBit, Apple, Xiaomi, and Garmin. If you are on a budget, you can opt for less-known brands that offer fitness watches with the same features but at an affordable price.
These small fitness trackers on this list offer the basic features and more. Ensure the small fitness band you choose offers activity tracking for different sports, heart rate monitoring, and has extra features such as sleep tracking. Any tracker from the above list is a worthy pick.
FAQs
1. Can a fitness tracker measure blood pressure?
Yes, some fitness trackers are designed to measure blood pressure. For example, the Pard fitness tracker on this list offers this function.
2. Which FitBit is smallest?
The FitBit Zip is the smallest. However, it does not fit on your wrist. If you want a tracker that fits on your wrist then the FitBit Alta is the next smallest. It's ideal for wrists between 6.7 – 8.1 inches. It offers sleep monitoring, activity tracking, and heart rate tracking. The FitBit Inspire HR is a great alternative to the Alta.
Written by Alisha Wishart – TheHealthPot.com
Certified Personal Trainer (CPT), Writer and Contributor
Alisha, is a Mother, Wife and Certified Personal Trainer (CPT).  She understands how demanding everyday life can be and takes great pride in working with individuals and groups to help them achieve their desired fitness goals. Read more about Alisha here.