Looking for a HIIT trainer machine for your home gym? HIIT trainers are some of the best pieces of exercise equipment that you can buy to help you get a full-body workout.
So why are these high-intensity trainers making the headlines among fitness enthusiasts? Two reasons.
One, this low-impact fitness machine makes every workout session count – helping you burn incredible amounts of calories in short sessions, with rest days to boot! How's that for starters?
Two, a HIIT training machine is a combined elliptical and stepper machine, so you get 2 for 1, saving you money and space.
In this review, we take a detailed look at some of the best elliptical HIIT machines available, their best features, and disadvantages so that you get the full picture. Toward the bottom, you'll find our guide for picking the right HIIT trainer for you.
Let's take a dive into the best trainers for high-intensity interval training or HIIT, kicking off with our Top Three Picks.
Top Home Fitness Picks
Top 7 Best HIIT Trainers Reviews
1. Bowflex M8 Max Trainer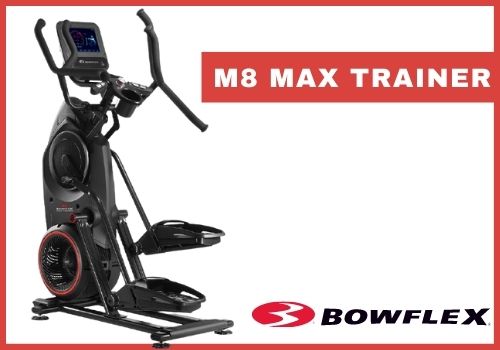 The best way to describe the M8 Max Trainer is that it's a marriage between an elliptical and stepper machine. The manufacture took the best features of both machines and blended them together to provide a highly functional HIIT trainer requiring less space and money than most elliptical machines or steppers.
Features & Specs
The Bowflex M8 Max Trainer is designed to work for users of different fitness levels with the 20 levels of resistance that it offers. It means that even pro athletes will get a good workout on this machine. On top of the resistance levels, you get 7 workout programs that are short but intense for a maximum calorie burn at the shortest exercise time.
The M8 trainer is compatible with JRNY, a fitness app by Bowflex that works like iFit and Peloton. With this app, you can create custom and daily workouts, set goals and track stats, and increase and decrease intensity.
Looking on the console of this HIIT trainer, you'll notice its similarity to the Bowflex M7 trainer. It features a wide dual LCD/LED screen that is easy to use and read. It comes with a USB charging port and a media shelf for your phone.
This Max trainer also features long multi-grip handlebars equipped with built-in pulse rate sensors that track your heart rate while you exercise.
Pedaling is effortless with the M8 Max trainer's large pedals. Their motion will help work your upper and lower body with ease. Lastly, the Bowflex M8 Max Trainer comes with transport wheels that make it easy to move.
Pros
Unique handle design that exercises your biceps, triceps, and lats
Compact design ensures it takes little space in your home gym or living room
Stores stats for up to 4 people
Supports up to 300 lbs
Cons
Warranty shorter than what other brands offer
The JRNY is a paid app
2. Proform HIIT Trainer Pro
Another ProForm trainer that you should consider is the ProForm Cardio HIIT Trainer Pro. Featuring a sturdy steel frame, this unit is designed for anyone looking to dive straight into high intensity interval training.
This Proform model is an upgrade of the previous model we reviewed. Here are a few features that make this model a standout beside other ProForm HIIT trainers.
Features & Specs
Resistance levels: Most HIIT trainers offer up to 22 levels of resistance. Well, the Trainer Pro goes several notches higher with 26 levels of resistance. There's a good reason for its surname – Pro athletes get a good workout with this machine.
Workout programs: Older ProForm trainer models offer around 20 programs, so the Pro simply has to step up and offer more.
It comes with 34 built-in workout programs in varying levels of intensity and with instructions on how to exercise both your upper and lower body.
iFit: On top of the workout programs, this machine is iFit-ready, so you can connect to iFit and enjoy all the goodies it offers.
Display: Of course, you'll want to track your stats, and this model makes it so much easier with a 14-inch monitor. It will not only keep you updated but also motivated. Nothing beats a high definition monitor to immerse in the workout videos and follow trainers on iFit.
Flywheel: The Trainer Pro comes with a 30-lb flywheel that works quietly and smoothly, making it possible for you to do smooth stepping motions, with only minimal pressure on your knees and back.
Speakers: You can't beat working out with good music playing in the background. This high intensity interval trainer comes with two built-in speakers and an audio auxiliary port to keep you in high spirits and a positive mood.
Warranty: Lastly, this smart HIIT Trainer Pro has a stronger warranty than other trainers. The manufacturer offers lifetime warranty on the frame, 5 years on parts and 2 years on labor. It's hard to find lifetime warranties these days, so we're impressed.
The Trainer Pro also shares some features with other Proform HIIT trainers. It comes with a water bottle holder, transport wheels for portability, cushioned pedals, and heart rate sensors.
Pros
Ergonomic handlebars that allow for upper body workouts
Comes with a CoolAire fan that keeps your body cool as you workout
Frame coated with scratch-resistant and rust-resistant paint
Has a solid warranty that's hard to beat
Cons
3. ProForm HIIT Trainer Lite 5.9
Just because you're on a budget doesn't mean that you can't have a ProForm HIIT trainer. In fact, the Proform HIIT Trainer Lite 5.9 HIIT elliptical machine should be first on your list. Here is why.
Features & Specs
Build: You want a machine that can handle your weight without wobbling. The Lite 5.9 HIIT elliptical is crafted from high-quality steel and assures you of stability while you work out. Its pedals are large with a slip-resistant surface to avoid accident and keep you safe while working out.
Handlebars: A good trainer should exercise your upper and lower body. The handlebars of the 5.9 elliptical trainer move smoothly, which is great in exercising your upper body, triceps, biceps, and more. Not only that, the handlebars are well padded for comfort and equipped with built-in pulse sensors for heart rate monitoring.
Console: The Proform Lite 5.9 elliptical HIIT machine comes with a powerful 5-inch monitor where you can set your goals, monitor your progress, pick a resistance level, and choose a workout video from iFit.
Programs: Want guided workouts? This Proform HIIT machine offers all you need. It comes with 18 preset programs and is iFit ready. Well, iFit is a paid subscription service, but it provides all you need. You get to customize your routine through trainers and even customized routes.
Warranty: Lastly, like all Proform HIIT-trainers, the Lite 5.9 20 inch stride length elliptical trainer comes with a strong warranty. For the frame you get a lifetime warranty and 1 year for parts and labor. What more could you ask for?
Pros
Lighter and easier to move than most trainers
Offers 18 levels of resistance
Combines elliptical and stepper features to give you a full-body workout
Ideal for users up to 300 lbs
Cons
Does not have a cooling fan
4. NordicTrack C 7.5 Elliptical
NordicTrack has crafted some of the best fitness equipment you may know about. Their inventory includes rowers, ellipticals, benches, and more. Though the NordicTrack C 7.5 elliptical does not share a similar look with the other machines in our list, our team decided to include it because it has more features to offer than any other elliptical trainers we've evaluated. Let's have a look.
Features & Specs
Weighing over 200 pounds, this dynamic HIIT trainer is the ideal machine for anyone looking to intensify their cardio workout. The frame is solidly built to hold up to 325 lbs (147 kg), making it ideal for several users of different weights.
To deliver a good workout experience, the NordicTrack C 7.5 elliptical is powered by a magnetic resistance system and comes with a 20lbs flywheel that runs smoothly and quietly. For resistance training, you can choose a level from the 22 offered by this trainer.
You'll not get bored with its 26 workout programs and iFit, which will put your lower and upper body to intense workouts.
Speaking of upper body, the C 7.5's handlebars, much like other arm bikes, will exercise your arms, core and lats. As the handlebars keep your arms busy, it also does another job of monitoring your heart rate, thanks to the pulse sensors built into it.
For the console, the elliptical comes with a 5-inch responsive monitor that allows you to set goals, track progress, adjust incline and resistance level at the touch of a button. Lastly, unlike other ellipticals the Nordic Track C 7.5 allows you to adjust the stride per your needs. The stride is power-adjustable.
Pros
Has one of the best warranties on the market
iFit allows you to customize your workout so you can target specific muscles
Front transport wheels make moving it easier
Belt drive runs smoothly, ensuring you get a low-impact workout
Comes with a workout fan to keep you cool
Cons
5. Bowflex M5 Max Trainer
I can count on one hand the brands that have mastered the art of designing and crafting user-friendly and affordable fitness equipment. Bowflex is among these brands, and their equipment is top-notch. You can check out their elliptical bike combo machines here.
Bowflex is also one of the first companies to produce HIIT trainers, with the aim replacing elliptical trainers with HIIT machines that are compact, affordable, and loaded with more features. Their Max series includes the M3, M5, M6, M7, and M8. For this review, we'll look at the M5 which is an upgrade of the previous model M3.
Features & Specs
Full body workout: One of the reasons why this machine is popular in the gym and is in most homes is that it targets the upper body as well as the lower body muscles. The Bowflex M5 comes with angled handlebars, which you can hold from the top to work your shoulders and lats, and the lower handles to work your arms and core.
14 minutes workout on the M5:
This machine's stepping motion will work out your lower body – quads, hamstring, and calves. It's much like riding a bike, only better because you get to work your upper body, too.
Workout programs: I love using machines with programs because they make workout easier, diverse, and interesting. The M5 trainer by Bowflex offers 8 on-board programs such as the Smart Max Interval training that burns an incredible amount of calories.
Resistance: Looking to increase your training workout intensity? The M5 got you covered. With over 16 levels of resistance, you can easily switch from warm ups to high-intensity workouts at the touch of a button, providing all the challenge that you need.
LCD display: One of the features I look at when choosing a workout machine is the monitor. It has to be easy to use, and that's what you get with the M5 HIIT trainer – a user-friendly backlit monitor for tracking your workout stats. It's also Bluetooth-enabled, so pairing the machine with your phone is a breeze.
Heart rate: Another reason to go for the Bowflex M5 HIIT elliptical is the heart rate monitoring function. This machine comes with a chest strap that helps you track your cardiovascular stats.
Additional features: Other features you'll enjoy include a large cup holder that fits most water bottles, a media shelf, and cooling fan, and lastly, transport wheels for moving it around.
Pros
Has a strong warranty
Can handle up to 300 lbs
Takes up little storage space compared to other fitness equipment
Can store data for two people, allowing you to share it with a loved one
Cons
The M5 trainer does not have speakers
Costs more than most fitness machines but it's worth it
Relates Post: How to Disassemble an Elliptical Machines Easily!
6. ProForm Cardio HIIT Trainer
The ProForm HIIT trainer is an excellent option for anyone looking for an affordable hybrid machine. Made of durable materials, this machine features a 2-in-1 design that combines the functions of a stepper and an elliptical. As a result, you get to work out more muscles and lose weight faster.
Features & Specs
This ProForm HIIT machine has a well-built steel frame that is durable and stable, and designed to support a maximum weight capacity of 325 lbs. That's more than what most trainers can handle! A high weight capacity also means that it can be shared by several people with different weights.
What else separates this ProForm HIIT trainer a cut above other trainers? iFit. In a recent article on ProForm HIIT trainers, we looked at this program in detail. Here is a quick low-down. iFit is somewhat similar to the Peloton app. If you like workout apps, you won't go wrong with iFit.
It gives you access to a library with over 10,000 on-demand exercise videos, allows you to set your own goals, and offers guidance from an expert trainer
Best of all, you'll get to choose exercising routes from Google Maps, where your trainer will automatically mimic the terrain of that route, complete with the inclines and declines and all.
So the video library, training coaches, plus Google Maps routes all combine to give you a life-changing fitness program. In other words, there's no chance of boredom or a weight loss plateau hitting you.
For the stride length, this trainer allows for vertical 10-inch strides and horizontal 5-inch strides. This ensures you burn more calories than when using a regular elliptical.
When it comes to the display, users get to enjoy a 7-inch monitor, with a touchscreen that lets you view your stats and pick resistance levels and workout programs. Other features you'll like are the built-in heart rate sensors, cushioned pedals for comfort, cooling fan, and water bottle holders.
Pros
Offers vertical and horizontal stride motion for more calorie burn
Has a strong warranty
Comes with transport wheels for portability
Has a higher weight capacity than other HIIT trainers
Cons
No wireless heart rate monitor
Related: For low impact workouts we recommend these best seated elliptical machines
7. Horizon Fitness HT5.0 Trainer
Our last pick is the Horizon fitness HT5.0 trainer.
Features & Specs
Like other trainers on this list, it features a steel frame for durability and stability. The frame can handle up to 300 lbs and features scratch- and rust-resistant black finish. Its pedals are large and comfy. The stepping motion is smooth, quiet and gentle on the knees and back, so you don't have to worry about knee or back pain while using this machine.
For intensity workouts, this HIIT trainer offers 8 onboard programs and 10 resistance levels. With these programs, your workouts will be well guided, allowing you to burn more calories even during short workout sessions.
Pros
Comes with built-in speakers and a USB port for your phone
More affordable than elliptical HIIT trainers from other brands
Cons
Has fewer workout programs compared to other HIIT trainers on this list
How to Choose HIIT Trainers
When choosing a trainer for your home gym, there are a few things you should look at. Here are the top 6 things our team considered before putting together this list.
Space
Before you choose any fitness machine, you need to consider where you'll set it up and how you plan to store it. Fortunately, most HIIT trainers are compact and require little space compared to other fitness machines. A typical trainer measures about 3 – 3.75 inches and about 5 feet high, so make sure you have enough space to keep it.
Programs
Next you want to check on the number of programs. This depends on the brand you pick. For example, most ProForm HIIT trainers come with over 20 preset programs, while Bowflex trainers average 10 workout programs. These programs offer guided workouts, ensuring you burn more calories than when working out by yourself.
Also, brands such as ProForm are compatible with iFit, an app that gives you access to world-class trainers, customized routes via Google Maps, and workouts from their library.
Resistance
Most trainers offer adjustable resistance of up to 20 resistance levels, with ProForm trainers offering up to 26 levels.
Stride length
Another feature to look out for when choosing a HIIT machine is the stride length. Because this machine is stepper and elliptical combined, you need to look at the vertical and horizontal stride length. We recommend you choose one with adjustable stride length so you can fine-tune it to your needs.
Budget
Before you choose a trainer, consider the amount of money you want to spend. HIIT trainers are more affordable than regular elliptical trainers. Also, this machine is an elliptical and stepper combo so it's more cost-effective to get one than buy each machine separately.
Warranty
You want your machine to be protected in case of any damage, so it's a smart thing to opt for trainers with strong warranties such as ProForm HIIT machines or Bowflex Max Trainers.
Final Thoughts
Most people prefer working out from home because of the privacy and comfort they enjoy at home, and the ability to schedule their routines around their work. A HIIT trainer in your home gym is the perfect machine to address this need. It is an elliptical stepper machine that helps you burn more calories than what you get from traditional fitness machines. In the above list, you'll find the best HIIT trainers available on the market today.
Written by Alisha Wishart – TheHealthPot.com
Certified Personal Trainer (CPT), Writer and Contributor
Alisha, is a Mother, Wife and Certified Personal Trainer (CPT).  She understands how demanding everyday life can be and takes great pride in working with individuals and groups to help them achieve their desired fitness goals. Read more about Alisha here.