Sunny Health and Fitness has designed some of the best treadmills for home use. The Asuna treadmills by Sunny are compact, sturdy, offer incline training, and are folding. In this reviews article we look at 5 Asuna models that are price friendly and will be a nice add to your home gym.
Our Top Home Fitness Picks
In a rush? If you weigh 220lbs and below we recommend the 8730 which folds flat, has a large deck, and cushioning for low impact. If you want an option for intense training, the Sunny health fitness spaceflex motorized treadmill is the best option. It has a user friendly console where you can view your information, heart rate sensors, incline up to 12 levels, and folds for upright storage.
Sunny Health Fitness Asuna Treadmills Reviews
Boasting of slim sleek design, the 8730 is a modern treadmill that has a capacity of 220 pounds. Why is this home treadmill popular? One, the 8730 weighs about 95 pounds and its dimensions are 59 by 30 by 40 inches. This size makes it one of the smallest running treadmill on the market. What this means is you do not need a lot of area for exercising and storage. Also, this machine fold flat for storage under couch or bed.
Secondly, this Sunny asuna machine is made of durable material. For workout space, the 8730 offers a large 49 by 17.5 inches belt. This running deck is integrated with shock absorption technology that minimizes impact on knees and joints. You can run on deck without worrying about knee pain and more. The belt is powered by a 2.5 horsepower motor. While it is not ideal for intense exercising, you can use the 8730 for walking, jogging, and running exercises. If you want to do more intense workouts, we recommend you go for a larger wide belt treadmill.
On the console area, the 8730 has loads of user friendly features. These include a digital led screens that will help you track your workout information; speed, distance, time, and calories, a safety clip for emergency stops, built in speakers, audio jack and device holder where you can place your mobile device, pair it with the machine and listen to music as you workout.
When done exercising, simply fold it, lift it, and use the transportation wheels to move it to storage. When folded, this Sunny health fitness treadmill measures 30.5 by 64 by 5.25 inches.
Pros
This gym level type machine is foldable to save space
Offers speeds up to 8 MPH
Supports up to 220 lbs
Cons
Does not have pulse monitor
Tight on Space? Check Out Our List of Compact Home Rowers – CLICK HERE!
What is the difference between Asuna 8730G and 8730? The main difference is color. The 8730 comes in silver while the 8730G is available in gold. If you'd like to choose between the two, opt for the treadmill that matches your living room color. Here are a few other things you'll love about the 8730G.
Assembling an equipment takes time and it can be frustrating at time. Sunny took this into consideration and this trainer ships fully assembled. Just take the product out of the box, unfold it, start your treadmill and you are good to go.
Just like the previous model, this treadmill by sunny health features a small frame that is well built with a weight capacity of 220 pounds. This running treadmill is coated with scratch resistant and rust resistant paint that guarantees the durability of your machine. You can sweat without worry.
Also, the 8730G is powered by a powerful 2.5 horsepower motor that sustains long workout sessions without overheating or choking. For the deck, you get a 49 by 17.5 that well cushioned for gentle, low impact workouts. The deck plus motor allows for top speed of 8 mph.
On average, a human can sprint at speeds of about 6.5 mph, which makes this machine ideal for most people. This running surface is enough for walking, jogging and running exercises. Its console area is similar to the previous model. You get a 4 window display led screen to view your workout data, an audio jack, built-in speakers and tablet holder.
Pros
This compact treadmill folds to save space and has wheels for easy portability
Has high speeds – 8 mph
Floor stabilizers allow for use on different types of floors
Quick buttons for speed control
Cons
Not built for heavy users
If you are looking for a powerful treadmill, you can't go wrong with this auto incline running treadmill. We recently reviewed some of the best incline treadmills and looked at the Sunny Health Fitness Asuna spaceflex motorized treadmill 7750.
If you've not had the chance to look at the article, here are a few highlights of the Asuna spaceflex with auto incline. Boasting of a larger well-built frame, this machine can handle different types of trainings including high intensity interval training. The sunny health fitness asuna space flex weighs 127 pounds and measures 57 by 28 by 48 inches. This is slightly larger and heavier compared to the other Asuna models we've looked at above.
This means you'll have to set aside more space. And, like the other models above, it folds flat for easy storage. Its dimensions when folded are 57 by 28 by 19 inches. Now, because of its size, you'll get an larger running surface. The asuna spaceflex offers a 51l x 19w deck that is cushioned for low impact exercising. Also, to ensure user safety when getting off the deck, this trainer has textured rails. The belt is powered by a 2.5 motor that ensures the belt runs smoothly.
The console area of the asuna 7750 spaceflex motorized treadmill is unique. It features built in speakers, a usb port for your devices and a tablet holder. The asuna spaceflex also has 6 individual led windows where you can track time, program, distance, mode and heart rate. In its handles, this asuna spaceflex model has built in pulse sensors monitor. You'll have to hold onto the sensors while exercising. This feature helps you to workout to your optimum capability.
Lastly, another feature that ensures this trainer stands out from the rest is the inclining feature. This running treadmill offers auto incline up to 12 percent. Running on inclining feels like running uphill; you engage more muscles and burn more calories. When done exercising, fold up the spaceflex 7750 and use the transportation wheels to move it.
Pros
Has speeds up to 8 mph
This running treadmill with auto incline offers 12 levels of incline
The asuna 7750 spaceflex motorized treadmill has wide deck
Has 3 preset programs for guided workouts
Cons
Pulse monitor not telemetry enabled
If you love pop and color, the Asuna Spaceflex 7750p pink treadmill is the best pick for you. This machine has a max weight of 220 pounds. The 7750p is similar to the 7750 running treadmill. It's large and offers a 51l x 19w deck that has shock absorption to protect against impact. The foot strike area is well balanced and with a firm surface so you don't have to worry about slipping.
Like its sibling, this space flex motorized treadmill is foldable for easy storage with transport wheels for easy mobility. For the control panel, you'll get 6 led screens where you can view your workout data; heart rate, distance mode, pedometer speed and more. Like the 7750, this Sunny health fitness running treadmill with auto incline has built in pulse monitor sensors. Also, on the control panel you'll find buttons that allow you to change incline during treadmill hiit.
On top of the 8mph speeds, you'll experience incline training. This machine comes with 12 levels of auto incline enabling you to hiit training and burn fat.
Pros
This Sunny health and fitness running treadmill with auto incline is available in pink which is stylish
Has floor stabilizers so it can be used on different types of floors and to prevent wobbling
Slim fold design for easy storage
This Sunny health fitness asuna spaceflex is one of the most powerful treadmills on this reviews list
Cons
Heavier than other Asuna models
The Sunny Health Fitness 7700 is one of the best asuna treadmills for heavy persons. This treadmill is slightly smaller compared to the 7750 running treadmill with auto incline machine. It's made of pure alloy steel, a material that is durable and is coated with black paint that is stylish and chip resistant. This product dimension is 56 x 30.5 by 56.5 inches.
Its deck length is also slightly smaller than the 7750p treadmill with auto incline. It has a 51 x 17.5 inches that is also cushioned for your back and knees. Now, the feature that sets apart the asuna 7700 portable treadmill different from other options on this reviews list is its max weight capacity; It supports up to 440 pounds making it one of the best treadmills for heavy persons.
Also, unlike the sunny health fitness asuna spaceflex, the 7700 has manual incline. It offers 14 levels of incline which is 4 levels more than other options on this review list. You get a knob on the right side where you can manually select the incline level. For the console, the 7700 has a simple, user-friendly console where you can check your workout information and a tablet holder. The handles are ergonomically designed so you can hold onto them while exercising.
Pros
Soft Drop system for unfolding
Handles are slip resistant
Has a large tough running surface
Cons
No heart rate monitor
Manual incline
How to Choose a Treadmill
This review would be incomplete if we didn't give you some tips to help you choose the best treadmill from this reviews list. What features do you look at when choosing this exercise equipment?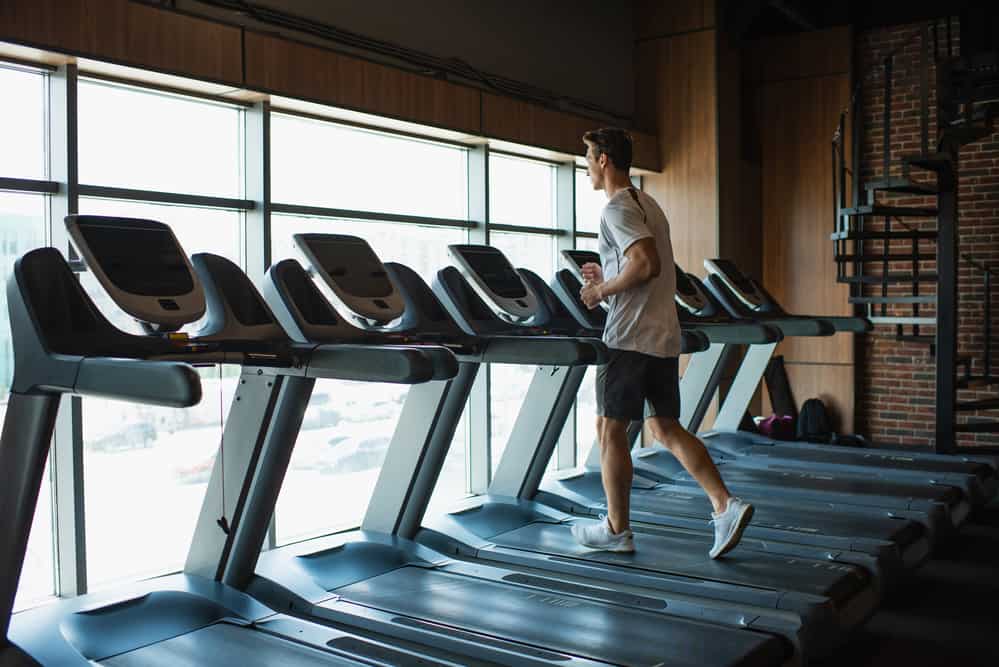 Frame
How much room can you set aside? The first thing you ought to consider in your search for a running training is the frame quality. You want to go for one made of durable steel for durability and coated with scratch resistant paint.
Also, its important to keep in mind the available room in your living room. If you have limited area, opt for the 8730 or 8730G that fold completely flat for storage. And the other options such as sunny health fitness asuna spaceflex 7750p can be stored upright on a corner, so it's also a great option.
Weight
How much do you weigh? To ensure your equipment lasts long, check the manufacturer's information on its capacity. Purchase a product that can support your weight. For lightweight runners, we recommend the top two treadmills and the space flex running treadmill with auto incline. For heavier users, the 7700 can handle up to 440 lbs.
Manual vs Auto incline
Which incline mode is the best? This depends on your preference. Running uphill on a treadmill close is great at engaging different muscles groups and if you want to burn more calories per hour, this is a feature you want to have on your equipment. Auto incline allow you to change with level with buttons on the console area while with manual incline you have use a knob to increase or decrease the level.
Console
Another important factor to consider is the console area. It should have an Led screen where you can see your workout information, aux cable port, speakers and more. For the handles they should be anti-slip and ergonomically designed so you can hold onto them as you exercise. inertia profile design. Also consider if you want heart rate monitoring. With this feature, you can exercise at your optimum level.
Programs
Apart from the 7750p running treadmill with auto incline, the other options on this list do not have preset programs. Guided workouts take the guessing out of your fitness experience. A program will control the incline and speed, allowing you to exercise hands free and burn the exact number of calories you want for the session.
Price
What is your budget? Treadmills come at different prices. Thankfully Asuna treadmills are price friendly.
Final Thoughts
Want to exercise at home? These Asuna treadmills are some of the best treadmills for home workouts. These machines are folding with transport wheels for portability, support users of different weights, offer incline for intense exercising and are price friendly. You can't go wrong with any the options on this review list.